Obama Boulevard is a symbol of hope — and resistance — for Baldwin Hills/Crenshaw area
When Donald Trump succeeded Barack Obama, some residents of the Baldwin Hills/Crenshaw neighborhood felt they no longer had a leader who wanted to be a president for all Americans — and it made them revere Obama even more.
The idea to rename Rodeo Road after the former president began as a conversation between Joel Schroeder and Lynne Slattery Schroeder, who have lived in the neighborhood since 2010. The couple thought that a name change would raise the profile of the road, attract more funding for the community and honor the former president, who held a campaign rally at Rancho Cienega Sports Complex on Rodeo in 2007.
"After the 2016 election, I think for a lot of people, including myself, it just felt like all dignity had left the White House," Schroeder said. "Obama was someone who was trying to bring together diverse groups of people from all different backgrounds, and that's a lot of what our neighborhood is and what this city is."
On Saturday, a ceremony at the intersection of Rodeo Road and Martin Luther King Jr. Boulevard will officially rename the 3.5-mile stretch of road. For community members who have lived, organized and followed Obama's career, the name change is both a tribute to the 44th president's legacy and a reminder of what's possible.
The name change will further establish a "presidential row" that includes Washington, Adams and Jefferson boulevards. The renamed street joins several public spaces in California that recognize Obama, including a portion of the 134 Freeway, several schools and a road in the Monterey Bay town of Seaside.
Schroeder first raised the idea at a neighborhood association meeting before he emailed Los Angeles City Council President Herb Wesson's office, which represents the district. Wesson then proposed the name change, which the council approved in August 2018.
"For our first African American president and in my neighborhood — a proud African American neighborhood — it just seemed perfect. It was important to make sure Los Angeles honored his presidency," Schroeder said.
The selection of Rodeo Road was met by some pushback in 2017 from residents who believed that organizers should have chosen a more prominent street. But, at a council meeting that year, Wesson argued that what mattered wasn't the length of the street.
"It's about the significance of the street, it is about what happened on that street," Wesson said
Few would dispute the significance of the Baldwin Hills/Crenshaw neighborhood in the history of L.A. race relations. It's where Tom Bradley, Los Angeles's first black mayor, once had to enlist white "dummy buyers" to purchase a home. For decades, discriminatory practices, including the use of racially restrictive covenants on deeds to prevent people of color from buying homes, kept the area off-limits to non-whites.
After the U.S. Supreme Court outlawed housing discrimination, and segregation was scaled back, black residents moved west into the formerly white enclave of Baldwin Hills. That movement, paired with stepped-up integration efforts between neighborhood groups and grass-roots civil rights organizations, established the first of L.A.'s black middle- and upper-class neighborhoods.
"The Baldwin Hills is one of the epicenters of African American excellence in the nation, along with Sugar Hill and Harlem, and the White House during the Obama administration," said Robert García, a civil rights attorney and founder of The City Project, a nonprofit that has worked on social justice issues in the neighborhood for 20 years. "There is no better place to commemorate his accomplishments as president."
Michelle Obama, celebrities in tow, brings words of inspiration to students at UCLA »
To Wesson, the first black president of the Los Angeles City Council, the street marks the heart and soul of the black community.
It's home to Dorsey High School and Baldwin Hills Elementary School.
It's near where he stood in February 2007, outside the parking lot of Rancho Cienega Park, scanning the intersection of Rodeo Road and Martin Luther King Jr. Boulevard for a sleek limousine. Wesson was poised to welcome then-Sen. Obama for a presidential campaign event just days after the senator had formally announced his first run for the White House.
The crowd of Angelenos who gathered that day saw parts of their own lives, inspiration and hope reflected in the future president.
"He wasn't on Pico Boulevard or Olympic or some other street — he was right there on Rodeo Road. He walked where many young people are walking today," Wesson said.
Several other community leaders have endorsed the symbolism of the name change.
Rep. Karen Bass (D-Los Angeles), chairwoman of the Congressional Black Caucus who first met Obama when he was a senator and later joined him on a political trip to Cuba, , lives down the street from the boulevard and represents the district in Congress.
"I have lived in the area my entire life and I certainly remember when Martin Luther King Jr. Boulevard was named," Bass said. "This is a sign of hope looking into our future. And, frankly, given what's going on now in our country, I think it'll be uplifting."
Ayuko Babu, founder of Pan African Film Festival, which takes place annually in the neighborhood, hopes that children will reflect on the legacies of Obama and King whenever they pass by the intersection.
The name change "opens up a story for younger generations because it invites you to learn about his life and helps you learn about what you need to do with your own life," Babu said. "Just thinking about that name — O-ba-ma. It's a musical name with energy. It's drums."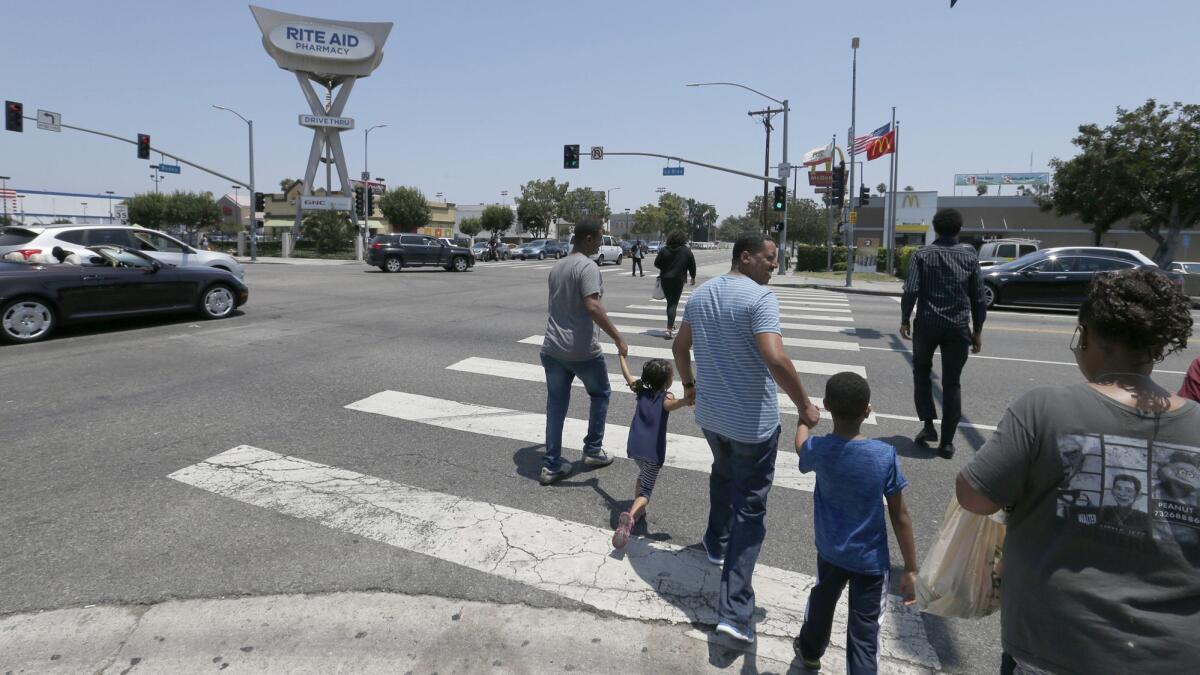 To Michael Lawson, chief executive and president of the Los Angeles Urban League, the street signs will be an example to generations of children that communities are stronger together and will encourage them to think about black leaders and their impact beyond Black History Month.
"It's so important to keep these leaders at the top of our minds because they're the people whose shoulders we stand on today. They help us understand where we come from and where we can and will go," said Lawson, a longtime Obama supporter and U.S. ambassador to the U.N.'s International Civil Aviation Organization in his administration. "Hopefully, young kids will always be reminded of the fact that an African American man named Barack Hussein Obama was the leader of the Free World for eight years and did it with grace, humility and strength."
For the L.A. Urban League, Saturday's celebration is the beginning of a year-long series of outreach activities focused on entrepreneurship, job creation and voting rights inspired by the grass-roots community organizing of Obama's early career.
Earl Ofari Hutchinson, a political analyst and author who has lived in the Crenshaw area bordering Obama Boulevard for 50 years, hopes that the name change will inspire investment in the community beyond Saturday's festivities.
He remembers the pride he felt when Santa Barbara Avenue became Martin Luther King Jr. Boulevard and how the community hoped to see an economic revitalization of the neighborhood. But that didn't happen, he said.
"Obama Blvd., as with Martin Luther King Blvd., runs through some of the poorest, economically neglected and underserved neighborhoods in L.A. County," Hutchinson said in an email. "The area needs not just street name change, but also fresh programs, initiatives and spending on jobs, education, and housing programs for the mostly Black and Hispanic low-income residents that live on or near Obama Blvd."
"This will truly be the greatest way to pay tribute to Obama," Hutchinson said.
Sign up for Essential California for news, features and recommendations from the L.A. Times and beyond in your inbox six days a week.
You may occasionally receive promotional content from the Los Angeles Times.