GOP-backed Irvine mayor claims victory over Loretta Sanchez in special election for O.C. supervisor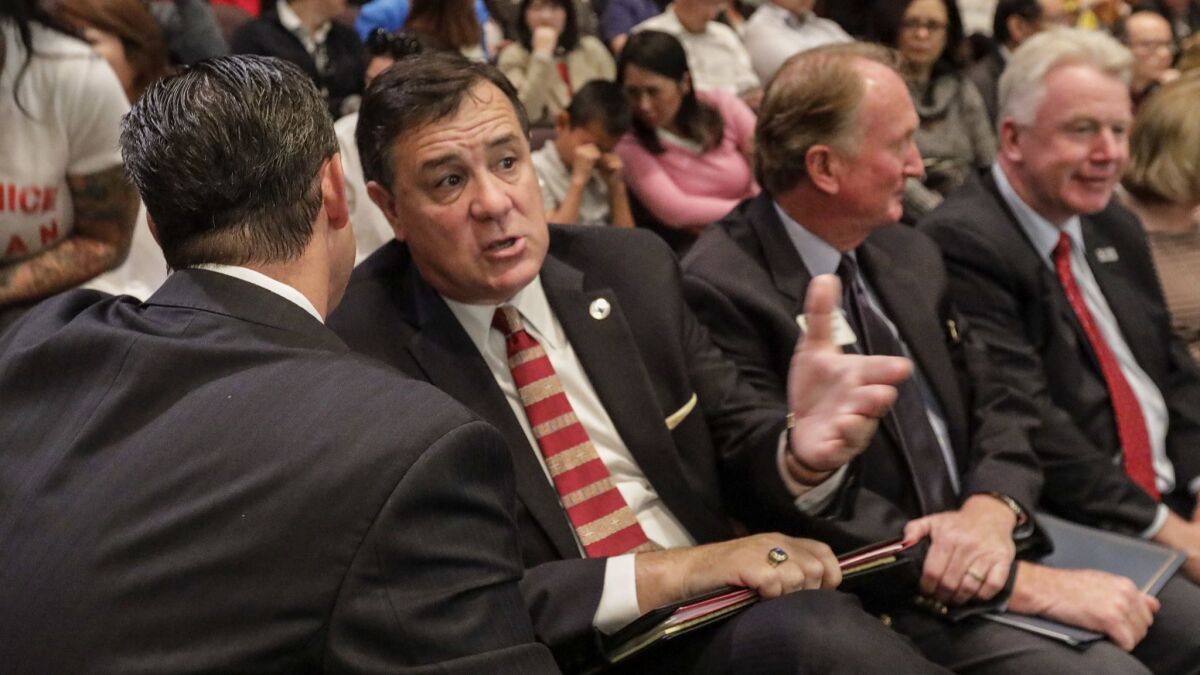 Irvine's mayor has claimed victory in this week's special election for a seat on the Orange County Board of Supervisors, saying he's "grateful and honored to have a chance to serve the people" of the 3rd District.
In results released Friday, Don Wagner emerged with more than 41% of the votes over challenger Loretta Sanchez, a former congresswoman who gained more than 37% of the votes among 72,035 ballots cast, according to the Orange County Registrar of Voters.
As mayor of Irvine, Wagner, a Republican who served six years in the state Assembly, leads the largest city in the district. His closest challenger was Sanchez, who, with two decades of experience on Capitol Hill, was the only Democrat in a field of seven candidates.
Analysts had predicted the race would narrow between the two, while Wagner's supporters worried that the overwhelming number of Republicans on the ballot would mean a split vote, hurting his chances.
But their candidate has led in daily vote counts since Tuesday, and by Wednesday his slim margin over Sanchez had widened. Kris Murray, a former Anaheim councilwoman in third place, garnered 7.43%.
Sanchez and her team are waiting for all ballots to be counted. Workers at the Orange County Registrar of Voters scheduled a mail run at 8 p.m. Friday — the deadline to receive mail-in ballots sent election day — with an April 11 deadline to certify the election.
With a win, Wagner, endorsed by the Republican Party of Orange County, would succeed in boosting the GOP majority on the influential five-member board that controls a $6-billion budget. No Democrat had secured a supervisor's seat for a dozen years until last fall, when Doug Chaffee clinched a victory in the north county district once represented by Republican Shawn Nelson.
"I need to get up to speed on county business," Wagner said, listing his top priorities as public safety, finding solutions to the homeless housing crisis and wildfire prevention.
He plans to meet with Orange County Sheriff Don Barnes to talk about jail overcrowding while learning more about the rapid rise in property crimes and drug crimes "to get a handle on what's out there and why it's out there."
With homelessness exploding and an estimated street population of nearly 4,800, Wagner said he thinks "the county has been deficient in its responses for years." Officials only decided to act after the prodding of a federal judge overseeing civil lawsuits against the county and multiple cities, sparked by the evictions of residents at the largest illegal tent city along the Santa Ana River trail last year, he added. "I need to take off my Irvine hat and put on my county hat to study the issues and focus on what must be done."
The 3rd District includes Anaheim Hills, Irvine, Orange, Tustin, Villa Park, Yorba Linda and a wide swath of the canyons, parts that are inaccessible and "tend to get dry," Wagner said. He worries about the threat of wildfires and onslaughts of rain that could cause mudslides, saying, "We need proper staffing and the ability to resolve emergencies quickly and safely."
Wagner would replace Todd Spitzer, who won last fall's election to be the new Orange County district attorney. In Irvine, the municipal code will allow Mayor Pro Tem Christina Shea to move into the mayor's role, while the City Council is expected to appoint another member to the seat vacated by Shea.
Twitter: @newsterrier
---
The stories shaping California
Get up to speed with our Essential California newsletter, sent six days a week.
You may occasionally receive promotional content from the Los Angeles Times.