Loretta Sanchez went all-in on a failed bid for California's U.S. Senate seat. Now her next move is unclear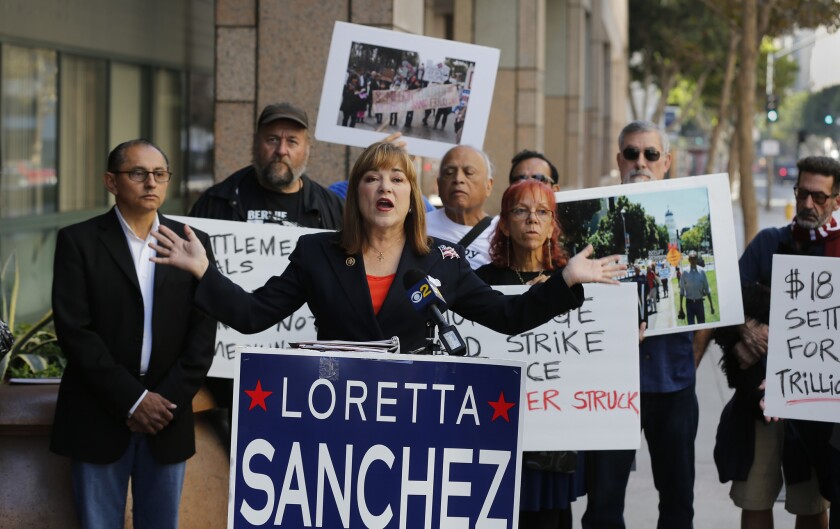 Reporting from Washington —
Loretta Sanchez first went to Washington 20 years ago after winning a race by less than 1,000 votes and against all odds. Now, after losing what was her second long-shot bid, this time for a U.S. Senate seat, she has just a few weeks left to pack up her office.
"Although we don't know what our future will be, I can tell you that this is not the last that people will see of me," the U.S. House representative from Orange County said in a statement conceding the race Wednesday.
The lingering question is whether Sanchez, 56, will seek elective public office again after losing to state Atty. Gen. Kamala Harris with just 37% of the vote — and if she would be successful after a campaign in which she emphasized her more conservative bonafides and attacked a candidate embraced by the Democratic establishment.
"Stay tuned," said Sanchez spokesperson Luis Vizcaino, who declined to offer more details beyond Sanchez's plans to spend the next few weeks with her husband of five years.
The senate race was the first Democrat vs. Democrat statewide contest since California's top-two primary system went into place, and Harris won with more than 60% of the vote, taking all but Glenn and Imperial counties.
Sanchez has bounced back from political loss before. She was a little-known financial analyst from Anaheim whose only political experience was a failed bid for Anaheim City Council when she unseated Orange County conservative Rep. Robert "B-1 Bob" Dornan in 1996. At the time, the news show "Nightline" called it the "biggest upset in California congressional history."
Just like in this year's race, the state Democratic Party endorsed someone else in the primary. But Sanchez ultimately beat Dornan by just 984 votes, a result he challenged, claiming the election was tainted by illegal ballots cast by noncitizens.
Though she never passed a landmark bill in Congress, Sanchez rose to become the second-ranking Democrat on both the House Homeland Security and Armed Services committees.
The second of seven children born to Mexican immigrants, she became part of the first pair of sisters to serve in Congress at the same time after her younger sibling Linda Sanchez's 2003 election.
She is known for occasional gaffes, such as using a war whoop to describe Native Americans or seeming to insinuate that President Obama endorsed Harris because they are both black. For years, she sent out lighthearted Christmas cards featuring her cat. But she also spent years advocating for women in the military and voted against the war in Iraq and the Patriot Act.
Sanchez surprised the California political world when she announced plans to give up her House seat and run for retiring Sen. Barbara Boxer's seat. By the time Sanchez entered the Senate race in the spring of 2015, the state party had coalesced around Harris, leaving her to cobble together a long-shot campaign.
Sanchez hoped the chance to elect the first Latina to the Senate would spur Latino voters and give her a surprise win like the one that got to her Congress 20 years ago. If she had pulled it off, Sanchez would have joined now Sen.-elect Catherine Cortez Masto of Nevada as the first Latinas in the U.S. Senate.
But she never caught up in the polls, and her fundraising lagged behind Harris' throughout a campaign that drew little interest from voters, notwithstanding Sanchez's "dab" at the end of their only debate, which briefly drew national attention.
With the Senate race behind her, Sanchez has at least a few political routes forward. She could try for governor or another statewide office in 2018, wait to see if Dianne Feinstein retires and make another attempt at the Senate, or stay closer to home and run for a position in Orange County, such as on the Board of Supervisors.
UC San Diego political scientist Thad Kousser said Sanchez could use the support from the 3 million Californians who voted for her to springboard into another statewide office as soon as 2018.
"She's entered the political consciousness at the statewide level in a way that she didn't when she was just a member of Congress," Kousser said. "You often see examples of people losing up."
But Democratic strategist Roy Behr, a former campaign advisor to Boxer, isn't so sure.
"History is full of comeback stories; it's just hard to see how this one would occur," he said. "How do you go tell donors, 'Oh next time I'll do better; next time will be different.' "
Another complicating factor is that Sanchez moved to the right in the campaign's final months as she strove to build a coalition of conservative and independent voters against Harris, who was an early favorite among Democrats and donors and received the California Democratic Party's endorsement last winter.
But Kousser said there is still a path for Sanchez within the party. People recognize that when two Democrats faced off in November, it was just an extension of the primary, he said.
"I don't think she was seen as a traitor to her party in any way," Kousser said.
If she wants to run for another position, Sanchez should keep her name in the public consciousness over the next two years, Kousser said, adding that "being a vocal critic of Donald Trump would be a start in a state that got bluer when the country got redder."
Not being in office might give her a chance to associate herself with something like a ballot proposition that she can use to launch another run for statewide office. There's some precedent for this: Lt. Gov. Gavin Newsom, who is running for governor in 2018, was the face of a gun control initiative that passed easily on Tuesday.
"Her big problem is she doesn't have a political brand," Kousser said.
Her House colleagues aren't sure what the future holds.
"She did herself well, I think, in the campaign," House Minority Leader Nancy Pelosi (D-San Francisco) said a few days before the election.
She compared Sanchez to Boxer, who Pelosi said knew she would have had to leave Congress if she had lost her 1991 Senate campaign.
"I'm sure that Loretta has great things in mind next. I don't know what they are," she said.
Follow @sarahdwire on Twitter
Read more about the 55 members of California's delegation at latimes.com/politics
ALSO:
Antonio Villaraigosa jumps into the 2018 California governor's race
Here's how California's congressional delegation has changed and the races we're still waiting on
---
Get our Essential Politics newsletter
The latest news, analysis and insights from our politics teams from Sacramento to D.C.
You may occasionally receive promotional content from the Los Angeles Times.