'Extreme odor' warning issued after Atwater Village crude-oil spill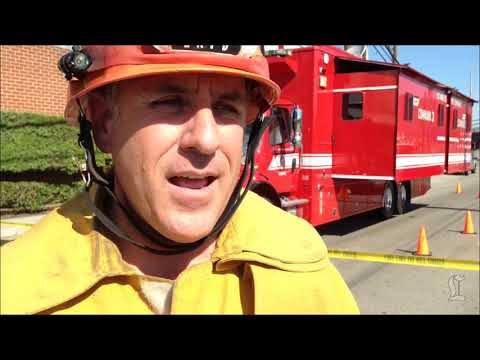 Crews continue to clean up thousands of gallons of crude oil that spilled over a half-square-mile area Thursday in Atwater Village.
Los Angeles County public health officials on Thursday issued an "extreme odor" advisory for Atwater Village after a 10,000 gallons of crude oil spilled from a ruptured pipeline.
People living or working in the area could experience "mild, temporary health impacts," including eye, nose and throat irritation, headache, dizziness or upset stomach, Dr. Jonathan E. Fielding, the Los Angeles County public health director, said in a statement.
"Cleanup of this spill is progressing, but individuals may experience discomfort from odors from the residual crude," Fielding said.
The symptoms are not expected to lead to long-term health problems, the health department said.
Air quality in the area is being monitored by the South Coast Air Quality Management District, and current results indicate a low risk to the general public, officials said.
The spill, which occurred shortly after 1 a.m. Thursday in the 5100 block of West San Fernando Road, sprayed black oil 20 feet into the air and onto the roof and walls of a nearby strip club called the Gentlemen's Club.
The leak was caused by a valve malfunction, and firefighters found a 20-inch break in an above-ground pipeline, officials said.
Sand and odor neutralizers have been applied to residual oil to contain the smell, but odors could become more prominent as the temperature rises during the day, the health department said.
Anyone in the area who might be sensitive to the smell -- including children, the elderly and people with chronic disease -- should limit their time outdoors as long as the odor persists.
Two women who complained of nausea, possibly because of the oil, were hospitalized, according to the Los Angeles Fire Department.
By the time crews were able to shut off the pipeline remotely, the spill had created pools of oil, some about 40 feet wide and knee-deep, in the largely industrial area, the fire department said.
"It looked like a lake," said LAFD Capt. Jamie Moore.
Most of the oil was vacuumed up by tanker trucks by 6 a.m., but more work will be needed to fully clean the spill, Moore said. Cleanup crews were expected to use diaper-like sponges to sop up what oil could not be vacuumed by the tanker trucks.
Sign up for Essential California for news, features and recommendations from the L.A. Times and beyond in your inbox six days a week.
You may occasionally receive promotional content from the Los Angeles Times.