Sainthood of slain Salvadoran Archbishop Oscar Romero hailed by thousands at L.A. Mass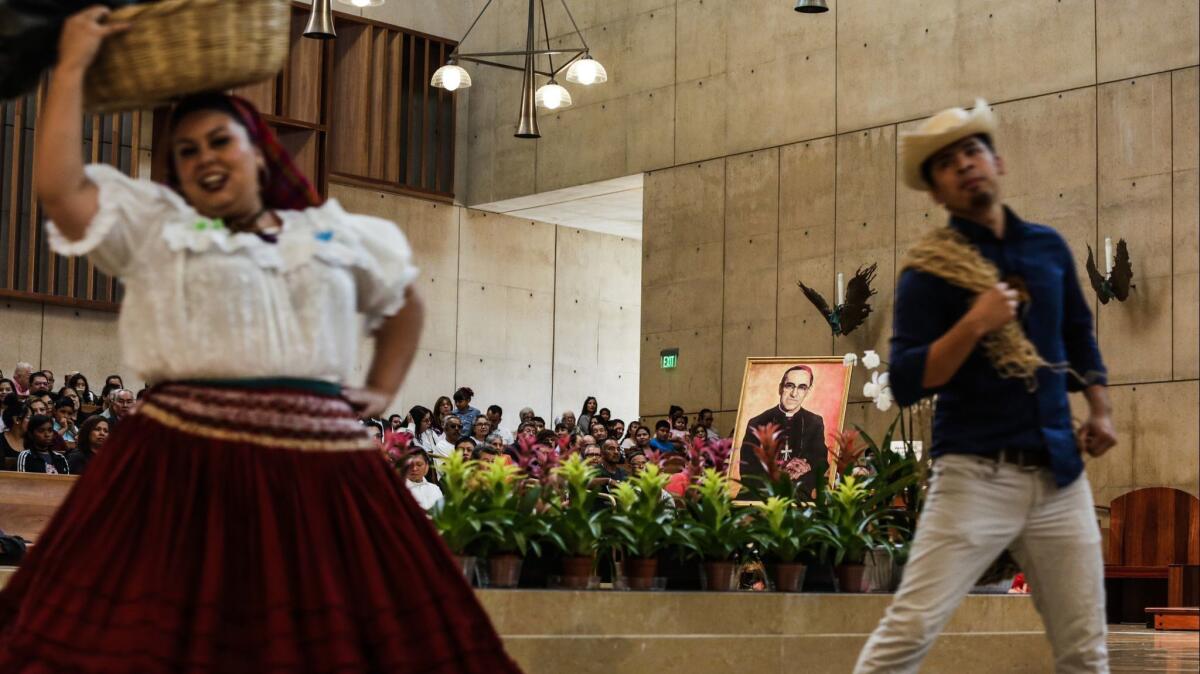 Los Angeles nurse Lina Sandoval was 10 years old when Salvadoran Archbishop Oscar Romero was assassinated in 1980.
"That day was really sad," the Salvadoran immigrant recalled Sunday, "because he always fought for people like us, the poor and the needy, so we could have the right to a better life."
Sandoval, 48, remembers hiding under a bed during the frequent gun battles that erupted in the streets of Santa Ana, her family's hometown, during the long civil war that followed Romero's death.
On Sunday, Sandoval and about 3,000 others, mainly Salvadoran immigrants, filled the Cathedral of Our Lady of the Angels in downtown Los Angeles for a Mass in Spanish celebrating Romero's elevation to sainthood by Pope Francis.
Sandoval marked the occasion by wearing a T-shirt with Romero's image and a prophetic comment that he made when he was risking his life by calling out Salvadoran military abuses: "If they kill me, I will live on in the people of El Salvador."
The ceremony opened with a performance by Salvadoran folkloric dancers — men in cowboy hats and women in red skirts carrying baskets of flowers on their heads. A few brief recordings of Romero's voice filled the cathedral as clouds of incense smoke wafted across the pews.
At the altar, a painting of Romero was perched on an easel above urns of white roses. On a table nearby was the text of Romero's last homily.
Deacon Ricardo Villacorta reminded parishioners of Romero's dedication to the oppressed. Romero was the most outspoken Salvadoran leader denouncing death squads aligned with the U.S.-backed government.
A gunman, Villacorta told the solemn cathedral audience, shot Romero in the heart while he was celebrating Mass on March 24, 1980.
"Viva San Oscar Romero!" Villacorta called from the altar three times.
"Viva!" the parishioners called back.
Pedro Magaña of Highland Park was moved to tears.
"My heart filled with joy," he said in Spanish. "To El Salvador, it's very important to have the first saint of our country."
Magaña, 87, moved to the United States 53 years ago. He and his wife, Maria, visited Romero's grave last year on a visit to their native country.
"He's a prophet," Maria Magaña said. "And he knew what he was talking about."
In a chapel on the main floor of the cathedral, a new exhibit pays tribute to Romero. Posted on the wall is an excerpt from the homily he gave a day before he was killed.
"This was a very brave act: He told soldiers they have to act from their morals, and not just follow directions from their superiors," said Rich Villacorta, the deacon's son and communications director for the cathedral.
A photograph shows Romero taping one of the radio broadcasts that angered military leaders. Nearby is a framed gold-fringed stole that Romero wore in church.
Also on display is a photo of the 250,000 mourners who attended Romero's funeral at San Salvador's Metropolitan Cathedral.
Gunfire and explosives killed 39 people at the gathering that day.
"They had a pastor who stood up for them in a situation where others wouldn't have," said Villacorta, who was 3 when his family fled the war in El Salvador and moved to Los Angeles.
At a Mass at the Vatican on Sunday, the pope called Romero a prophet who gave up his life "to be close to the poor and his people."
Hector Ortiz, a 65-year-old Mexican immigrant who lives in Irwindale, said the canonization of Romero was not just for Salvadorans to celebrate.
"It's one of the best things that has happened for humanity," he said.
One of the monsignors at the altar for Sunday's Mass was Salvadoran immigrant Benigno Rodriguez, 76. He knew Romero when both were priests in El Salvador.
Rodriguez, who left the cathedral in a wheelchair with a Salvadoran flag draped over his body, recalled discovering that he was on a military hit list.
He left El Salvador shortly after Romero's assassination.
"My country right now has really serious problems of violence," he said. "He's going to be a saint to follow. He's going to be our contact person with God."
Sign up for Essential California for news, features and recommendations from the L.A. Times and beyond in your inbox six days a week.
You may occasionally receive promotional content from the Los Angeles Times.