Police investigate 'reprehensible' behavior of Camp fire cleanup workers who posted offensive photos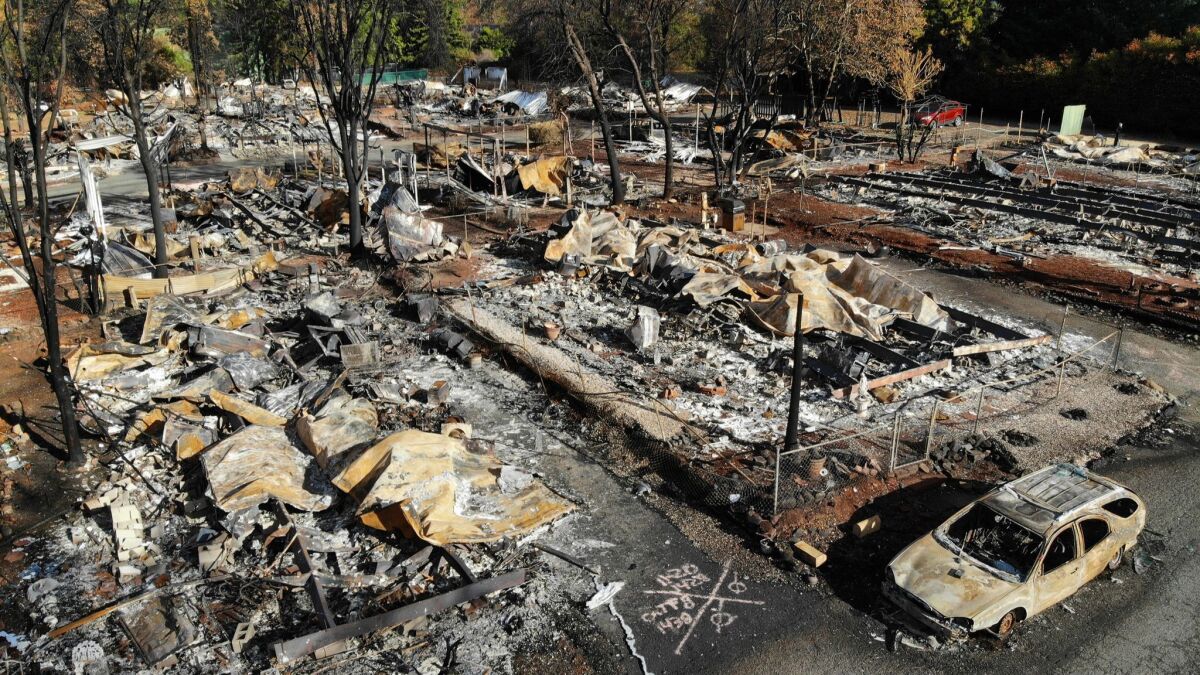 One photo from the wreckage of the Camp fire's devastating march through Paradise, Calif., shows the remains of a charred cat with a glass bottle sticking out of its mouth. In another, two workers pretend to go on a drive to "unknown destinations" in someone's burned-out recreational vehicle.
Some of the captions, including one that accompanied a photo of a man mimicking jumping on what's left of a scorched trampoline in someone's yard, included jokes: "Trampolines are stupid. BTW, it used to be called a Jumpoline until your mom got on it."
The images, which were posted on Facebook this month by an employee of a crane company contracted to remove ponderosa pine trees from the burn area, have sparked a police investigation into whether the person who shared them and others who posed in the photos broke any laws in the process, said Paradise police Officer Matthew Gates.
Gates said the department is working with local prosecutors to review several criminal statutes, including vandalism and desecration to property, to determine whether they apply. Authorities also are reviewing whether the employees violated evacuation orders when they stopped working to take the photographs.
Bigge Crane and Rigging Co., which was contracted by Pacific Gas and Electric Co. to remove large trees in the utility's right-of-way, identified the employee who posted the photos as Rob Freestone. The company called the incident an "abhorrent event" and said three people had been fired in connection with the incident, according to a statement released Saturday.
It did not identify the other employees by name. Freestone could not be reached for comment.
"The behavior of these individuals is not consistent with our company values and ethical code," the company wrote in the statement. "Bigge regrets that the residents of Paradise and Butte County have suffered an egregious insult during an already devastating time at the hands of these three individuals."
The Camp fire destroyed more than 15,000 structures as it chewed through 153,000 acres in Butte County and leveled much of the town of Paradise in November. The blaze — the state's deadliest conflagration on record — killed 86 people.
Gates said the situation was made worse because many residents hadn't been able to return to their homes or comb through the remnants of their belongings when the pictures were posted.
"The level of what they did is unfathomable," he said. "I can't think of any other investigation that parallels this."
Twitter: @Hannahnfry
The stories shaping California
Get up to speed with our Essential California newsletter, sent six days a week.
You may occasionally receive promotional content from the Los Angeles Times.