Human waste, champagne bottles, even a prom dress: Joshua Tree and Yosemite get trashed as shutdown continues
If Californians ever wondered how the state's most majestic open spaces would fare without adult supervision, the partial federal government shutdown is offering a grim picture.
At Joshua Tree National Park, champagne bottles were left strewn on the desert floor on New Year's morning, along with a prom dress. Someone had kicked one of the iconic trees, perhaps to see how sturdy it was. Human waste was piling up.
At Yosemite, Death Valley, Joshua Tree and beyond, the nearly two-week-long shutdown has taken a toll. Reports of vandalism, illegal camping and off-road driving have led to restricted operations.
Even under the best conditions, California's popular outdoor destinations can strain under the throngs of visitors. But the skeleton crews and volunteers now patrolling the parks have shown how essential maintenance and rule enforcement are to keeping the order.
"We just can't continue at the pace we have been at for the last 12 days," said Sabra Purdy, co-owner of Joshua Tree-based Cliffhanger Guides, who has been coordinating volunteer cleanup efforts.
Campgrounds at Joshua Tree closed at noon Wednesday, officials said, citing health and safety concerns over vault toilets that are near capacity. The waterless bathrooms in which visitors can relieve themselves into a sealed container buried underground had remained open. But with no workers to pump out the waste, those are being closed now as well. Sequoia and Kings Canyon National Parks went a step further, closing down the entire parks to visits beginning Wednesday.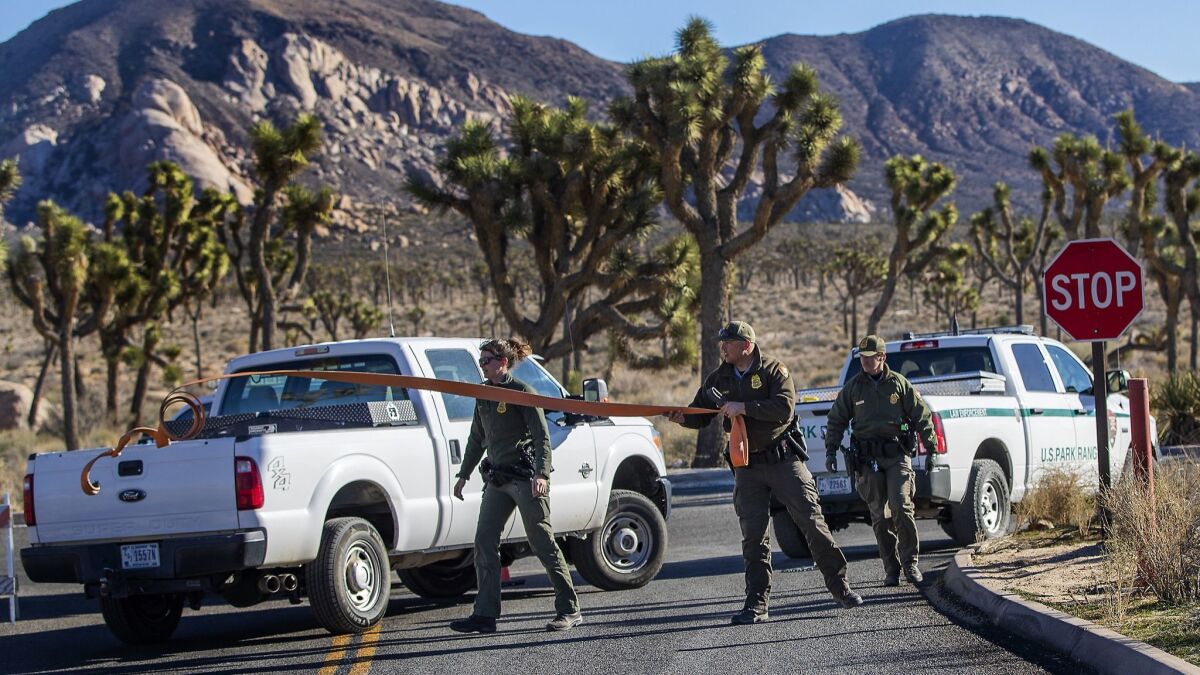 Meanwhile, rangers at Yosemite National Park have set a roadside checkpoint up at the southern entrance, along California Highway 41. Only people with reservations for lodging or camping inside the park will be allowed entrance between 9 a.m. and 6 p.m., officials said.
According to National Park Service spokesman Andrew Munoz, illegal off-road vehicles have damaged some habitat, and the buildup of trash and litter has had a significant effect on the environment. There is also concern that the increased trash could attract wildlife, including bears, to populated areas, increasing the risk of dangerous encounters.
Problems with human feces and urine along Highway 41 in the south part of Yosemite have led to the closure of the Mariposa Grove of Giant Sequoias, as well as the Wawona and Hodgdon Meadow campgrounds last week. Two snow play areas and all the park visitor centers remain closed.
Park officials said additional facilities or areas in Yosemite National Park may close at any time for health and safety reasons.
Federal lands around the country are suffering from a lack of basic government services as the shutdown continues. Trash is piling up around national monuments in Washington, forcing the city government to pick it up instead. Tourists are posting photos on social media of trash overflowing at national parks and recreation areas, including Lake Mead in Nevada.
In Sequoia and Kings Canyon National Parks, about 250 miles north of Los Angeles, sections were closed this week because furloughed employees have been unable to maintain the safety of roads and certain walking paths in winter conditions.
Park officials said that as of 6 p.m. Monday, they had closed the Generals Highway at Hospital Rock. The closure extends from Giant Forest and Lodgepole through to Lost Grove.
At Joshua Tree, visitor centers, flush toilets, water-filling stations and dump stations are all closed. The park had left the main gates open and let cars stream in for free, as there are no government employees to collect the typical $30 entrance fee.
Rangers at Joshua Tree and Yosemite remain on duty and are enforcing closures. Individuals who violate closures are being cited, Munoz said.
December is a favorite time for climbers, hikers and tourists to visit the desert park. Rangers at Joshua Tree counted 284,398 visitors in December 2017, most in the second half of the month.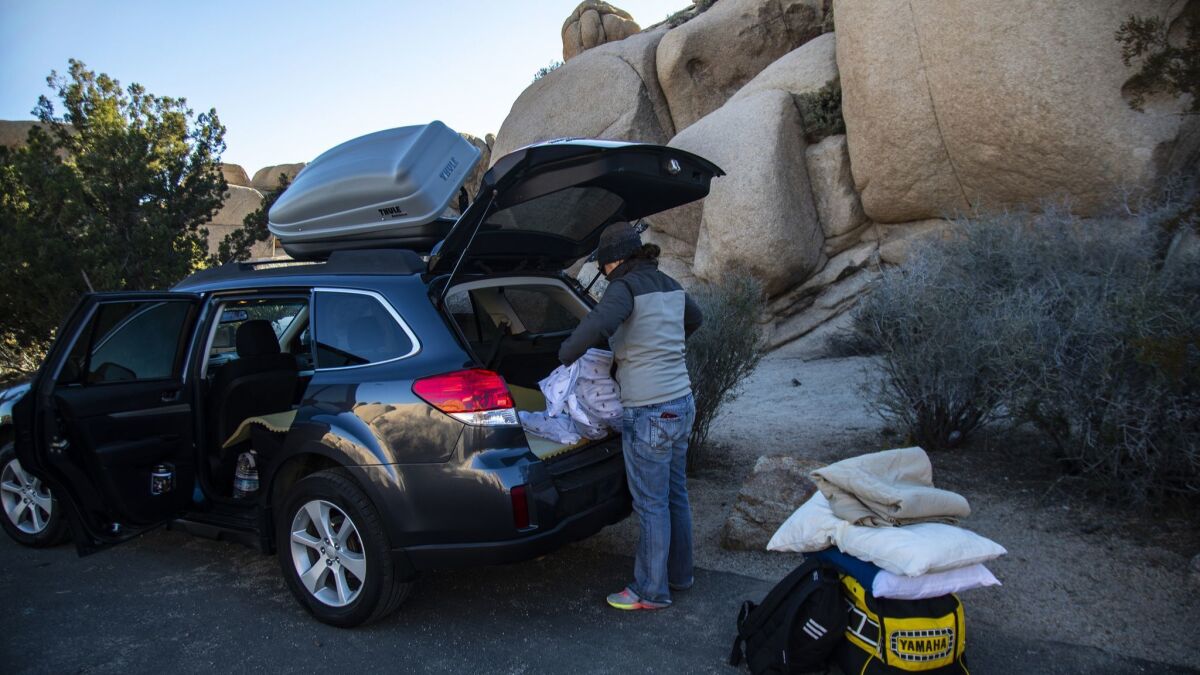 And unlike the 2013 government shutdown, the park has remained open — leaving locals to pick up the slack.
The situation is being aided by local volunteers who have been emptying dumpsters, replacing garbage bags in trash cans and even scrubbing bathrooms daily.
A group of eight volunteers organized by the city of Twentynine Palms Tourism Business Improvement District went out New Year's Day to clean up the detritus left over from the year-end revelry in the park the night before.
Volunteers hauled more than 40 garbage bags worth of trash in the beds of their pickup trucks and Priuses, said Breanne Dusastre, the director of marketing and tourism development for the district.
"And a whole lot of champagne bottles," she said.
Purdy has been leading a group of 10 to 12 volunteers into the park every morning to clean bathrooms and haul trash away in trucks and trailers to a local dump.
But the grind is wearing on volunteers and the amount of trash generated over the holidays has been staggering, she said. She found a discarded prom dress in the park recently. Another problem is that without park staff around to check on camping groups, people have been doubling or quadrupling the number of people allowed at campsites.
She said she agreed with park officials decision to close down the campground sites and leave the park open only as a day use site.
"I think that it is the right call," she said. "Once those pit toilets are full the volunteers can't really do anything about it. We have to get the toilets pumped before they can take any more stuff."
Death Valley National Park also has been feeling the strain of overused outhouses and uncollected trash, though the Furnace Creek Visitor Center reopened after a nonprofit organization made a donation.
Times staff writers Michael Ottey in Joshua Tree and Mary Forgione in Los Angeles contributed to this report.
The stories shaping California
Get up to speed with our Essential California newsletter, sent six days a week.
You may occasionally receive promotional content from the Los Angeles Times.