Here's the new — and much higher — cost of replacing Parker Center with an office tower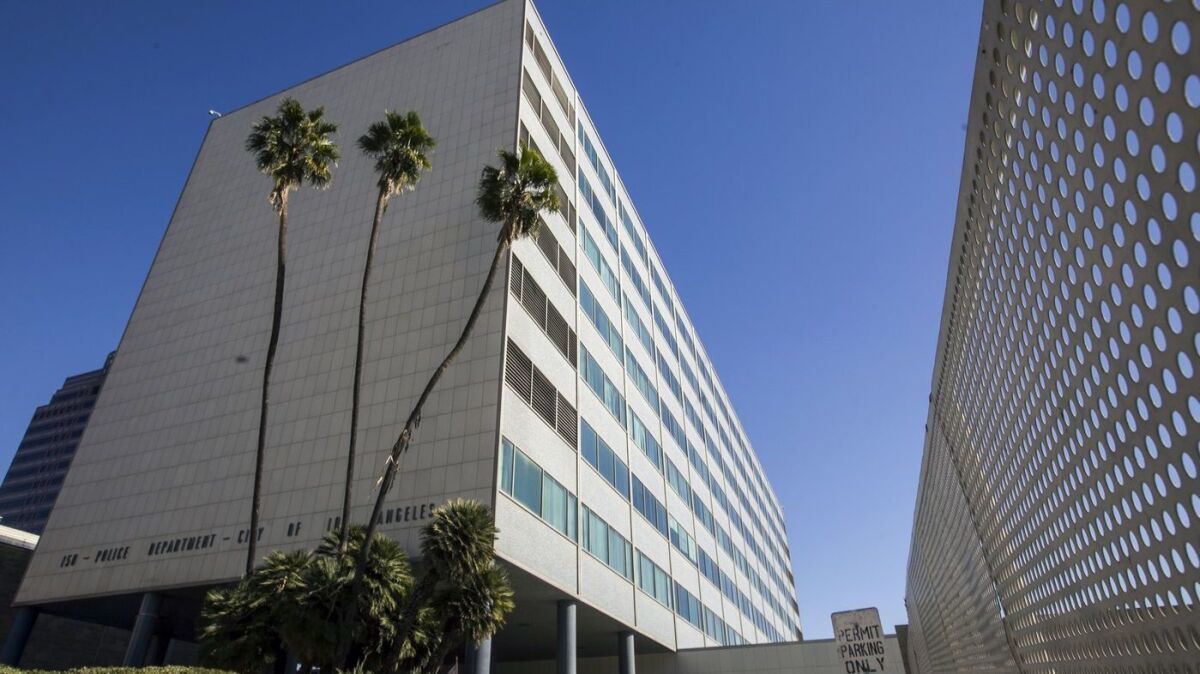 An office tower for Los Angeles city workers to replace Parker Center, the former LAPD headquarters, would cost about $700 million to build, according to a new report.
A previous city-commissioned analysis said the office tower would cost $483 million, but that figure didn't account for rising construction costs or so-called soft costs, which include design work and project management. These costs were included in a more complete analysis of the project in a report released last month.
The report also estimates $32.3 million in costs for the demolition of Parker Center and predesign work, which isn't included in the $700-million figure.
Led by City Councilman Jose Huizar, the council backed a plan last year to tear down Parker Center, the 1955 building named for controversial former Police Chief William Parker, and erect a new office tower.
Officials say the tower, which would rise 27 to 29 stories, would provide centralized office space for Los Angeles city workers now based in other downtown buildings. The city could then sell its unused office buildings or end leases at sites it doesn't own, the report said.
The city's Municipal Facilities Committee, which oversees capital projects and includes a representative from Mayor Eric Garcetti's office, recommended a development approach last month for the new building that includes hiring a private party to oversee construction, financing, operations and maintenance.
Under that scenario, construction would cost about $708 million. Adding in operations and maintenance costs for 30 years, and financing, the total price tag would be $915 million to $943 million in current dollars, according to the report.
Several City Council committees are expected to consider the panel's recommendations in the coming months.
Despite the projected costs, Chief Legislative Analyst Sharon Tso, a committee member, said in an interview that she expects the numbers to change. "We're not going to know until we go out to bid," she said.
The city's decision to raze Parker Center angers some groups, including the Los Angeles Conservancy, which argues the Midcentury Modern building is a significant structure and that the city's police history should be preserved. The Los Angeles Police Department moved into new headquarters at 1st and Spring streets in 2009.
In its earlier estimate, the city said it would cost $590 million to retrofit and preserve Parker Center and build the tower next door — excluding design work, rising construction prices and other costs. The conservancy launched its own analysis, which found that this same work could be completed for at least $100 million less.
The conservancy accused the city of using inaccurate cost estimates to justify knocking down the building, which the city denied.
Separately, the Coalition to Preserve L.A. and the AIDS Healthcare Foundation announced plans last month to launch a ballot initiative that seeks to convert the building into housing for homeless people.
If the initiative were to qualify for the ballot, it is unclear when it would go before voters. The city plans to start demolishing Parker Center later this year and finish by December 2019, according to the report.
Twitter: @dakotacdsmith
The stories shaping California
Get up to speed with our Essential California newsletter, sent six days a week.
You may occasionally receive promotional content from the Los Angeles Times.