Pasadena police's handling of drug overdose in USC dean's hotel room sparks debate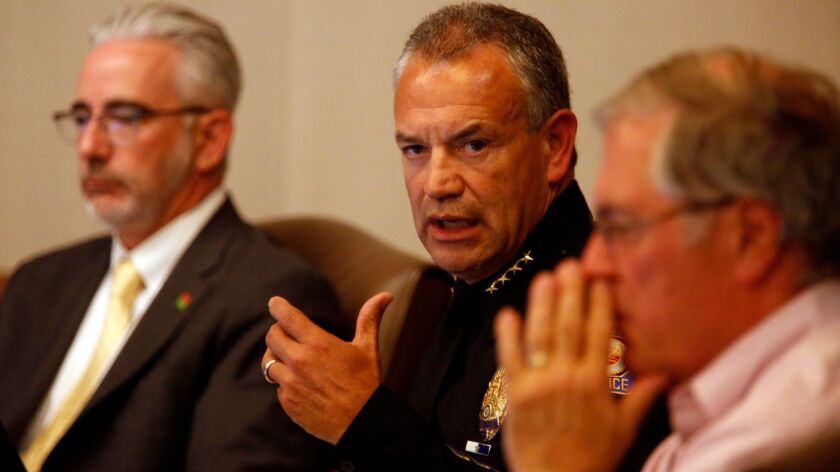 Facing criticism over his department's handling of a drug overdose involving the then-dean of USC's medical school, Pasadena's police chief this week issued a directive reminding officers they must promptly file reports on overdose investigations.
Chief Phillip L. Sanchez made the move while acknowledging that the department erred by not immediately writing a report when police responded last year to a young woman's overdose in a hotel room registered to the dean, Dr. Carmen Puliafito.
The responding officer did not file a report on the incident until three months later, after a Times reporter repeatedly sought information. The woman who overdosed, Sarah Warren, then 21, said police never interviewed her.
The Pasadena Police Department's handling of the March 4, 2016, incident sparked controversy after The Times reported last month that Puliafito used drugs and partied with a group of criminals, prostitutes and addicts during his tenure as dean. Warren's overdose at the Hotel Constance occurred three weeks before Puliafito, 66, resigned from his post at the Keck School of Medicine. USC kept him on the medical school faculty and allowed him to accept new patients.
Joseph Giacalone, a former New York City homicide sergeant who teaches investigations at the John Jay College of Criminal Justice, said it was "mind-boggling" that the officer had not written a report until prompted by questions.
He said officers should treat every overdose that requires a trip to the hospital as a "potential death," which should mandate a report.
"You don't get a second chance to do it right," he said. "Once you leave that scene, it's gone."
In his first public comments on the matter, Sanchez said Wednesday at a meeting of the Pasadena City Council's public safety committee that, apart from the failure to write a report, his department dealt with the overdose and its aftermath properly.
He also said Puliafito did not receive any kind of special treatment because of his position.
"It does look or can present the appearance that, oh you knew who Dr. [Puliafito] was and so, as ludicrous as this might sound, there was a directive from on high to have the officer forgo that report because of this person's prominence," Sanchez said. "Nothing could be further from the truth."
The Pasadena Police Department's policy manual states that an officer must write a report on any incident resulting in an injury from a drug overdose. Sanchez's order this week was aimed at reinforcing that policy in the wake of the Puliafito revelations. The officer who handled the Warren investigation has since been disciplined.
After The Times story was published in July, USC moved to fire Puliafito and barred him from campus. The doctor did not respond to a voicemail message Thursday seeking comment.
Sanchez said the officer's initial investigation included recorded interviews with Puliafito, hotel staffers and medical professionals. The officer uploaded those recordings to the department's digital storage system, he said.
The officer seized a small amount of methamphetamine from the room and booked it into evidence. Sanchez said the officer attempted to interview Warren at the hospital but could not because she was incoherent.
In addressing why no arrests were made, Sanchez cited California's good Samaritan overdose law, which took effect in 2013. The law aims to reduce drug deaths by encouraging those present at an overdose to call for medical aid without fear of legal repercussions.
The law gives limited immunity to those involved in an overdose who "in good faith" seek medical help for the victim and cooperate with authorities.
A witness told The Times that Puliafito tried to dissuade hotel staff from alerting paramedics, and in a recording of a 911 call, Puliafito told the dispatcher that the woman had been drinking, but he did not mention drugs.
The Harvard-trained ophthalmologist identified the woman as his "girlfriend" in the 911 call. In an interview with the police officer at Huntington Memorial Hospital, Puliafito said he was a friend of Warren's father, according to a recording released in response to a California Public Records Act request by The Times.
When the officer asked if he slept overnight at the hotel, he said, "I visited her in the room, but I did not spend the night."
Later in the recording, the officer was asked by a social worker at the hospital what he thought of the dean's account.
"You buy it?" says the social worker.
"No," the officer replies.
The social worker later laughs and says: "A friend of the father. Excuse me? That's funny."
As for the drugs found in the hotel room, Sanchez said he didn't think that they alone should warrant an arrest.
"The 1.16 grams of methamphetamine found inside an unoccupied hotel room were not in anyone's physical possession, limiting the value as possible evidence for prosecution," Sanchez said.
He said the department still lacks evidence showing Puliafito committed a crime — a point that drew a sharp rebuke from a small group of attendees at the meeting.
"Of course not," said civil rights attorney Dale Gronemeier. "You didn't investigate it."
Gronemeier, a frequent critic of the Police Department, told the public safety committee that the officer didn't investigate the drugs and the overdose thoroughly enough.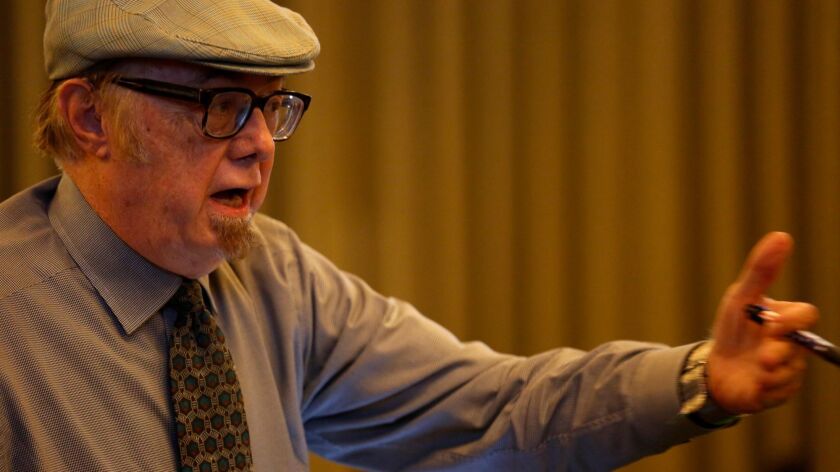 "We need an independent investigation, because this doesn't cut it," Gronemeier said.
David Llanes, a board member for the union representing Pasadena's rank-and-file officers, told the committee that police treat overdoses as medical emergencies — a shift in public policy that's been largely applauded by civil rights groups.
Llanes said it was ironic that those same people supporting the decriminalization of drug violations were criticizing police for not pursuing a criminal case. "If you expect us to take each misdemeanor crime and investigate it like it's a homicide and spend the hard-earned tax dollars … then take that into consideration and allocate it in a budget."
Twitter: @MattHjourno
Twitter: @PringleLATimes
---
The stories shaping California
Get up to speed with our Essential California newsletter, sent six days a week.
You may occasionally receive promotional content from the Los Angeles Times.