Porsche in Paul Walker crash was going only 55 mph, lawsuit claims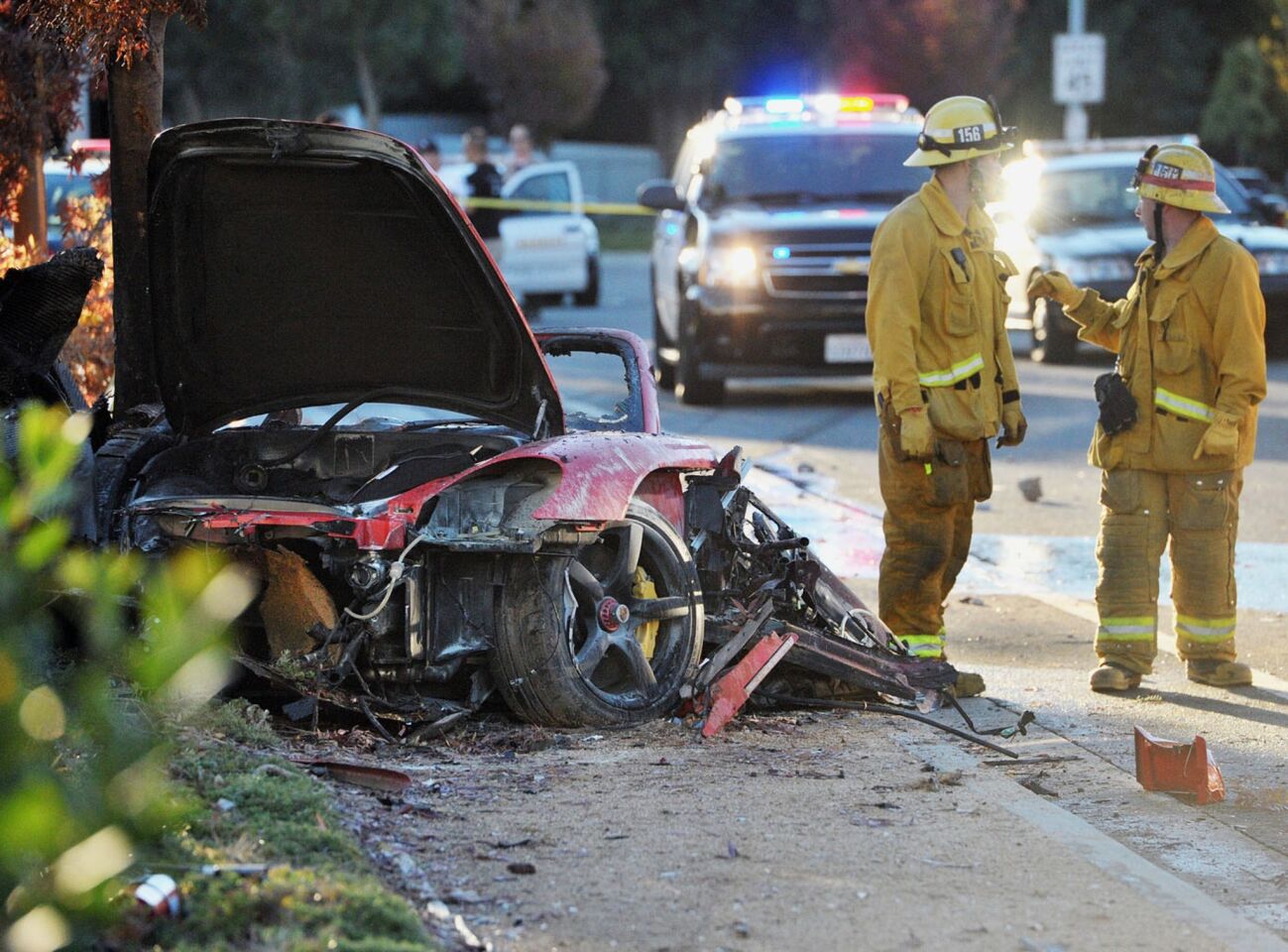 Firefighters and sheriff's deputies work near the crash scene in the 28300 block of Rye Canyon Loop on Nov. 30.
(Dan Watson / Associated Press)
Rafael Lopez of Santa Clarita places a sign at a memorial at the site where actor Paul Walker and his friend Roger Rodas were killed in a car crash Nov. 30, 2013.
(Christina House / For The Times)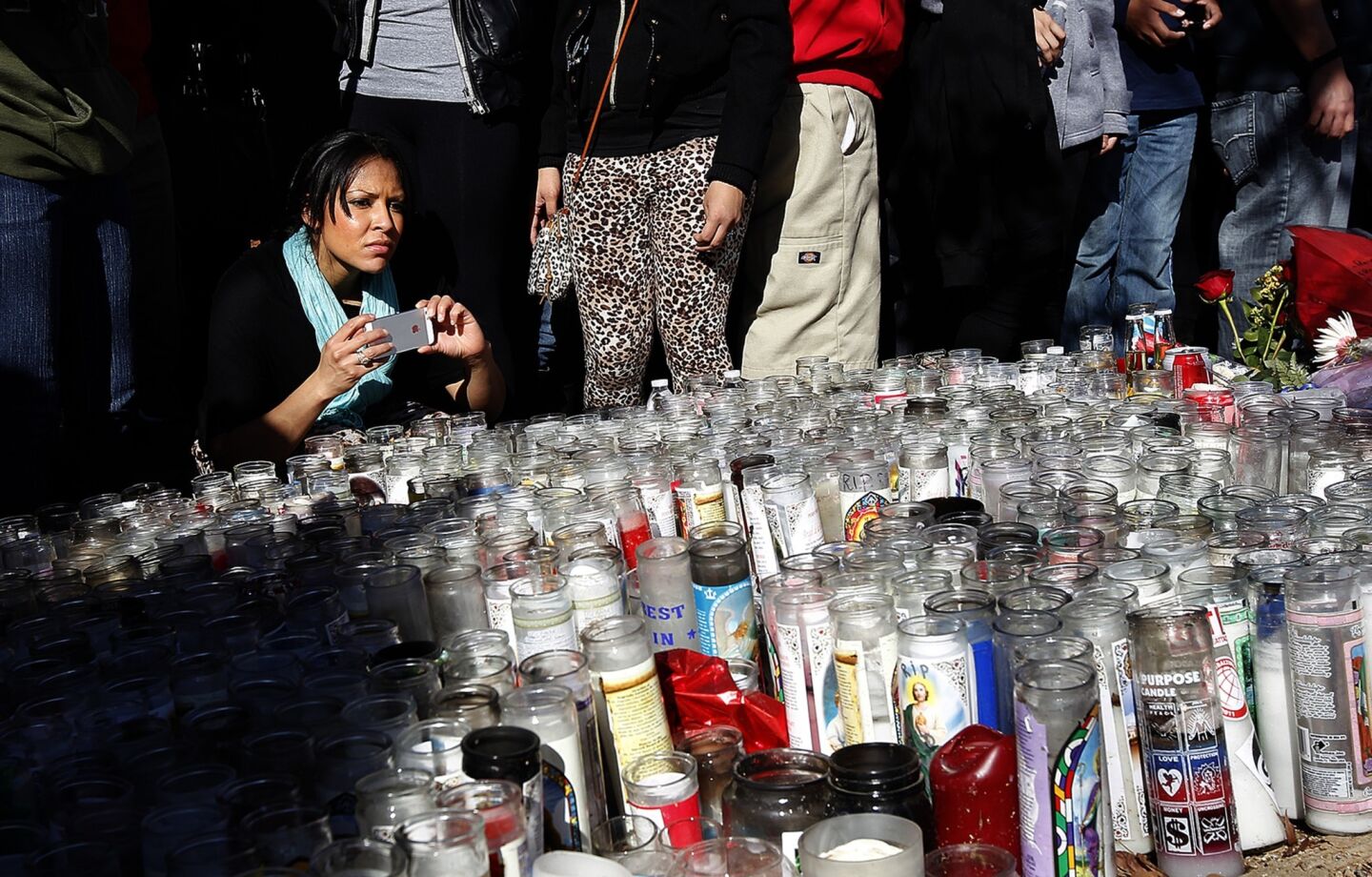 Fans including Ivon Barron of South Gate, left, visit the memorial to Paul Walker, whose early death in a car crash is similar to that of James Dean more than 50 years ago.
(Christina House / For The Times)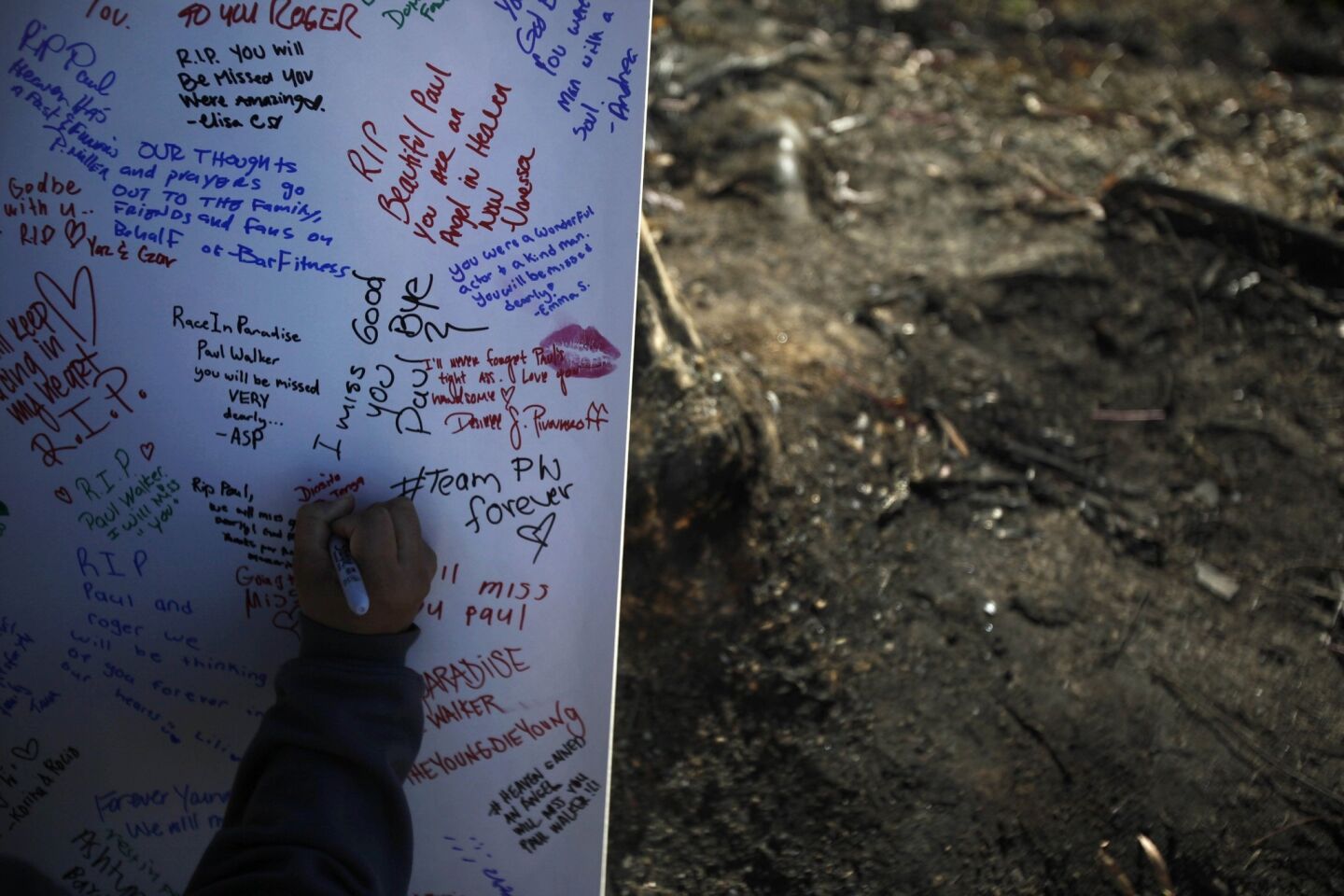 The smell of the burned Porsche still lingered in the air Sunday morning as fans set up a makeshift memorial at the crash site on Hercules Street, near Kelly Johnson Parkway, in Santa Clarita.
(Michael Robinson Chavez / Los Angeles Times)
"Fast and Furious" memorabilia was placed alongside candles and flowers.
(Michael Robinson Chavez / Los Angeles Times)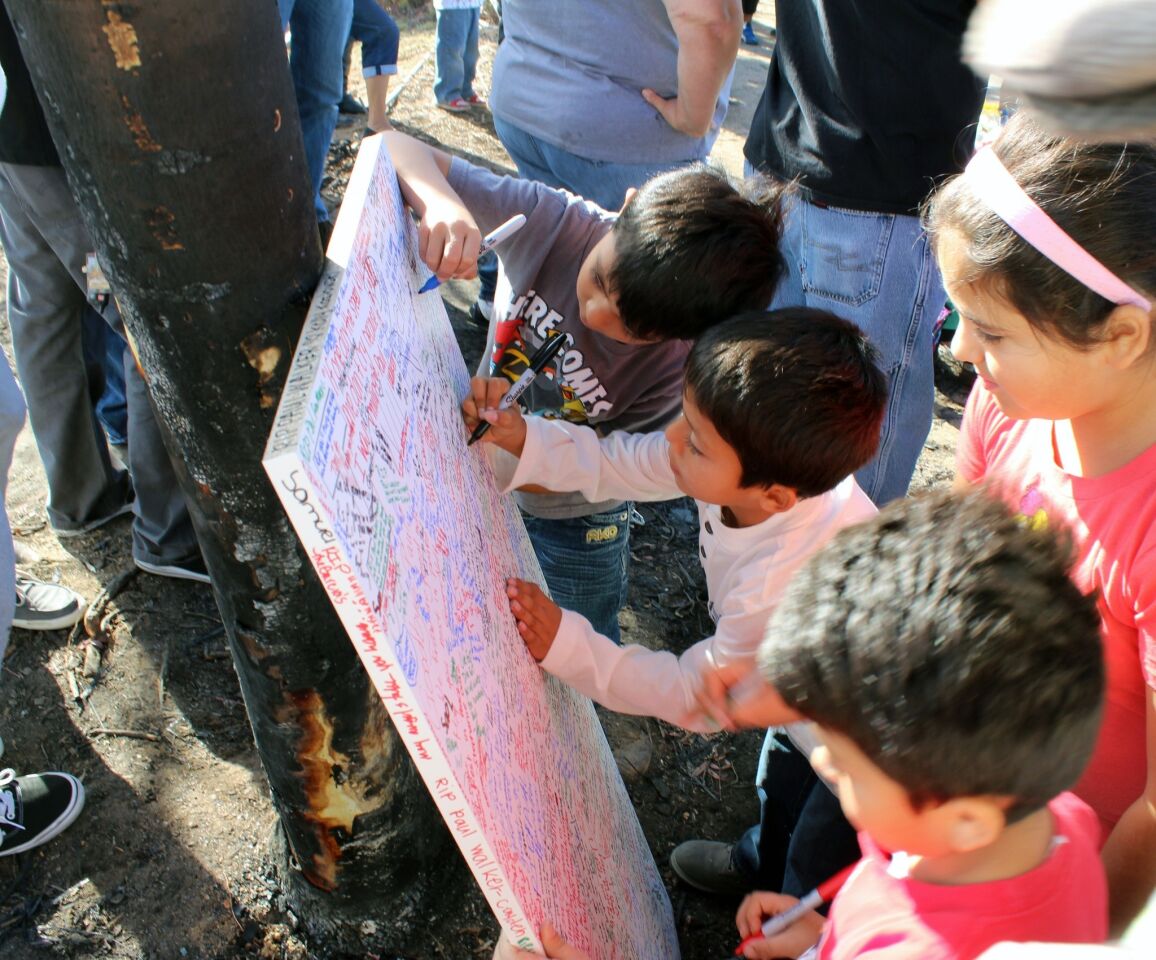 The fiery crash left charred trees in the secluded area near a business park.
(Ryan Fonseca / Associated Press)
The four-lane road up the hilly street has signs warning drivers to slow down as they approach an uphill curve near the site of the accident.
(Michael Robinson Chavez / Los Angeles Times)
At the time of his death, Walker, who also starred in "Pleasantville" and "Varsity Blues," was working on the seventh film of the "Fast and Furious" franchise.
(David Buchan / Getty Images)
Joel Perez, 23, another fan who gathered at the site Sunday, said Walker's "gone but he'll never be forgotten because there are so many people that look up to him."
(David Buchan / Getty Images)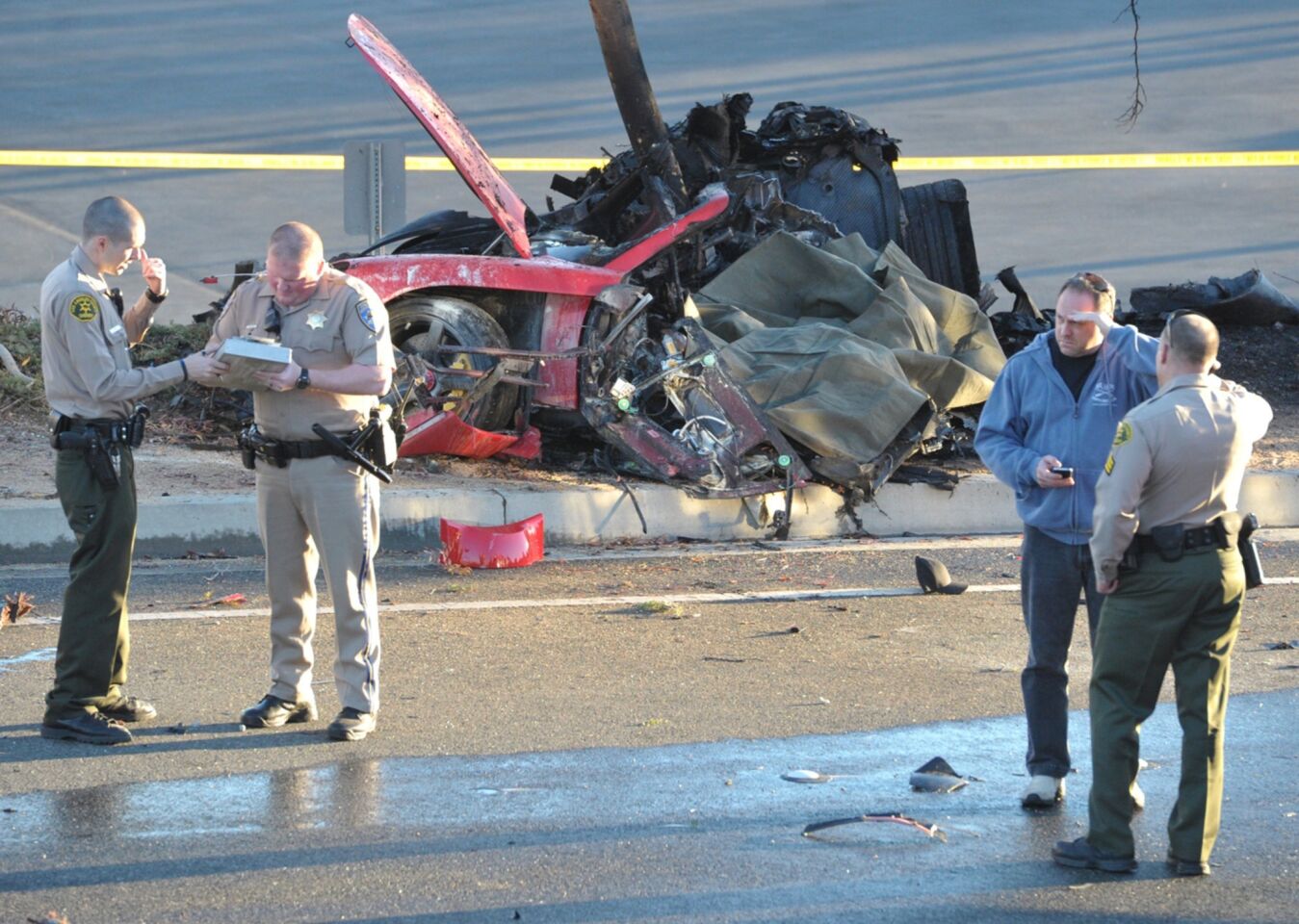 Speed may have been a factor in the crash, which occurred about 3:30 p.m. Saturday on a normally quiet road with a 45-mph speed limit, authorities said.
(Dan Watson / Associated Press)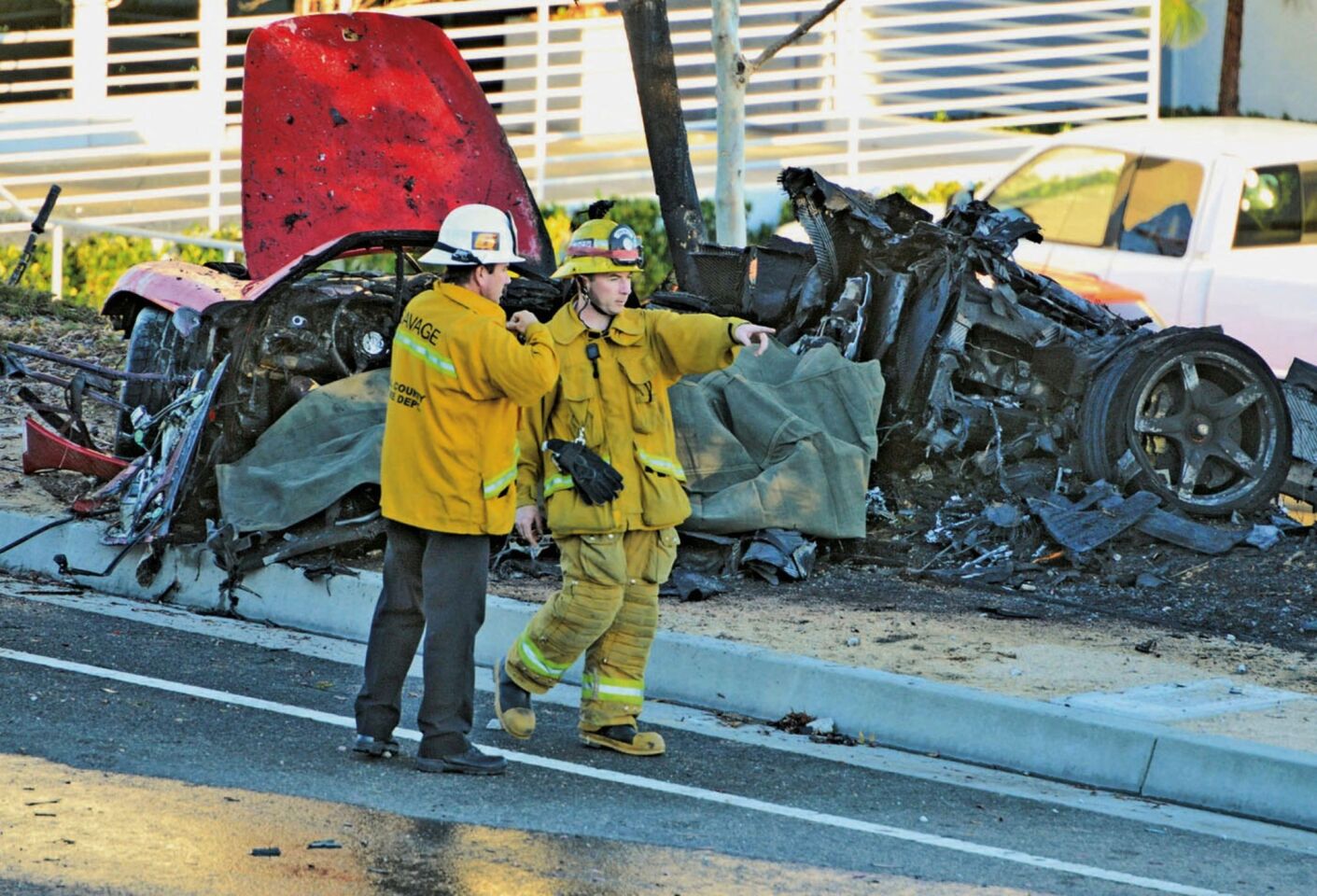 Officials say it could take some time before investigators know how fast a Porsche was traveling when it crashed in Santa Clarita on Saturday, killing "Fast & Furious" actor Paul Walker and another man.
(Dan Watson / Associated Press)
The widow of Roger Rodas claims in a lawsuit filed Monday that the Porsche he was driving was going only 55 mph when it crashed, killing him and his passenger, actor Paul Walker.
The claim contradicts a Los Angeles County Sheriff's Department's report that found the sports car was traveling at an unsafe speed of more than 90 mph along a road in a Santa Clarita business park.
Both men died within seconds of the crash.
According to the lawsuit filed on behalf of Kristine Rodas, the right rear tire of the Porsche Carrera GT suddenly steered to the left and despite the efforts of her late husband, a veteran race car driver, the vehicle continued a clockwise movement before climbing the curb, swiping a tree and hitting a light pole and a second tree.
The car then hit a third tree on the passenger side, causing the vehicle to split and catch fire.
Attorney Mark Geragos alleges the car's suspension system forced it to careen out of control. The lightweight construction in the 605-horsepower vehicle described by Porsche as "close to a race car as we will ever get" lacked a proper crash cage and safety features in the gas tank that would have saved Rodas and Walker.
The impact of the crash caused the fuel tank to rupture and spill fuel into the engine compartment, the suit said.
"The Carrera GT was unsafe for its intended use by reason of defects in its manufacture, design, testing, component and constituents, so that it would not safely serve its purpose," according to the suit.
Rodas' family is seeking unspecified damages from Porsche Cars North America.
The sheriff's and CHP reports released in March found that unsafe speed and not mechanical problems was responsible for the deadly crash. Investigators reached those conclusions after consulting with Porsche technicians.
The car was the subject of a lawsuit after a 2005 crash that claimed the lives of two men at the California Speedway when they swerved into a concrete wall.
In 2006, Porsche contributed 8% of a $4.5-million settlement after owner Ben Keaton and his passenger, Corey Rudl, died. They swerved to avoid a collision with a slower-moving Ferrari that had entered the track, according to records and attorneys. Rudl's widow sued the track, Keaton's estate and the car manufacturer in San Diego Superior Court.
They settled without acknowledging any wrongdoing. Porsche says the car is safe.
Craig McClellan, the San Diego-based personal injury attorney representing Rudl's widow, argued that Porsche was partly to blame for the crash because it knew the car had a history of over-steering problems during development and the company designed it without an electronic stability control system.
"It is a fairly stripped-down car designed for the race track," McClellan said.
---
The stories shaping California
Get up to speed with our Essential California newsletter, sent six days a week.
You may occasionally receive promotional content from the Los Angeles Times.