Brock Turner judge recall will discourage others from being lenient, experts say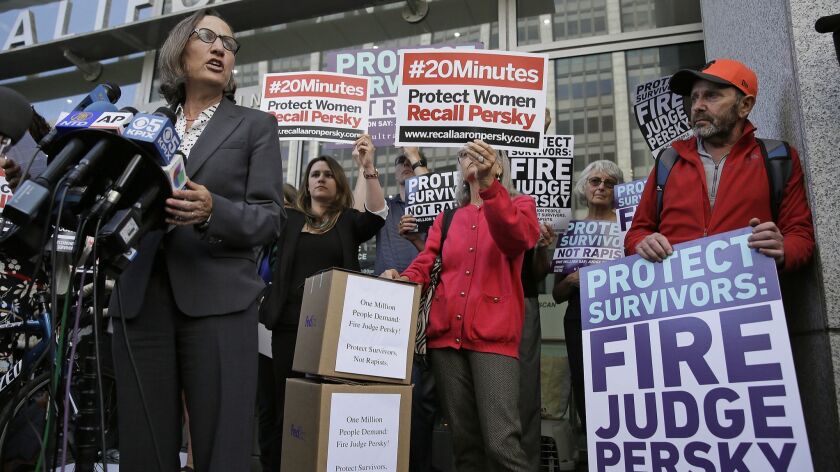 Reporting from San Francisco —
The ballot box recall of a judge who gave a light sentence in a high-profile sexual assault case will discourage other judges from being lenient in the future, legal analysts said Wednesday.
Santa Clara County Superior Court Judge Aaron Persky, who sentenced former Stanford University student Brock Turner to six months in jail for the digital penetration of an intoxicated, unconscious woman, was thrown off the bench Tuesday in a 60% to 40% vote.
Stanford Law professor Michele Dauber, who led the recall effort, said the vote sent a message that "sexual violence, including campus sexual violence, must be taken seriously by our elected officials and by the justice system."
UC Berkeley Law School Dean Erwin Chemerinsky said the recall also sent another message that would have a "real impact" on judges' decision making.
"Judges around the state were closely following this, and I think the message they are going to take is that if they hand down a sentence that is too lenient, they could face what Persky did," Chemerinsky said.
The last recall of a judge in California occurred more than 80 years ago. In 1986, voters decided to boot the late Chief Justice Rose Bird and two colleagues from the state Supreme Court in a regular retention election, not a recall, after a campaign that attacked them for not enforcing the death penalty.
Persky, 56, was unavailable for comment. He said in an interview prior to the election that he had made no plans about a different career should voters oust him. He served on the bench for 15 years.
He will be replaced by Santa Clara County prosecutor Cindy Hendrickson, who supported the recall. She defeated another lawyer who ran as a recall opponent.
Former Santa Clara Superior Court Judge LaDoris Cordell, one of four women who led an effort to defeat the recall, said Wednesday that the anti-judge campaign spewed "lies" for two years that the judge could not correct because by law he was prohibited from discussing pending cases.
Cordell and others banded together in February to fight the recall, but she said Wednesday that they had too little time to change perceptions.
"They ran a very effective, emotional campaign," Cordell said of the recall supporters, and "took advantage of the fact that the electorate was very uninformed of how the criminal justice system works."
Both Dauber and Persky received threats during the campaign, anti-recall signs were vandalized and a lawyer for Dauber notified Cordell that she would be sued for defamation.
Cordell in turn retained a lawyer, who called the threat of legal action baseless.
Dauber holds a doctorate in sociology and has long been an advocate for victims of sexual assault. She graduated from law school but has never been licensed to practice law.
Turner, who was 19 at the time of the assault, served three months of his six-month sentence. Both he and the victim were intoxicated during the assault, and a female probation officer had recommended that he receive a lenient sentence.
Prosecutors had sought a six-year term.
Persky also sentenced Turner to three years of probation, and under the law Turner must register for life as a sex offender. He dropped out of Stanford and returned to his native Ohio after leaving jail.
Cordell said she would work to change California's recall law so judges cannot be ousted for making a lawful judgment call.
Loyola Law professor Laurie Levenson called the plan "a good idea" but wondered if voters would grasp its significance.
The recall became a "rallying cry because this case happened in the shadow of the #MeToo movement," Levenson said. "I think it is much harder to get something passed when it deals with an abstract concept."
Levenson expressed concern that "judges will now be looking over their shoulders when they make tough decisions."
"Generally judges run gun-shy on doing things that may be criticized for being soft on crime, " said Levenson, a former prosecutor who founded an innocence program at Loyola. "It wouldn't take much for judges to basically be as tough as they can be. That is the real problem with what happened here."
Dauber said she had "greater faith in the integrity of judges than Judge Persky and his campaign do."
"One outcome of this historic victory is that we have demonstrated that violence against women is a voting issue — alongside reproductive freedom, gun control, and the other issues that progressive Democratic women care about," Dauber said in a written statement. "If candidates want the votes of progressive Democratic women, they will have to take this issue seriously. If they do not, they will hear from women at the polls."
Twitter: @mauradolan
---
The stories shaping California
Get up to speed with our Essential California newsletter, sent six days a week.
You may occasionally receive promotional content from the Los Angeles Times.