In California Trump country, 'the resistance' tries to rally support — and sometimes gets the bird
Reporting from QUINCY, Calif. —
It's hard to miss the wooden sign hanging from the trees, right on Main Street between the courthouse and the hospital in this small Sierra Nevada town.
"BERNIE" it proclaims in neon-orange letters. Yes, that Bernie.
Maybe a tribute to Bernie Sanders is of little surprise in California, the liberal bastion that President Trump once said "in many ways is out of control." But this is Plumas County, part of a bloc of red and rural Northern California counties that voted for Trump in November.
So someone who still feels the Bern here is likely to stick out.
"We do get noticed," said Wayne Cartwright, 70, who hung the homemade sign outside his home — after Trump was inaugurated and half a year after Sanders ended his presidential campaign. "We're different, in a good way. I think we have to keep the flame burning."
The sign has elicited honks, middle fingers and a few shouted four-letter words. It even popped up in the sheriff's blotter in a recent edition of the Feather River Bulletin newspaper.
"In Quincy, a caller reported what he called an offensive Bernie (Bernie Sanders) sign … He wanted a deputy to contact him to see if something could be done about taking it down," the blotter states.
The residents of Plumas County, which is comprised mostly of tiny, unincorporated Gold Rush communities nestled among the pine forests, cast 56% of their votes to elect Trump president. The population here is shrinking — down 7% since 2010, to about 18,600 — and is 83% white, making it a growing anomaly in a state where Latinos now outnumber whites.
We're different, in a good way. I think we have to keep the flame burning.
— Wayne Cartwright
It's not uncommon to see the flag for Jefferson, the long-proposed 51st state comprised of counties in Northern California and southern Oregon, where rural conservatives say they are unfairly represented in states where they are outvoted and outnumbered by liberal urbanites. The secessionists' green and yellow flag includes a pair of Xs known as the double cross, which represent their sense of abandonment from both state governments.
It's in this environment that a cadre of liberals, who say they are the outnumbered ones here, has gathered outside the Plumas County Courthouse every week — come snow, rain and sun — to protest the president.
On a recent, sweltering Friday, nine people, including Cartwright, posted up on the corner of Main and Court streets.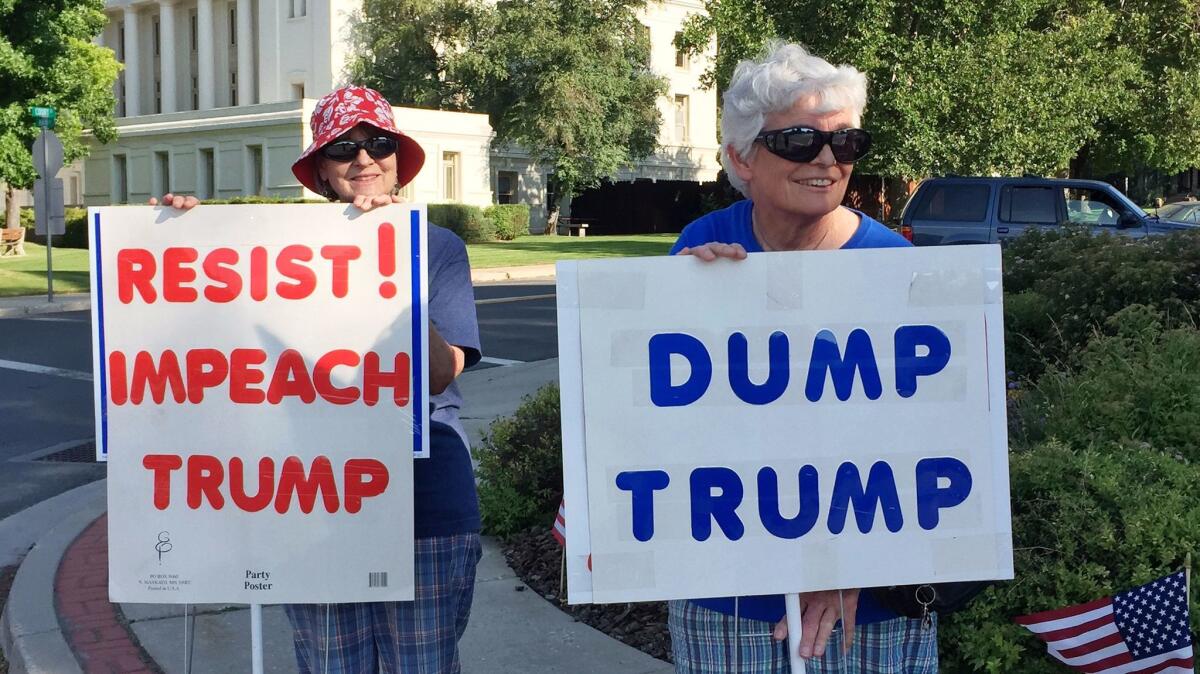 Cheri Smith, of nearby Graeagle, held up signs that read "MIA Integrity" and "Enough. Change the Channel." Her husband, Chris, held up a sign with a smiley face thanking firefighters battling a nearby wildfire because, hey, that's important, too.
"This shows there are other voices to be heard," Cheri Smith said. "There are rural pockets like this that are conservative, and the conservatism is fine. But people need to be able to be heard."
The protesters say they felt more open disdain when they first started showing up. People would yell at them, saying Trump won and they needed to just get over it. The driver of a truck with a Confederate flag hanging off it would drive by and squeal his tires. A sheriff's deputy in a marked car even flipped them off before quickly driving away, Smith said.
People have been nicer lately, though. On this afternoon, a man in a giant white pickup truck rolled down his window and shouted, "My horn's broke, but I'll wave!"
Chris Smith, whose father was a career foreign service officer with the U.S. State Department, grew up overseas and keeps up with international news. He said he was protesting because he was appalled by the way Trump dealt with world leaders and by the president's heated rhetoric over a nuclear threat from North Korea.
"I'm aghast at what's going on now," Smith said.
"My father would be rolling in his grave if he weren't in the Monterey Bay," he quipped. (His late father was cremated.)
Smith and Wayne Cartwright traded liberal badges of honor.
"I keep up with the BBC," Smith said.
"I read the Guardian!" Cartwright responded.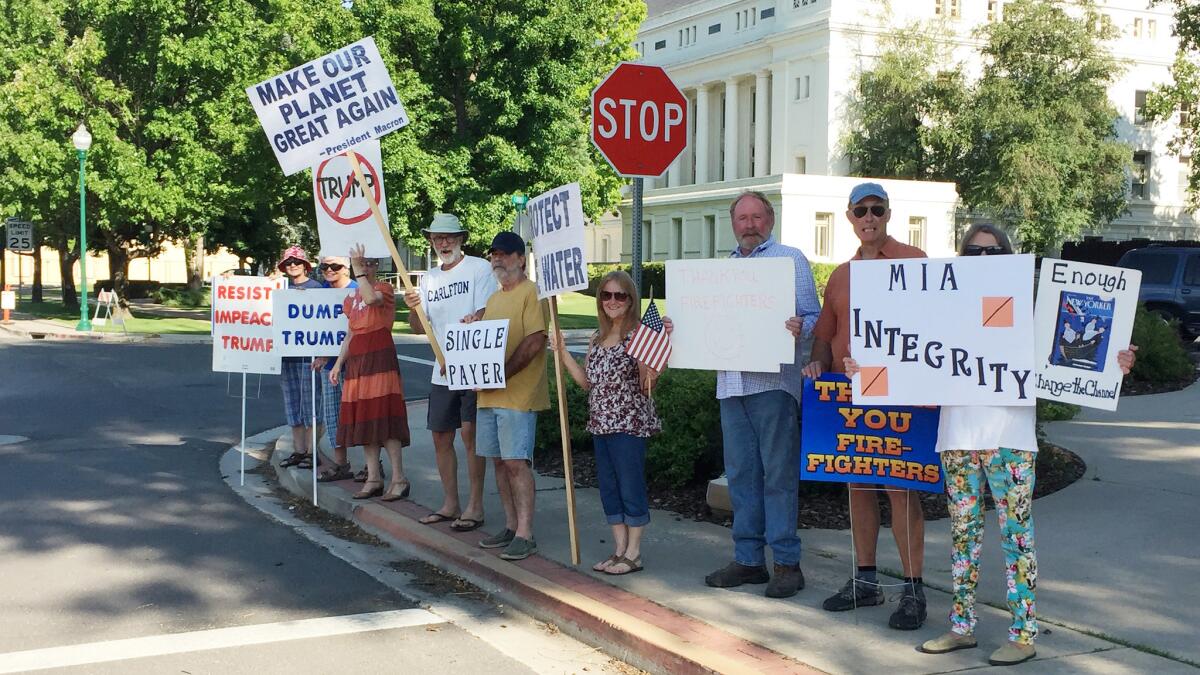 Londa Lehman and Marilyn Irish — roommates who are both 71-year-old retired teachers from East Quincy — did not mince words (by the standards of proper-speaking, retired teachers). "Resist! Impeach Trump," read Irish's sign.
"We thought by voting for Hillary Clinton we'd have a woman leading the world," Lehman said. "We do. It's Angela Merkel."
Lehman said they don't talk about politics with neighbors because they know they're conservative. The nation has a misperception of California, she said.
"They think we all live on the beach and we're all liberal," she said.
Almost on cue, a man driving a sport utility vehicle slowed down, rolled his window down and pumped his fist out the window. "Go, Trump! Go, Trump! Go, Trump!" he shouted.
Cartwright hoisted a sign stating "Make Our Planet Great Again." He really took a shine to making signs since hanging his BERNIE placard at home, he says.
Cartwright moved to Quincy in 1999, after spending years working for the United Nations in war-torn countries, supplying food to refugees. The area, he said, has long been conservative.
I've had some moments of feeling like, 'Do we really want to identify ourselves?'
— Susan Allen
"It's a resentment of the urban elites," he said. "It's, 'we're out here in the countryside, we're hardworking people. You people think you're so smart. You're oppressing us, you're regulating us.'"
Cartwright initially hung an official Sanders campaign sign from his tree last year. He'd known about Sanders for years and respected the Vermont senator's positions on healthcare and income inequality. (While Sanders did not get to face Trump in the general presidential election, he introduced a new plan to cover all Americans with Medicare last week. On Monday, he and Democratic Sen. Amy Klobuchar will participate in a debate on CNN against Republican Sens. Lindsey Graham and Bill Cassidy about their latest effort to overhaul Obamacare.)
Almost as soon as Cartwright hung his campaign sign last year, someone stole it.
Last September, Cartwright and his partner, Susan Allen, took a road trip through eastern California, Oregon and Washington. At the time, Clinton was leading all the polls. But the couple were stunned by what they did not see: Clinton campaign signs.
"We saw one Hillary sign that said 'Hillary for Prison,'" Allen said. "All the rest were for Trump."
In eastern Oregon, they drove past a man's "shrine" to Sanders, full of handmade signs. Cartwright was inspired.
After the election, Cartwright was depressed and bitter. He kept thinking back to that man's signs and talked and talked about making his own. People "thought I was crazy," he said, because "at this point, everything was over."
He made his Bernie sign from an old piece of plywood and some leftover greenhouse paint and hung it this spring. The colors — not so obviously political — have given Allen some comfort.
"I've had some moments of feeling like, 'Do we really want to identify ourselves?'" said Allen, who splits her time between Quincy and ultra-liberal San Francisco. "I think the fact that it's green and orange makes me feel a little more comfortable. [Bernie] could be our name."
Cartwright has no plans to take the sign down. The election's long over, but he's still waiting for a revolution.
If it happens in Plumas County, vast and sparsely populated, there will be lots of elbow room.
Twitter: @haileybranson
Sign up for Essential California for news, features and recommendations from the L.A. Times and beyond in your inbox six days a week.
You may occasionally receive promotional content from the Los Angeles Times.