'Blue Lives Matter,' police and supporters say at Hollywood rally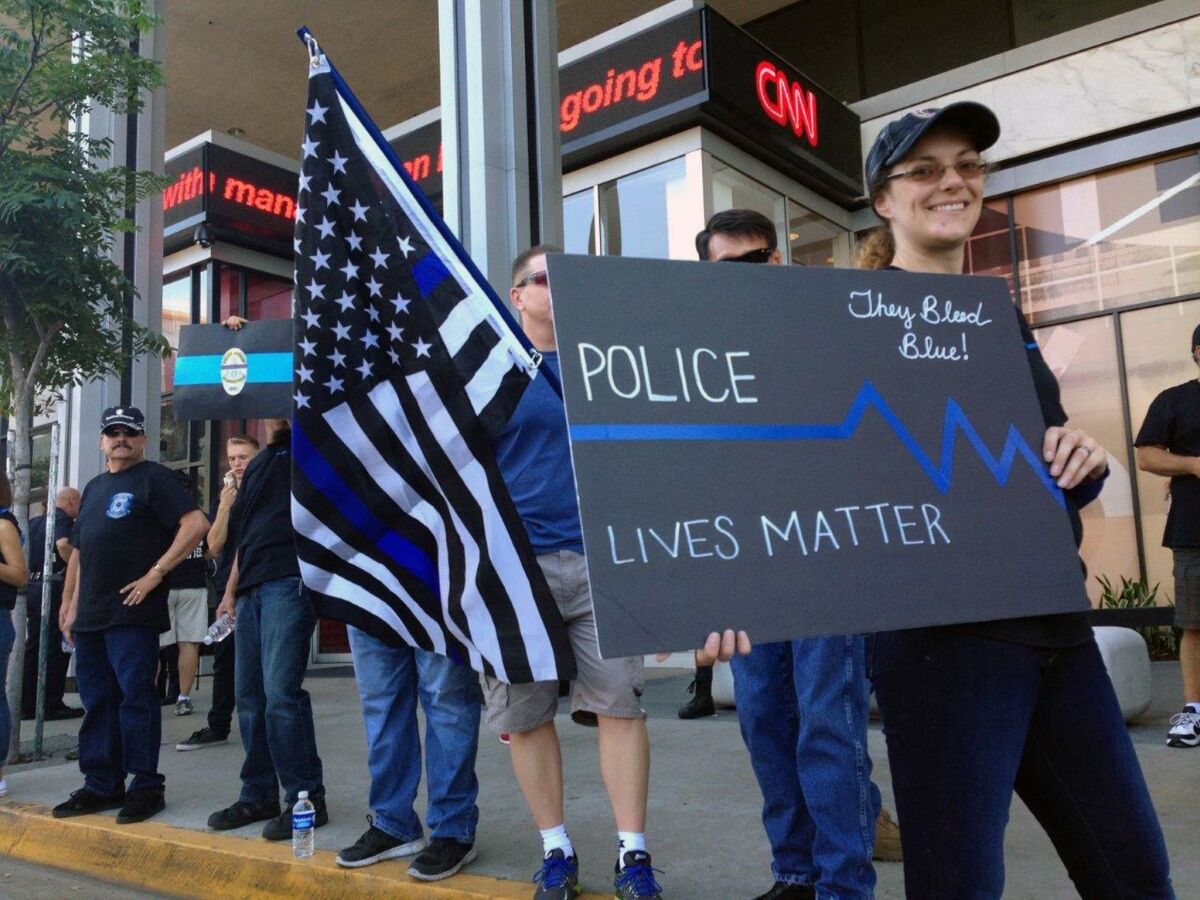 Waving American flags and holding up signs that read "Blue Lives Matter," about 100 Los Angeles police officers joined members of the community at a rally in Hollywood on Saturday intended to show support for the department at a time when crime is spiking and the ambush killings of police officers in cities elsewhere have left authorities across the nation feeling under siege.
The demonstrators gathered first in front of the CNN building on Sunset Boulevard and later at the nearby Hollywood Community Police Station. Motorists, including patrol officers and firefighters, expressed their appreciation by honking horns and sounding sirens.
Among the demonstrators was Annie Bergin, 34, of Los Angeles, who held up a poster that read, "They bleed blue."
Interested in the stories shaping California? Sign up for the free Essential California newsletter >>
"There's something weird and scary going on right now – police are being assassinated," she said. "I'm here to show that I strongly support the LAPD and law enforcement officers everywhere who risk their lives each day to keep us safe."
The event was organized by the Los Angeles Police Protective League as part of an effort to counter demonstrations nationwide in the aftermath of several high-profile police killings of unarmed civilians, and to decry the fatal "ambush" shooting of an officer in Houston a month ago and the similar killing of two New York City officers in late 2014. LAPD Chief Charlie Beck made a brief appearance at the rally.
"This is just the beginning of a nationwide campaign," said Jerretta Sandoz, vice president of the 10,000-member Police Protection League. "We've reached out to police unions in New York, Chicago, Atlanta, Houston and many other cities and they are all on board.
"Now, we're searching for a unifying catch phrase and symbol that will send this message: Enough is enough," she said. "There's just too much negativity throughout the country related to police work."
John Redican, a patrol officer with the LAPD's Newton Division, agreed.
"Police are being marginalized and demonized by a small segment of society with views that are magnified by the media," Redican said. "This event is an attempt to mitigate that perception by showing that a majority of people understand that we are out there trying to keep the wolves away from our doors."
August was the deadliest month in Los Angeles in six years.
Speaking at an emotional news conference on Friday, Mayor Eric Garcetti appealed for patience with his administration's 5-month-old police strategy intended to suppress spiking violence, saying it would take time to show full results.
That approach, which involves deploying hundreds of additional elite police officers into troubled neighborhoods and increasing funding for gang-intervention programs, has prevented an even sharper rise in violence, Garcetti said.
In the meantime, Anna Strongwolf, 43, of Los Angeles has her mind made up.
"There's far too much negative junk directed at officers who keep us safe from anarchy," said Strongwolf, who would identify herself only as a police officer. "I get emails alerting us when an officer somewhere in the United States was killed in the line of duty.
"Not long ago, I got two in one day," she said. "This has got to stop."
Interested in the stories shaping California? Sign up for the free Essential California newsletter >>
ALSO
Accusations against Arab royalty are the talk of Beverly Hills
Dockweiler State Beach reopens after cleanup of medical waste
Attack on 83-year-old man caught on video in Santa Ana; suspect sought
---
The stories shaping California
Get up to speed with our Essential California newsletter, sent six days a week.
You may occasionally receive promotional content from the Los Angeles Times.