Robbery mistaken for shooting leads to panic and huge police response at Riverside mall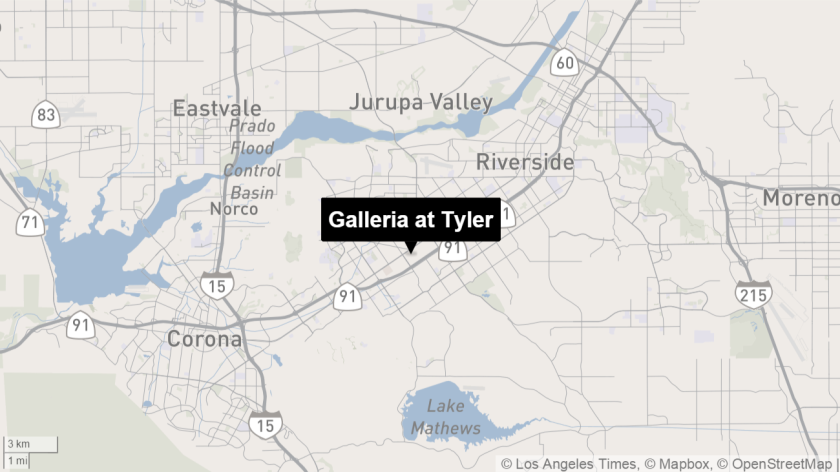 Reporting From Riverside —
A robbery at a jewelry store at the Gallery at Tyler in Riverside caused a panic among shoppers Sunday evening when they apparently mistook the sound of breaking glass for gunshots, police and witnesses said.
Three suspects wearing ski masks and armed with hammers entered the Ben Bridge Jeweler store at the mall, Riverside Police Chief Sergio Diaz said. The suspects smacked the display cases with hammers, he said.
"The sound of them smashing the glass was mistaken for gunshots," Diaz said. "That's what led to the initial report" that a shooting occurred.
The suspects fled the scene and remain at large, although their getaway vehicle was located, Diaz said.
Eloy Medina, 42, and his wife, Lissette Medina, 30, both of San Bernardino were in the mall.
"There were definitely two loud bangs which made all the shoppers on the first floor start running for their lives," Eloy Medina said.
Lissette Medina said people were running for safety all around the mall.
"The women were kicking off their high heels so that they could run faster and shoppers were dropping their bags and taking off. I called 911 and the line was busy. I tried again and I got through and the person said there were shots fired, please get out of the mall. People were tripping over each other. Several people were trampled. No one tried to help anyone else get up," she said.
Amid the chaos, "The first thing that went thru my mind was, 'Oh, God, we're under terrorist attack,'" said Erica Muschara, 28, who was in a M.A.C. Cosmetics store inside the mall. "Everyone was screaming and running. I grabbed my niece and we were directed by M.A.C. workers into a storage room with a lock and bulletproof doors. There were 24 people in there, including some children who were trembling and crying."
Cassandra Lara, 23, said her partner was inside the mall and unable to get out because it's on lockdown. They communicated through text messages.
She said her partner said that "there are lots of police in the mall searching store by store."
"No doubt about it, everyone was on edge because of what happened in San Bernardino," she said in a text.
Sahagun reported from Riverside; Winton from Los Angeles.
louis.sahagun@latimes.com
richard.winton@latimes.com
ALSO
L.A. school board holds unusual Sunday meeting to interview superintendent candidates
They met online, built a life in San Bernardino — and silently planned a massacre
---
The stories shaping California
Get up to speed with our Essential California newsletter, sent six days a week.
You may occasionally receive promotional content from the Los Angeles Times.