Pomona's wave of killing continues with deadly drive-by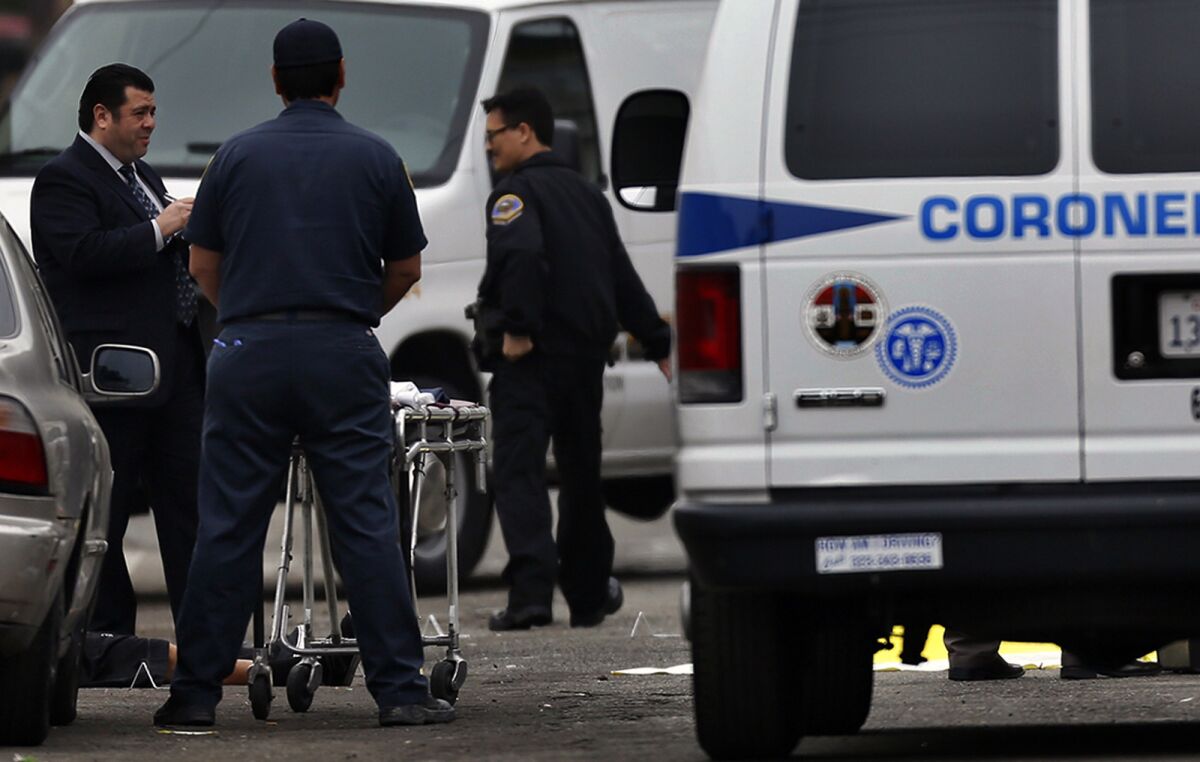 A 23-year-old man was shot and killed in Pomona on Monday night, the 20th death in an already bloody year for the city.
Police said Andrew McColeman was shot about 7:50 p.m. in the front yard of a home in the 1400 block of South White Avenue. A dark vehicle drove by and someone inside opened fire, fatally striking McColeman but missing two others who were outside with him, Pomona police Sgt. Marcus Perez said Tuesday morning.
Pomona has seen a sharp increase in homicides in the last two years — reversing years of declines in a city that was once notorious for its murder rate and gang wars. The 20 killings so far this year compare to 17 for all of 2012 and 11 for 2011.
By contrast, homicides are down this year in Los Angeles. Meanwhile, the number of homicides in areas patrolled by the Los Angeles County Sheriff's Department, which hit a 50-year low in 2012, are up slightly this year.
Homicides in Pomona peaked in the 1990s, when 34 people were killed in one year. Although the current figure is lower, the violence has the city of 150,000 on edge and searching for solutions.
"There are so many factors," Pomona Police Lt. Eddie Vazquez said. "We're seeing a mix of everything. Personal, drug-related, some are straight gang-related."
The shootings are proving difficult for detectives because there is limited physical evidence, officials say.
"Unfortunately, this year we don't have a lot of cooperation," Vazquez said. "We have very few leads, very few witnesses who have come forward. The ones we do have are very reluctant because of fear of intimidation or retaliation."
As crime has increased, Pomona police have moved more officers to the gang detail, which now works every day instead of just when there are gang crimes to investigate.
Pomona is also heading a task force that includes detectives from Covina, Claremont, La Verne, Baldwin Park and Azusa that oversees parolees released under the state's prison realignment plan.
Last week, police performed a probation compliance check at several locations simultaneously. The sweep turned up six weapons, two smoke grenades and ammunition, police said.
ALSO:
L.A.'s ban on new murals could be lifted by City Council
For sale: Dick Van Dyke's car, slightly used and 'REAL CHEAP'
Family of Lee Thompson Young ('Jett Jackson') asks for privacy
The stories shaping California
Get up to speed with our Essential California newsletter, sent six days a week.
You may occasionally receive promotional content from the Los Angeles Times.