The port that fuels L.A.'s economy and fouls its air gets a pollution-reduction team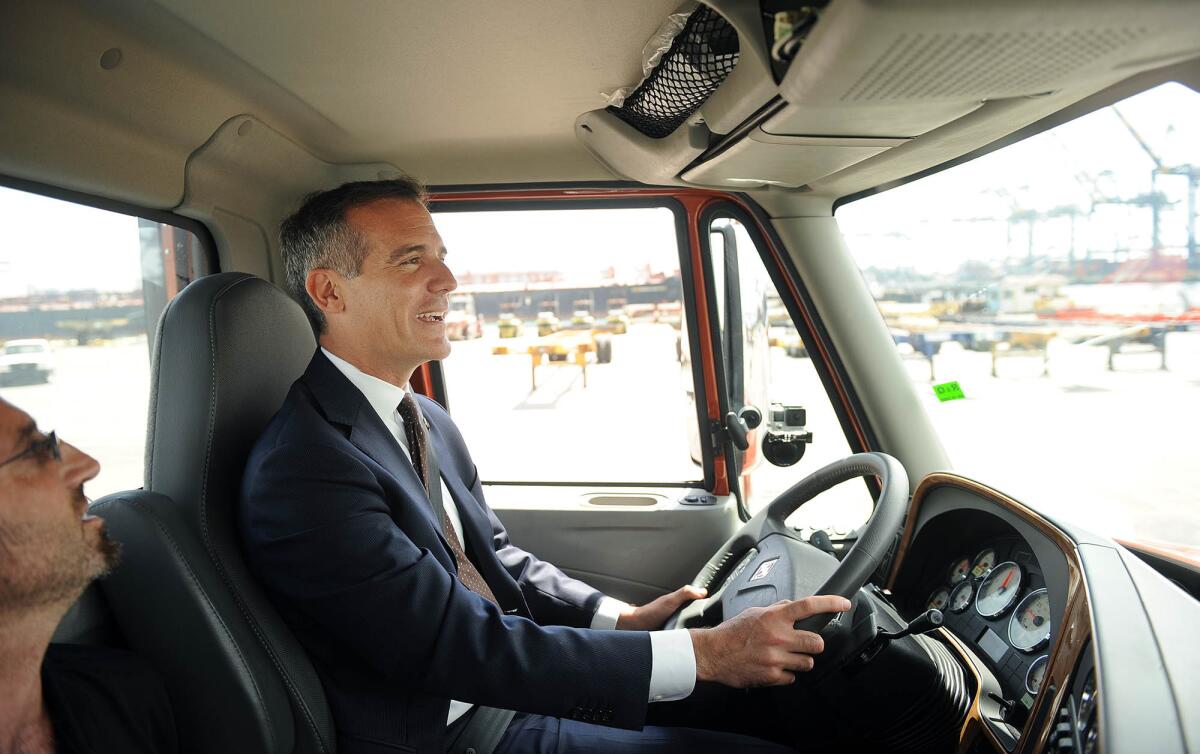 Mayor Eric Garcetti on Tuesday announced the appointment of an advisory panel tasked with reducing air pollution from the Port of Los Angeles by expanding the use of zero-emissions technology.
The 10-member Sustainable Freight Advisory Board, made up of representatives from industry, environmental groups, labor, and air quality agencies, will advise the city-owned port on how to work with manufacturers to develop and deploy cleaner trucks, trains, ships and cargo-handling equipment.
Trade passing through the Los Angeles and Long Beach ports support hundreds of thousands of jobs across Southern California.
Despite dramatic emissions cuts over the last decade, the port complex remains the single largest source of air pollution in Southern California. To blame are thousands of diesel-powered trucks, container ships and cargo-moving equipment that emit harmful particles and gases, worsen smog and burden harbor communities with increased asthma rates and and the region's highest cancer risk from air pollution.
"It's an unacceptable price to pay for a bustling port, but we don't have to choose between one and the other," Garcetti said at a news conference at a port terminal. "We can have healthy communities and we can have a healthy port. We can have economic growth and clean air."
We can have economic growth and clean air.
— Los Angeles Mayor Eric Garcetti
To continue reducing emissions over the next decade, Port Director Gene Seroka said, "we need focus on technology and strategies that will push the envelope."
Seroka said the panel would advise him and the mayor on "how to accelerate the introduction of equipment that we know will help us meet our air quality goals and commitments."
The panel will meet in private and make recommendations to port officials and the mayor. Those reports will be made public, Garcetti said.
In a city sustainability plan adopted last year, Garcetti set a goal of increasing zero-emissions goods movement trips to at least 15 percent by 2025.
Today, shipping containers full of clothing, furniture, electronics and other goods from around the world are moved through the port overwhelmingly by diesel-powered vehicles and equipment. That will have to change dramatically over the next 10 to 15 years for California to meet smog standards and climate-change targets, air quality experts and government officials say.
Under an order by Gov. Jerry Brown, state agencies have drafted a plan to transition the freight transport system to less-polluting and zero-emissions technology, a blueprint city officials said will help guide the Port of Los Angeles in its efforts.
The port's environmental commitments have come under renewed scrutiny by community groups and environmentalists recently after revelations that officials had allowed two major shipping companies — China Shipping and TraPac — to violate key air quality requirements the city had agreed to impose years ago as conditions of expanding their terminals.
Among the unfulfilled measures were mandates for cleaner natural-gas-fueled trucks, lower-polluting cargo-handling equipment, and requirements that container ships plug into shore-based electrical power to reduce harmful diesel emissions. While some of the violations went back several years, port officials did not inform the public.
As part of an effort to mend relations with the community, port officials also announced they would begin holding monthly, open-door meetings and quarterly open houses for members of the public to receive updates and voice concerns on its environmental initiatives and other upcoming projects.
The South Coast Air Quality Management District, meanwhile, signaled in a pollution-reduction plan released last month that it would use voluntary measures, such as incentive programs that pay businesses to switch to cleaner equipment, to improve air quality at the ports, with a rule or agreement as a backstop in case those reductions are not achieved.
Garcetti spoke at the port's Pasha shipping terminal, where a $26-million project is being launched to demonstrate zero-emission technologies, including electric trucks, yard tractors, forklifts and a solar-powered battery storage system.
ALSO
It's not just Dallas — the number of police officers killed nationwide has increased
County marijuana tax for homeless services to appear on November's ballot
In a changing Boyle Heights, a tiny cantina favored by locals reopens to cheers
Sign up for Essential California for news, features and recommendations from the L.A. Times and beyond in your inbox six days a week.
You may occasionally receive promotional content from the Los Angeles Times.