AQMD plan would fight smog mainly through incentives, not rules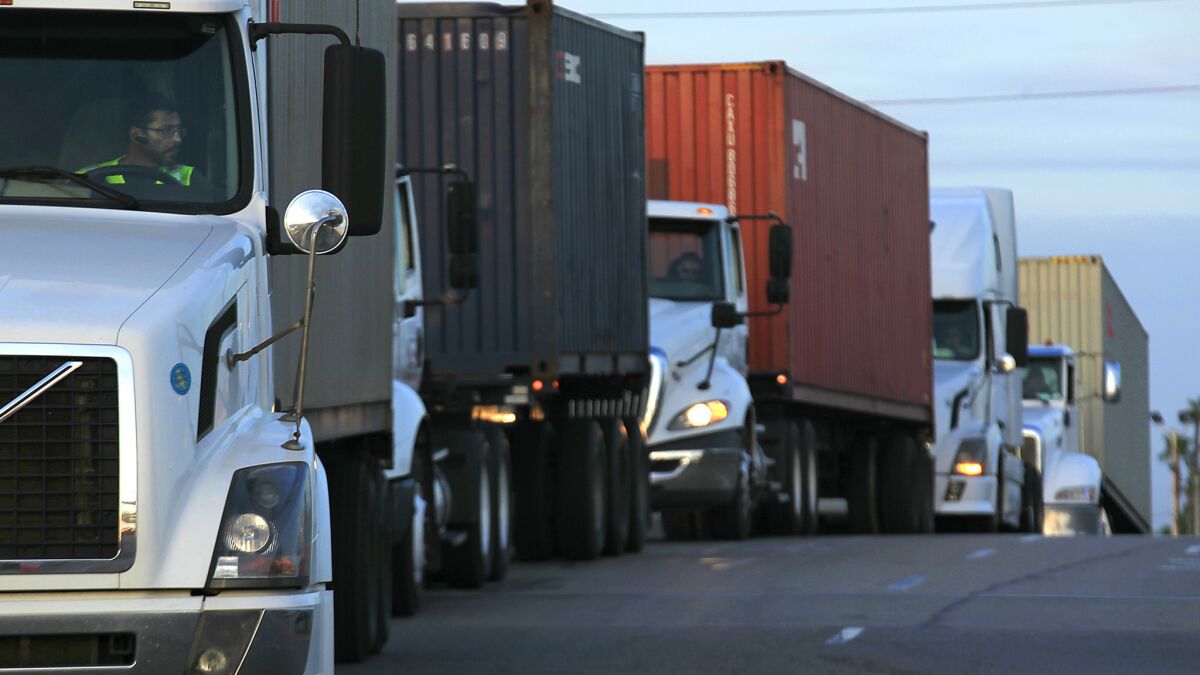 For decades, regulators have attacked Southern California's notorious smog through an ever-stricter array of regulations that forced polluters to deploy cleaner technology.
But a plan released Thursday by the South Coast Air Quality Management District takes a more industry-friendly approach. It relies on finding billions in incentive funds to encourage people and businesses to voluntarily transition to lower-polluting cars, trucks and equipment.
The proposal outlines how regulators plan to curb the nation's worst smog to meet a series of federal deadlines over the next 15 years by giving priority to "nonregulatory" approaches. In addition to seeking $11 to $14 billion in incentive money, the plan would take credit for "co-benefits," the air quality improvements expected to result from climate change, transportation and energy efficiency programs being carried out by other agencies.
The plan's reliance on voluntary measures and credits rather than traditional regulations sparked immediate criticism from environmentalists. They said the proposal lacks funding and enforcement mechanisms, and would shift financial responsibility for cleaning the air toward taxpayers and away from polluting industries.
"This is not a real plan, it's a promise to let polluters off the hook," said Angela Johnson Meszaros, an attorney for the environmental nonprofit Earthjustice.
The plan is the latest indication of a shift at the powerful pollution control agency, which is responsible for protecting the health of 17 million people across a vast basin that spans Los Angeles, Orange, Riverside and San Bernardino counties.
The AQMD has come under fire from environmentalists and state lawmakers since Republicans took control of its governing board and fired its longtime executive this year, with some new members pledging to make pollution regulations easier on businesses.
Regulators have made tremendous progress on reducing Southern California smog, with pollution levels dropping to about a third of what they were in the 1970s and '80s. But the the region remains far from meeting federal health standards and progress has leveled off in recent years. AQMD officials say they have nearly exhausted their options for reducing smog-forming pollutants through traditional control measures.
"We think we've gone as far as we can and what's left is going to be these innovative approaches," said Philip Fine, a deputy executive officer with the air district. "We don't see any other way."
The plan's main target is ozone, the lung-searing gas that forms when pollution from cars, trucks, factories and other combustion sources reacts in the heat and sunlight. Ozone pollution, which triggers asthma and other respiratory problems, plagues Southern California's inland valleys and mountains, reaching the nation's worst levels on hot summer afternoons.
To meet federal health standards, the region must cut emissions of ozone-forming nitrogen oxides to under 100 tons per day by 2031, or 55% beyond all existing regulations, from the current level of about 500 tons per day.
Central to the plan is a proposal to spend $11 billion to $14 billion on emissions-cutting incentive programs over the next 15 years, a nearly 20-fold increase from the $56 million a year in incentive funds the district receives now.
While no specific funding sources were identified, the plan says Congress could create a national fund for cleaning the regions with the most polluted air, an idea modeled on the federal Superfund program for hazardous waste sites.
Evan Gillespie, who directs the Sierra Club's My Generation campaign, was skeptical. "The air district has no way of paying for the incentives now, nor do they even have a defensible plan to raise the money needed," he said.
The pursuit of alternatives to traditional regulations reflects a longstanding complaint by local pollution regulators that they have little control over some of the biggest sources of pollution. While heavy-duty trucks, cars, locomotives, cargo ships and other mobile sources emit more than 80% of the region's nitrogen oxides, they are regulated by state and federal authorities.
Among the measures proposed in the plan is an ultra-low emissions standard for heavy-duty trucks that the air district has petitioned the U.S. Environmental Protection Agency to adopt.
The plan identifies some traditional regulations to cut pollution from industrial flares, as well as from cooking burners in homes and restaurants. It also includes a proposal for additional pollution cuts to a cap-and-trade program for oil refineries and other major facilities that is likely to face opposition from the petroleum industry. But the strategies for cutting emissions from facilities in the freight sector -- including ports, warehouses and rail yards -- would be executed on a voluntary basis, AQMD officials said.
Business groups said they were reviewing the plan.
In a statement, Western States Petroleum Assn. President Catherine Reheis-Boyd said her group wants to work "toward a thoughtful, balanced approach that is in the overall best interest of the South Coast Basin."
The public has until Aug. 19 to comment on the plan before it is revised. Officials expect the proposal to go before the air-quality board for consideration in December. The state Air Resources Board must approve the plan before sending it along to the EPA for review.
ALSO
2,600 buildings threatened by Northern California wildfire, forcing residents to flee
Firm used taxpayer money for prostitutes, Las Vegas bachelor parties, DWP claims in lawsuit
'An assault on her is an assault on us all': U.S.' oldest park ranger beaten and robbed in her home
---
The stories shaping California
Get up to speed with our Essential California newsletter, sent six days a week.
You may occasionally receive promotional content from the Los Angeles Times.