Porter Ranch child after gas leak plugged: 'Mom, I don't smell anything'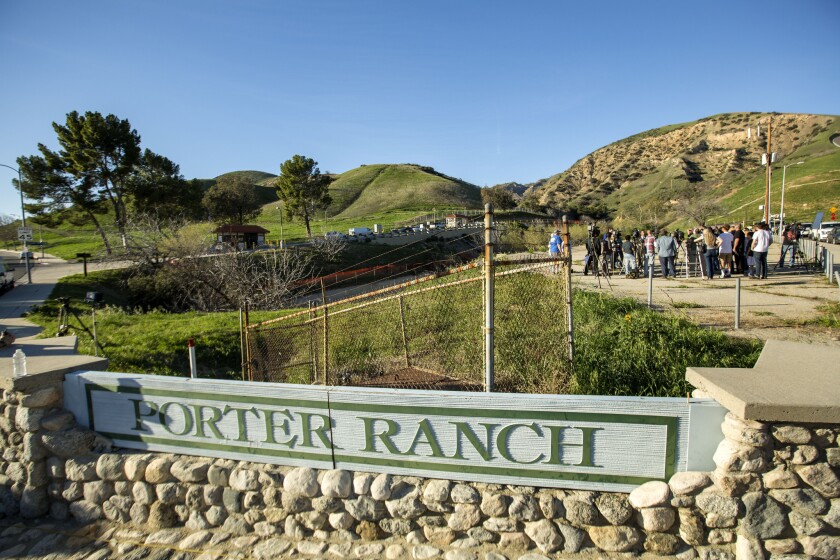 After Southern California Gas Co. announced Thursday that it had temporarily plugged a leaking well near Porter Ranch, relief washed over Michele Paull.
Since the well at the utility's Aliso Canyon storage facility began spewing natural gas in late October, much of the tranquillity of the community where she lives had vanished.
Her son, Aaron, had to switch schools. Her mailbox filled with postcards from lawyers wanting to know whether her family had been harmed. Online, the finger-pointing over the leak could become overwhelming.
And the smell? Sometimes, it was downright foul.
Hopefully, Paull said, "People will start thinking about this a little bit more clearly."
She added: "We can now rebuild our community. The gas company can fix their mistakes and we can all live happily ever after.... I'm hoping today we can all become a community again."
FULL COVERAGE: Porter Ranch gas leak>>
The company has said it needs to pump a cement mixture into the well and state engineers will conduct tests to ensure the well is killed and sealed. Ideally, the process could be completed in four to five days. But there is no exact time frame for a permanent stop to the leak.
One sign that normality is returning: At the bustling Town Center, parking spots were in high demand.
And that smell — often described as a mix of rotten eggs, decaying cabbage and soiled gym socks — was replaced by wafts from an In-N-Out Burger and notes of wok-fried Asian food.
"It's a little bit better," said Jesdel Valencia, 35, who was waiting outside Southern California Gas' community resource center, where customers meet with utility representatives.
Valencia ticked off all the symptoms she had felt since the well began to leak: headaches, nosebleeds, vomiting ... the list went on.
At the Town Center, teenagers biked across the asphalt while others, such as Reza Sadeghi, ducked into Ralphs to pick up flowers for Valentine's Day.
Sadeghi, 30, said he was skeptical that the faulty well had been temporarily plugged.
"We have no idea what's really going on," he said. "Who's to say it's not going to be fully [stopped] for three months?"
FULL COVERAGE: Porter Ranch gas leak>>
ALSO
L.A. builder KB Home settles allegations of building defects
Who is the gun-toting, brash-talking Nevada lawmaker who helped end the Oregon standoff?
Coastal Commission, an agency with populist roots, takes heat over secret-session firing of director
---
The stories shaping California
Get up to speed with our Essential California newsletter, sent six days a week.
You may occasionally receive promotional content from the Los Angeles Times.