For years, L.A. prosecutors failed to disclose misconduct by police witnesses. Now the D.A.'s office is trying to change that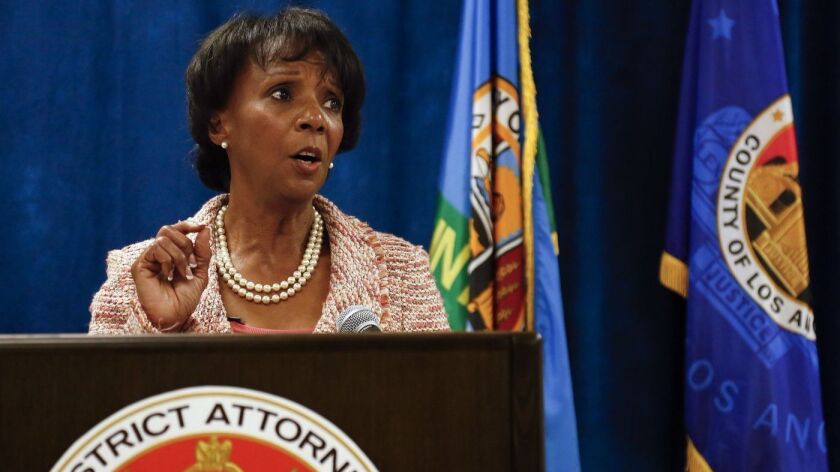 The Los Angeles County district attorney's office had plenty of evidence that Sheriff's Deputy Gary Novelich had credibility issues.
He admitted during job interviews with two other law enforcement agencies that he had written 20 to 100 inaccurate arrest reports and given inaccurate testimony in court, according to a district attorney's memo.
Nevertheless, Novelich continued testifying in criminal cases, and prosecutors didn't share the information. When the deputy took the stand, defense attorneys and judges had no idea about his previous admissions.
California's secrecy laws protecting the confidentiality of police discipline — the strictest in the nation — have helped keep misconduct out of view in courts where officers testify against defendants. But a Times review of law enforcement and court records found that prosecutors also have failed to notify defendants about alleged wrongdoing by police witnesses.
There are signs that prosecutors have recently taken steps to improve such disclosures.
The L.A. County district attorney's office has dramatically expanded its requirements for when prosecutors should disclose allegations of wrongdoing against law enforcement officers who could testify in court, sending out hundreds of letters this year notifying criminal defendants about claims of police misconduct.
Under new rules introduced in March, prosecutors are now required to tell defendants of credibility concerns about law enforcement officers who are potential witnesses in a criminal case. Previously, such disclosures had to be made only if an officer was expected to actually testify.
The new policy also calls for the office to review memos like the one documenting Novelich's admissions to determine if they should be provided to defendants and their attorneys in criminal cases where officers are testifying.
The change came several months after a Times investigation identified two dozen deputies on a secret Sheriff's Department list of officers who had been disciplined for dishonesty and other misconduct that could undermine their credibility if they took the witness stand.
Inside a secret list of hundreds of L.A. deputies with histories of misconduct »
California's police privacy laws are so strict that not even prosecutors had access to the list, even though the deputies were considered potential witnesses in more than 4,400 felony criminal cases since 2000, according to a Times analysis of district attorney records.
Some of the recent D.A. letters were sent to defense attorneys who had cases in which those same sheriff's deputies on the list were potential witnesses or actually testified, said Deputy Public Defender Lloyd Handler, who heads his office's Public Integrity Assurance Section. The notifications involve both ongoing and completed criminal cases, and they refer to alleged misconduct by officers dating as far back as a decade ago, he said.
"It would appear to be a positive change," Handler said. "You would hope that if some of this misconduct would come to light today we would be apprised of it today and not have to wait 10 years for it."
The U.S. Supreme Court has ruled that prosecutors must alert defendants to favorable evidence, including information that could undermine the credibility of government witnesses. But the state's police privacy laws have often prevented prosecutors from learning about disciplinary actions taken against law enforcement officers for serious misconduct.
Here's how California became the most secretive state on police misconduct »
California is among 22 states that keep officer discipline from the public but is the only one that blocks prosecutors from seeing entire police personnel files. A new state law that takes effect Jan. 1 will open up some internal police records to prosecutors and the public, including instances where internal affairs investigations found that officers were dishonest.
But Novelich's case shows how prosecutors have also failed to share evidence about alleged misconduct even when their office possessed documents detailing the accusations.
In a 2004 memo detailing Novelich's statements, a prosecutor in the D.A.'s Justice System Integrity Division concluded that charges could not be filed because there was no evidence that the deputy gave false information in a specific case.
The Sheriff's Department suspended Novelich for 15 days and removed him from patrol duties for three years, according to a report by the county's Office of Independent Review, which detailed Novelich's conduct without naming him.
The civilian watchdog had recommended that Novelich be fired and said his admitted conduct "showed a cavalier attitude toward the facts that reinforces some of the public's worst conceptions about officer integrity and trustworthiness."
Over the next 12 years, Novelich was listed as a potential witness in more than 200 felony and misdemeanor cases, according to a Times analysis of D.A. records.
The deputy testified at preliminary hearings in nine felony cases; seven resulted in defendants entering guilty or no contest pleas to charges that included robbery, identity theft, drug possession and drunk driving. Defense attorneys in all nine told The Times that prosecutors never notified them about Novelich's previous admissions.
"It sure as hell would have made a difference had I known that," said attorney John McDonald, who handled a 2008 case in which Novelich testified against a man who later pleaded no contest to drug possession and was sent to prison. "I would have demanded to put [Novelich] on the witness stand and ask him about what he said. I think the case would have gone away."
It's unclear whether the prosecutors who handled that case and the others knew about the memo, which was written by a different prosecutor assigned to a special unit that handles criminal cases against police officers.
It sure as hell would have made a difference had I known that.
— Attorney John McDonald, on information regarding a police witness
Novelich, who left the Sheriff's Department in 2016, did not respond to requests for comment.
District attorney's spokesman Greg Risling declined to discuss Novelich's cases. He said state law at the time required prosecutors to provide such information to defense attorneys at least 30 days prior to trial if the prosecution intended to call the officer as a witness. Only one of the nine felony cases went to trial, and Novelich did not testify, court records show.
The district attorney's office has written hundreds of similar memos documenting allegations against other police officers who were the subject of criminal investigation but never prosecuted.
Defense lawyers said prosecutors seldom notified them in the past about information from the memos.
"It's unusual for [prosecutors] to just out of the blue say, 'Oh here we have this … evidence on an officer that we've come across,' " said Jordan Yerian, a division chief at the county's alternate public defender's office.
To comply with the D.A.'s new disclosure policy, prosecutors are reviewing the memos to determine if they should be entered into an internal database of police officers and other repeat witnesses.
Line-level prosecutors handling a criminal case must check whether their potential witnesses are in the database and whether there is information that should be turned over to the defense. Risling declined to say whether the memo about Novelich had been or would be included in the database.
The new policy warns prosecutors that damaging information about government witnesses must be disclosed before a defendant pleads guilty and that violating their responsibilities to turn over favorable material could trigger a report to the State Bar.
Dist. Atty. Jackie Lacey has expanded her disclosure rules several times since she took office in 2012. In a statement, she said the new directive goes beyond the requirements of California law.
"My philosophy has always been that, when possible, prosecutors ought to disclose information that can assist the defense," she said. She declined to be interviewed.
Although the volume of notifications has increased, some defense attorneys complained that they typically included only a short description of an officer's alleged wrongdoing and lacked any supporting documents, such as police reports or court filings. The onus is then on defense lawyers to file a motion asking a judge to determine if there are relevant records in an officer's confidential personnel file.
Michael Schwartz, chief assistant district attorney at the Ventura County district attorney's office, said his agency turns over reports and other documents when prosecutors learn of past misconduct by a police witness but generally won't disclose such evidence unless the officer will be called as a witness. He praised Lacey's approach as a thoughtful one.
"Prosecutors hold themselves to a high ethical standard," Schwartz said. "The number of cases where exculpatory information has been withheld is rare. It's the exception rather than the rule. It's more of an inadvertence rather than attempt to hide something."
Times staff writer Maya Lau contributed to this report.
Follow @bposton on Twitter.
---
The stories shaping California
Get up to speed with our Essential California newsletter, sent six days a week.
You may occasionally receive promotional content from the Los Angeles Times.