Metro secures $100-million federal grant to extend the Purple Line to West L.A.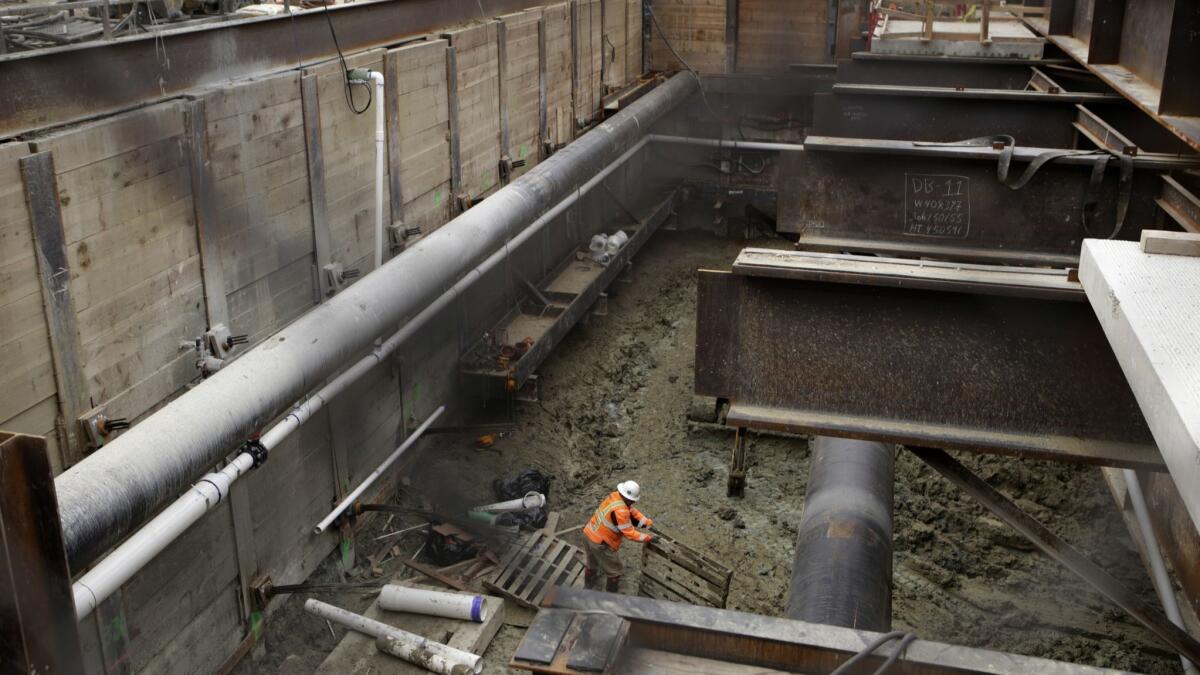 The Los Angeles County subway project that will whisk commuters from the Westside to downtown in less than half an hour will receive $100 million in federal grants next year, the Federal Transit Administration said Wednesday.
The federal funds are earmarked for the final leg of the Metropolitan Transportation Authority's $9-billion project to extend the Purple Line from its terminus in Koreatown to a station near the West Los Angeles Veterans Affairs campus, just west of the 405 Freeway.
Most of the nine-mile subway extension will run beneath Wilshire Boulevard, which is the busiest transit corridor in Los Angeles County and has one of the highest concentrations of jobs and housing in Southern California. The project is expected to generate 78,000 new daily trips on the county's growing rail system.
Metro spokesman Dave Sotero said the agency is "grateful for the positive and productive working relationship" with federal officials.
The Purple Line extension is scheduled to open in three phases: from Koreatown through the Miracle Mile by 2023; to Beverly Hills and Century City by 2025; and to Westwood and West L.A. by 2026, two years before Los Angeles hosts the Summer Olympics.
Metro has secured $2.75 billion in federal grants and low-interest loans for the first two phases of the project, which are under construction in Mid-Wilshire and Beverly Hills.
Metro has requested a similar package, worth about $1.3 billion, for the third and final leg of the project, which has a budget of $3.56 billion.
"It's not yet at the finish line," K. Jane Williams, the FTA's acting administrator, said in an interview. The full funding deal, she said, will probably come through "sometime early next year."
Metro is working quickly in an effort to finish the Purple Line well in advance of the 2028 Olympics. This summer, the agency's board hired a contractor and set a $1.37-billion budget for the design and construction of twin subway tunnels that will run beneath the 405 between Century City and West Los Angeles.
Until the federal deal is confirmed, Metro is spending some local funds on early work on the project. In September, the agency received confirmation from federal transportation officials that the final phase of the project would still be eligible for a federal funding package even if local funds are already being spent.
The remainder of the project will be funded with revenue from Measure R and Measure M, the sales tax increases that county voters approved in 2008 and 2016.
For more transportation news, follow @laura_nelson on Twitter.
Sign up for Essential California for news, features and recommendations from the L.A. Times and beyond in your inbox six days a week.
You may occasionally receive promotional content from the Los Angeles Times.