Metro picks a contractor to dig the Wilshire subway tunnels through West L.A.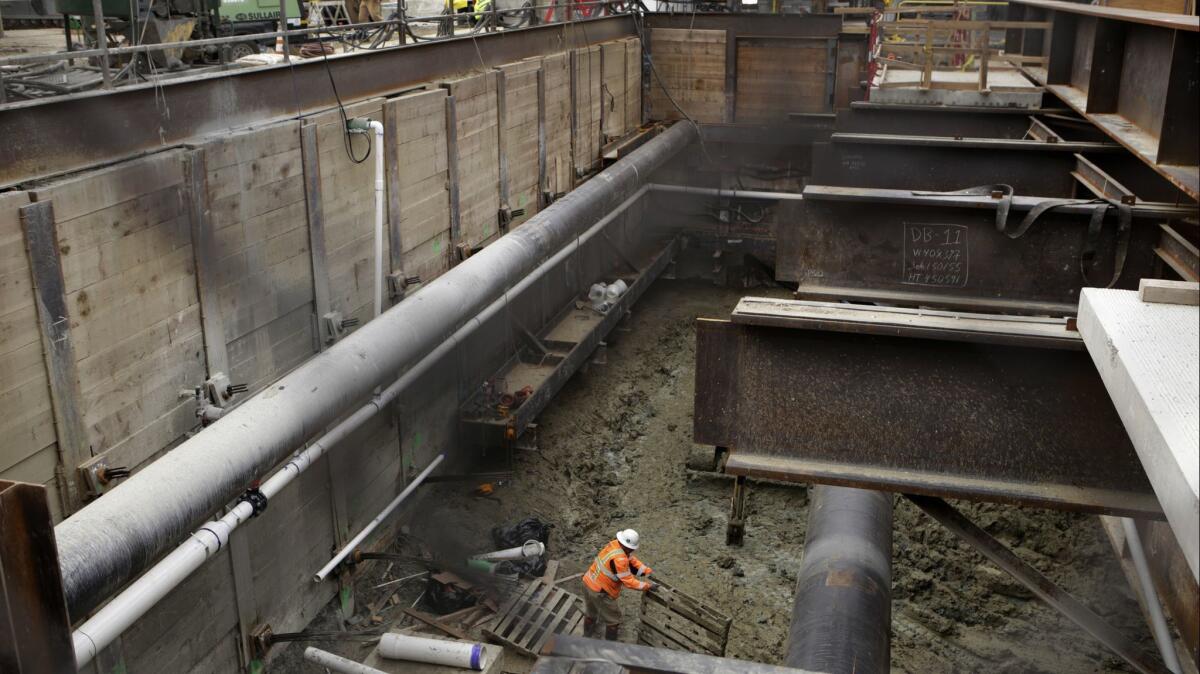 In a major step for the Westside subway, the Metropolitan Transportation Authority on Thursday selected a contractor and set a $1.37-billion budget for the design and construction of twin subway tunnels between Century City and West Los Angeles.
The tunnels are a key component of the third phase of the 9-mile Purple Line extension, which will connect the Westside to downtown Los Angeles by a half-hour subway ride. Most of the line will run beneath Wilshire Boulevard, the most-traveled transit corridor in Los Angeles County.
Metro plans to open the $9-billion subway extension in three phases: from the current terminus in Koreatown through the Miracle Mile by 2023; to Beverly Hills and Century City by 2025; and to Westwood and West L.A. by 2026, two years before Los Angeles hosts the Summer Olympics.
The cost estimate for the 2.59-mile extension to West L.A. is $3.59 billion. The $1.37-billion budget established Thursday will cover the cost of acquiring land, moving underground utility lines and digging two 2.59-mile tunnels that will cross under the 405 Freeway.
Metro's directors voted unanimously to award a $410-million, four-year design and construction contract to a joint venture of Tutor Perini Corp. and Frontier-Kemper, a heavy construction firm that Tutor Perini owns.
Metro's decision last year to hire Tutor Perini to build the second phase of the Purple Line reversed Chairman and Chief Executive Ronald Tutor's long exclusion from L.A.'s rail building boom.
Tutor was involved in the construction of much of the early Metro rail network. His company's work on the first phase of the Wilshire Boulevard subway in the 1990s sparked a protracted legal battle, in which he and Metro officials both claimed they had been defrauded.
A judge ruled in 2001 that Tutor-Saliba and its attorneys had destroyed and withheld documents, turned in false claims for payment and used minority subcontractor companies as fronts. An appellate court overturned the ruling in 2005.
At Thursday's meeting, Metro director Jacquelyn Dupont-Walker questioned why the joint venture's estimate to perform the work was 25% lower than the cost estimate prepared independently for Metro, and significantly lower than the other bidders. Officials had voiced similar concerns about Tutor Perini's bid for the second phase of the Purple Line.
Metro chief program office manager Rick Clarke said the cost estimate reflects Tutor Perini's confidence that it can manage the construction without delays or unforeseen problems. The company will also achieve "economies of scale" by sharing costs, including construction site office space, between the second and third phases of the project, he said.
Tutor stepped up to the microphone at Metro's downtown meeting to take questions, fiercely defending his track record building the Metro rail network. His companies have been involved since the infancy of Metro rail, he said, and have built 10 of the system's 93 stations.
"Nobody has done as many of these as we have," Tutor said. "If we don't know what our costs are by now, we never will."
Tutor also reeled off responses to two negative headlines that have dogged his company this year.
Earlier this month, The Times reported that the state bullet train authority had asked Tutor's workers to tear down and rebuild a bridge near Fresno, saying it showed "signs of distress." Tutor said Thursday that officials had changed their minds about the design, and that the issue was "trivial as trivial could be."
Reports that Tutor Perini was at fault for installing the wrong kind of steel on the tracks for a subway project in San Francisco are "even a bigger media joke," Tutor said, adding that he had sent "all the data" to Metro that would vindicate his company.
"All I can do is tell you the truth," he said. "We're very comfortable with the price."
Metro is paying for the Purple Line projects through federal grants, low-interest loans and revenue from sales tax increases that Los Angeles County voters approved in 2008 and 2016.
Work on the Westside tunneling contract will not begin until federal transportation officials send a letter verifying that Metro will still be eligible for low-interest loans and federal grants if local funds are expended before a deal is signed.
Federal officials could reimburse Metro for the costs, or the funds could count toward the agency's local contribution to the project, Metro spokesman Dave Sotero said.
Twitter: @laura_nelson
Sign up for Essential California for news, features and recommendations from the L.A. Times and beyond in your inbox six days a week.
You may occasionally receive promotional content from the Los Angeles Times.