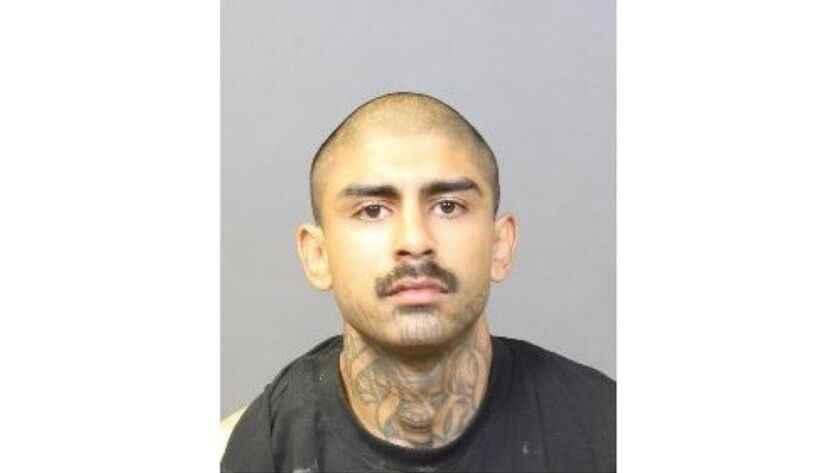 A man was arrested early Wednesday in Costa Mesa after an attempted traffic stop turned into a vehicle pursuit that resulted in a hit-and-run crash and the discovery of an assault rifle in the suspect's car, police said.
Officers tried to stop a vehicle for a violation shortly after 2 a.m., according to the Costa Mesa Police Department.
"The driver refused to stop and attempted to evade officers," police spokeswoman Roxi Fyad said.
The driver "seemed as if he had something in his possession," though the object was concealed from officers, Fyad said.
During the pursuit, the driver struck a utility pole near Fairview Road and Wilson Street and then fled the vehicle on foot, police said.
Officers found a loaded AR-15 semiautomatic rifle on the car's front seat, according to police.
After a search assisted by an Orange County sheriff's helicopter and a Huntington Beach police K-9 unit, police found the driver hiding on the patio of an apartment in the 200 block of Avocado Street, Fyad said.
When the man did not surrender, the police dog was deployed, Fyad said.
The man, identified as Arthur Barajas Jr., 24, of Anaheim, was arrested and treated for bite marks and a broken arm, police said.
Barajas was booked into Orange County Jail on multiple charges including evading a peace officer and firearms and probation violations, police said. Barajas is on probation after pleading guilty to drug possession.
He is scheduled to appear in court Thursday, according to jail records.
Sclafani writes for Times Community News.
---