First storm of the season brings risk of mudslides; Holy fire burn zone gets voluntary evacuation warning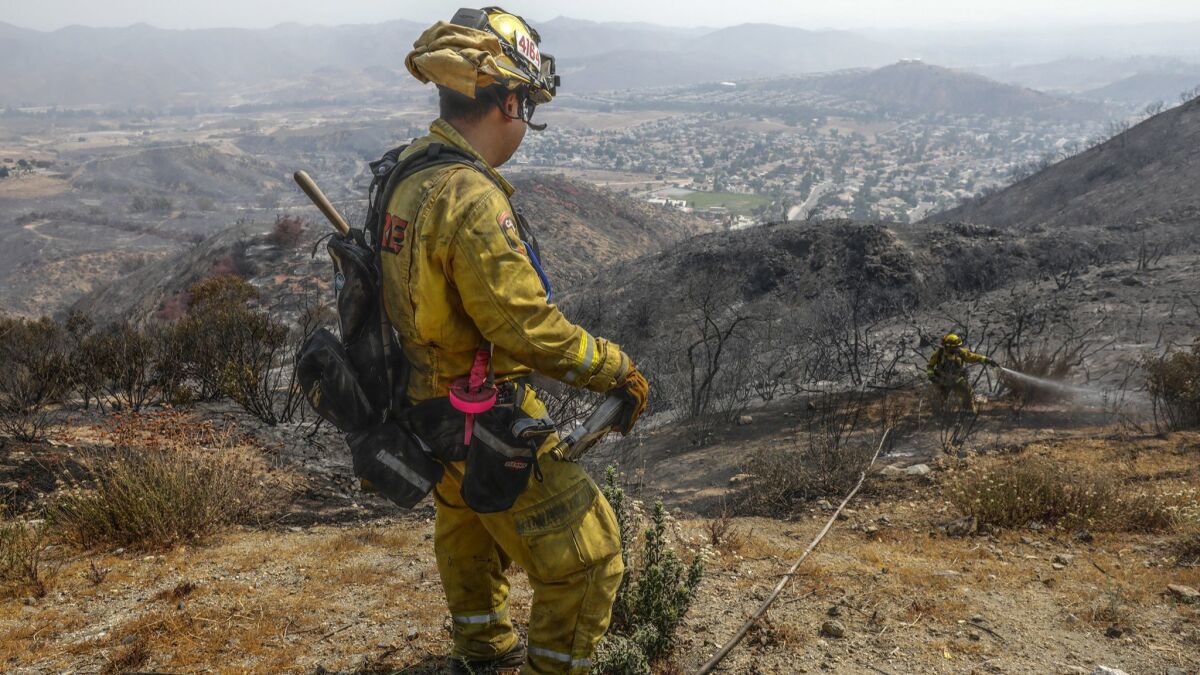 Residents in Orange and Riverside counties in the Holy fire burn zone near the Cleveland National Forest are on heightened alert for possible mudslides as the region readies for its first storm of the season.
A low-pressure system making its way through the central part of the state Wednesday morning will bring precipitation from the coast to the mountains within several hours. The rain is expected to last until early Thursday, according to the National Weather Service.
Up to a half-inch of rain could fall in areas of Los Angeles, Ventura, Santa Barbara, Riverside, Orange and San Luis Obispo counties, forecasters said. The lower desert area, including Palm Springs, could see up to an inch of rainfall, according to weather service estimates.
Riverside County officials on Tuesday afternoon issued a voluntary evacuation warning for the Laguna, El Cariso, Amorose, Withrow A, Rice, AlberHill, Horsethief B, Glen Eden, Grace, Maitri and Glen Ivy areas of Temescal Valley and Lake Elsinore. The Holy fire chewed through more than 23,000 acres of brush in the Cleveland National Forest in Orange and Riverside counties in August and September.
"These zones should go now — this is the safest time to leave," the alert states.
Jeff La Russo, a spokesman with the Riverside County Fire Department, said residents should be mindful of the alert.
"We're not going to ask you to prepare to evacuate or to evacuate unless we feel it is absolutely necessary," La Russo said.
In Orange County, officials also warned Trabuco Canyon residents of the potential risk of mud and debris flow.
"While the predicted rainfall amount is lower than earlier forecasts, the threat of mud and debris flows originating from the Holy fire burn area remains," said Orange County spokeswoman Molly Nichelson.
Damage from wildfires creates a situation that prevents soil in recently burned areas from absorbing rainwater. Enough rain can lead to fast-moving flows that contain mud, debris, trees and boulders that can be several feet deep and deadly for those in their path. The devastation often comes without warning.
A similar scenario following the Thomas fire, which charred more than 281,000 acres in Santa Barbara and Ventura counties last year, led to devastating mudslides in Montecito that blanketed the community in mud, destroyed homes and claimed at least 20 lives in January.
Those who live near where the Cranston fire burned in Idyllwild over the summer also are on alert for possible mudslides.
Late Monday, the Riverside County Emergency Management Department issued a voluntary evacuation warning for Hurkey Creek, Lake Hemet, Apple Canyon and Fleming Ranch in preparation for rainy remnants from the now-downgraded Tropical Cyclone Rosa, but canceled it hours later. Rosa, which traveled from northern Baja California to Arizona, was expected to bring heavy rain and thunderstorms to portions of Southern California, but that prediction didn't materialize.
Still, officials say they want residents to be prepared to leave if it starts pouring. Members of the California National Guard were stationed in the burn area Tuesday in preparation for possible mudslides. Hemet sheriff's deputies also were in the area as a precaution.
"We are not taking any chances, and we will be ready for whatever this rain may bring," the Sheriff's Department wrote in a statement.
In Lake Elsinore, rain clouds loomed early Wednesday afternoon over the Santa Ana Mountains.
At a parking lot at Storm Stadium, fire engines and California National Guard tactical trucks sat in preparation for the day's potential weather threat.
Officials have cautioned residents living in an 11-mile area between Ortega Highway, also known as State Route 74, and Horse Thief Canyon to remain alert.
That region hadn't burned in more than 70 years, but when the Holy fire tore through the area, it left the ground waxy and smooth, primed for mudslides.
Residents living in burned areas will have to remain alert throughout the rainy season, officials have cautioned.
Emergency managers try to anticipate what will happen, based on weather reports and an area's terrain, but they never are absolutely certain of where a mudslide will occur.
"What we want residents to be concerned with is, when we issue some kind of warning, be cognizant of that," La Russo said.
"Know that we're not here just trying to disrupt life. We're here to make sure we're protecting you and your property as well as we can — and you cannot outrun debris flow. Once that starts coming down the hill, it's hard to outrun it. It's hard to out-drive it, and for your safety, we're asking you guys to do your best to stay safe."
Times staff writer Cosgrove reported from Lake Elsinore and Fry from El Segundo.
Twitter: @Hannahnfry
Twitter: @jaclyncosgrove
---
UPDATES:
11:35 a.m.: This article was updated with a report from Lake Elsinore.
This article was originally published at 8:40 a.m.
The stories shaping California
Get up to speed with our Essential California newsletter, sent six days a week.
You may occasionally receive promotional content from the Los Angeles Times.