Heading to a New Year's Eve party? Prepare for rain and chilly weather
Traffic moves along I-15 North during a rainy morning Dec. 31, 2016 in Fontana.
(Irfan Khan / Los Angeles Times)
Amy Han, 10, plays in snow along Highway 2 in Wrightwood.
(Irfan Khan / Los Angeles Times)
Natalie Gonzalez (left), 6, and sister Naya Gonzalez, 2, play in snow along Highway 2 above Wrightwood.
(Irfan Khan / Los Angeles Times)
Tour bus driver Susie Duenas takes a stroll along the shore in Long Beach as a light rain falls on Saturday afternoon.
(Luis Sinco / Los Angeles Times)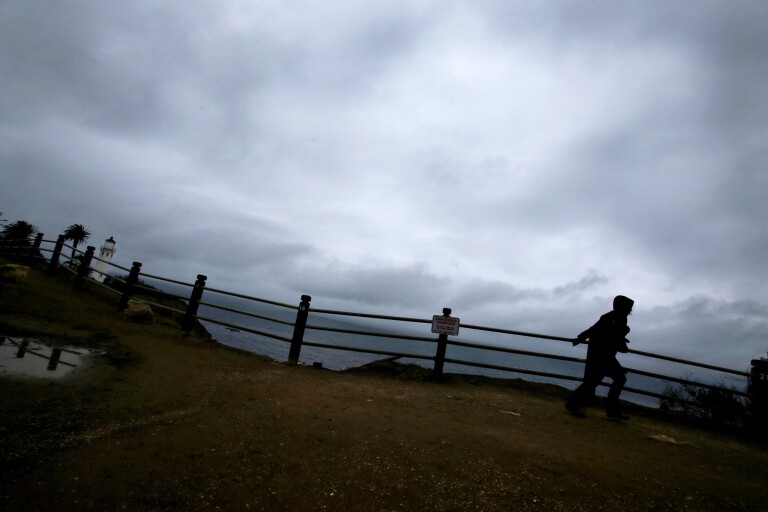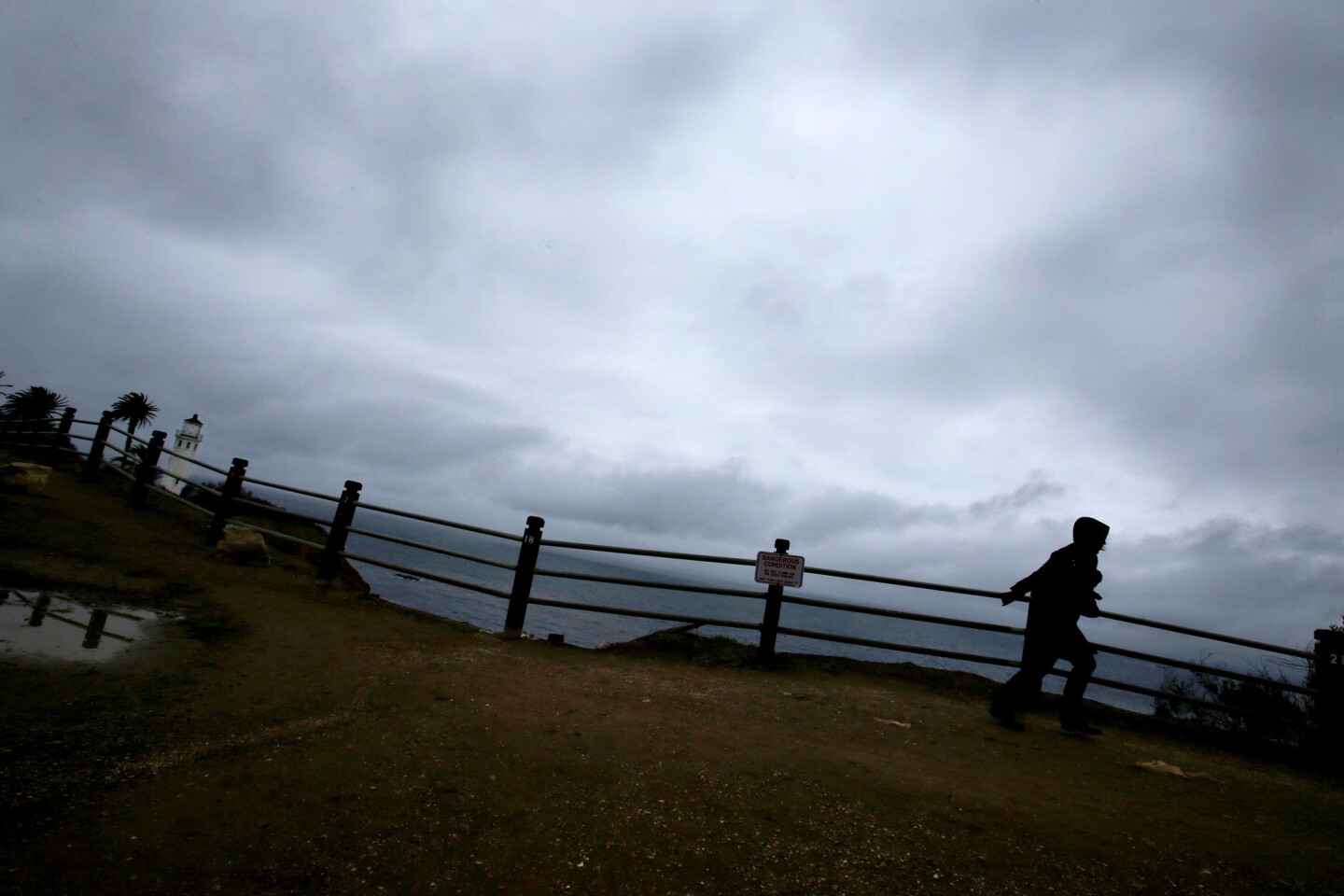 Storm clouds drift over the Point Vicente Lighthouse on the Palos Verdes Peninsula on Saturday.
(Luis Sinco / Los Angeles Times)
Every year, law enforcement officials urge revelers to exercise caution on New Year's Eve.
They warn of partiers who celebrate by shooting things into the air, and the drunk drivers who insist on heading home.
On the final day of 2016, Southern Californians faced another, less familiar hazard: the rain.
The second of two weekend storms arrived Saturday afternoon, bringing rain and snow to the region that is expected to continue falling until late Saturday night, the National Weather Service's Oxnard bureau said..
The storm could contribute as much as a half-inch of precipitation across most of Los Angeles and more than an inch in the mountains, NWS weather specialist Bonnie Bartling said. Most of the rain will fall between about 3 and 8 p.m., Bartling said, with light showers likely later into the evening.
But "we're looking for it to be dry New Year's Day, and the next couple days," she said.
The storm also could dump significant amounts of snow in the mountains — as much as 12 inches in the San Gabriels, Bartling said. Drivers on Interstate 5 in the Grapevine area should expect as much as 2 inches of snow and exercise caution, she added.
In advance of the storm, the weather service issued a flash-flood watch for wildfire burn areas of L.A. County that went into effect at 3 p.m. Saturday; a winter storm warning for the L.A. mountains took effect at noon.
The forecast prompted the Los Angeles County Department of Public Health to extend a cold weather alert for mountainous areas and the Antelope Valley through Wednesday. Temperatures in those areas are expected to dip below 32 degrees.
"Children, the elderly and people with disabilities or special medical needs are especially vulnerable during such cold snaps," county interim health officer Jeffrey Gunzenhauser said in a statement. "Extra precaution should be taken to ensure they don't get too cold when they are outside."
Highs across most of L.A. will in the 50s for the next few days, "chilly for us Southern California people," Bartling said.
Forecasters have high confidence that it will not rain during Monday's Tournament of Roses Parade, but "you definitely will want to be wearing your winter jacket," Bartling said.
Saturday's storm follows a system that brought about a half-inch of rain to the coasts and valleys Friday and early Saturday.
After a rainy October and dry November, California has enjoyed an unusually wet December as it tries to avoid a sixth year of drought. The improved hydrologic conditions have given some experts reason for optimism, with two of the state's traditionally rainiest months still to come.
As of Thursday, the U.S. Drought Monitor reported that drought conditions have subsided in more than 31% of the state — almost exclusively in Northern California. All three of the state indexes in the Sierra Nevada range have recorded above-average precipitation for this time of year.
And although Northern California has gotten significantly more rain and snow than Southern California, some parts of the Southland are benefiting from above-normal levels. Downtown L.A., for example, has gotten about 4.5 inches of rain so far this December — about twice what it gets in an average year.
"It's too soon to know whether this winter's wet season will deliver enough rain and snow to move California closer to the end of the state's five-year drought," the California Department of Water Resources said in a statement this week.
Officials will conduct a manual measurement of the state's snowpack on Tuesday and continue to closely monitor the snow's water content until April. At that point, they said, they will have a better sense of how large a dent this wet season put in the drought.
Twitter: @ByMattStevens
ALSO
There's a proposal in Los Angeles to ban adults unaccompanied by a child from playgrounds in parks
Riders stuck 130 feet in the air on malfunctioning ride at Knott's Berry Farm
Debbie Reynolds and Carrie Fisher will have joint funeral and be buried together
---
UPDATES:
3:30 p.m.: This article was updated with new weather information.
This article was originally published at 11 a.m.
---
The perils of parenting through a pandemic
What's going on with school? What do kids need? Get 8 to 3, a newsletter dedicated to the questions that keep California families up at night.
You may occasionally receive promotional content from the Los Angeles Times.