L.A. councilman proposes banning adults unaccompanied by a child from playgrounds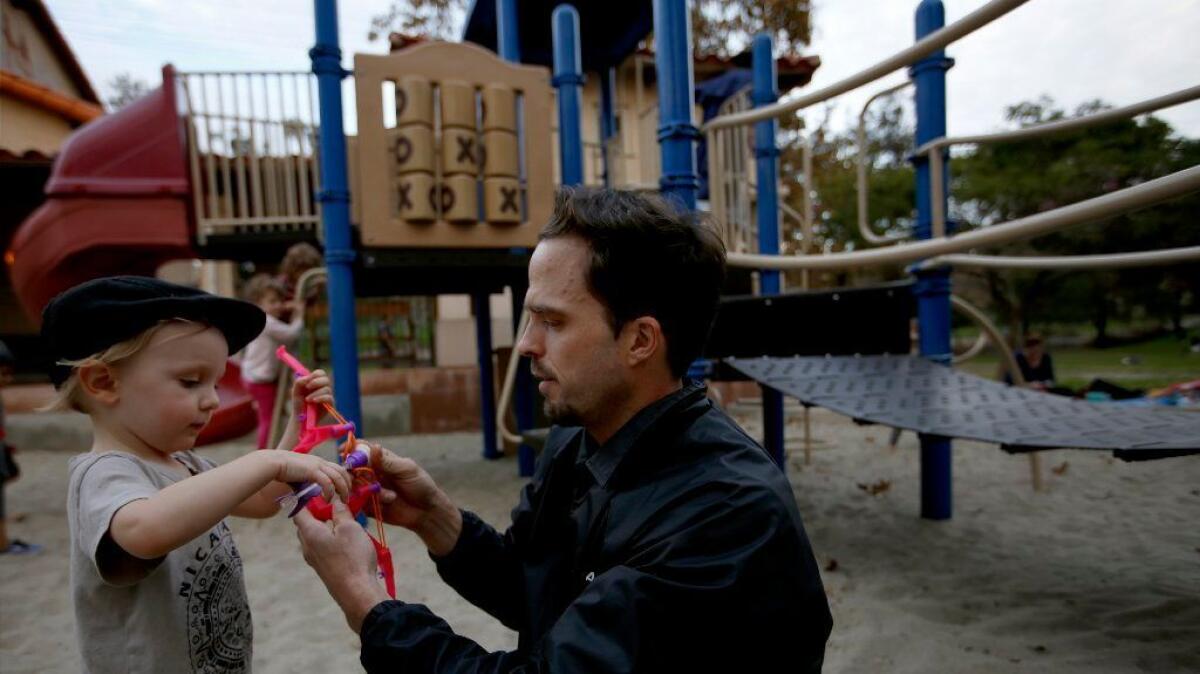 On a warm December day in Silver Lake, a nanny gently pushed a sleepy-looking toddler on a swing at a city playground. Nearby, children shouted out as they bounded into an oversized sandbox.
Playgrounds are vital in Los Angeles, a city where many families live without backyards or balconies. There are more than 380 city playgrounds from Pacoima to San Pedro.
Now, the city's extensive collection of swing sets, monkey bars and slides is at the center of a debate over a City Hall proposal to bar adults unaccompanied by children from entering playgrounds in parks.
Los Angeles City Councilman Mitch O'Farrell's proposal — aimed at protecting children but criticized as a case of government going too far — would essentially ban lone adults from hanging out in spaces meant for kids.
The law would ensure that the city's playgrounds are a "safe haven" for kids, according to O'Farrell's motion. The proposal follows other laws targeting city parks, including bans on e-cigarettes and camping.
But not everyone is rallying behind the Hollywood councilman's plan, with some accusing O'Farrell of stigmatizing single people or labeling them as pedophiles.
Inflaming the situation, others have misinterpreted the law as banning adults in parks. "Nanny state gone wild: Los Angeles attempts to ban single adults from parks," a national libertarian group tweeted this week.
It's not necessary. We look out for one another.
— Elena Marin, nanny
Reached Wednesday, an exasperated-sounding O'Farrell spokesman defended the proposed ordinance, which limits access to a playground in a city park to children and their accompanying parents and/or guardians.
The motion would bolster an existing and similar state law, spokesman Tony Arranaga said. Adults without children could continue to use all the areas of the parks, he added, except the playgrounds, which are clearly marked by boundaries such as a gate, sand or other barriers.
"The council member wants to make sure people can enjoy parks, but wants to make sure families are protected," Arranaga said.
New York, Santa Monica and Miami Beach have similar laws. And an existing state law prohibits loitering in areas where children congregate.
At the playground in Silver Lake with other nannies, Elena Marin looked skeptical when asked what she thought about the O'Farrell proposal. "It's not necessary," Marin said, cradling a 1-year-old in her lap. "We look out for one another."
Marin cited one instance in which a man took photos of children in the playground, prompting the nannies to complain to park staff. The only other issues that come up, Marin said, are when exercisers work out on the children's playground equipment or homeless people sit on benches in the area.
Arranaga said O'Farrell proposed the law after locals complained about drug dealing at Selma Park playground in Hollywood.
It makes total sense. Why would you want to go into these areas if you don't have a kid?
— Fran Reichenbach, Beachwood Canyon resident
That playground is cordoned off by a gate but surrounded by several homeless encampments. More encampments line the street outside the park.
Sitting in a chair outside Selma Park, Chris Ackerly, who is homeless, said meth and marijuana can be purchased in the area. Violence is also common in this neighborhood, he said.
But he and others don't venture into the children's area out of respect for the kids, Ackerly said.
He questioned the intent of O'Farrell's law. "It's about pushing the homeless away," Ackerly predicted.
Arranaga denied that the law is intended to target the homeless.
A spokeswoman for the Department of Recreation and Parks said the department supports O'Farrell's proposal, which she called "a common practice in other cities."
Beachwood Canyon resident Fran Reichenbach said the addition of children's playgrounds has helped beautify parks in her neighborhood.
She "absolutely" supports O'Farrell's proposal because playgrounds are for children, she said.
"It makes total sense," Reichenbach said. "Why would you want to go into these areas if you don't have a kid?"
It's about pushing the homeless away.
— Chris Ackerly, homeless
Los Angeles City Atty. Mike Feuer's office declined to comment on O'Farrell's proposal. The Los Angeles Police Department is the primary agency tasked with enforcing the state loitering law, a Feuer spokesman said.
Enforcement of O'Farrell's proposal could be an issue, based on New York City's implementation of the law.
A backlash ensued in that city in 2010 after several men were ticketed by police after playing chess on stone chess tables in the playground.
At Selma Park, the gated playground area includes three concrete chess tables. The Silver Lake playground is a few feet away from a water fountain and public bathrooms, and benches line the area on several sides.
O'Farrell sent out a letter Thursday after criticism this week on social media, noting that all playgrounds would be "clearly marked" with signs indicating the limited access.
He also said there will be several city hearings for public comment before a City Council vote. The topic is "generating robust conversation," O'Farrell wrote.
But the vast majority of comments left on the politician's Facebook page expressed dismay at the proposal.
"How about better policing and better parenting without extra layers of unenforceable laws?" wrote one user. "What a waste of government employees' time and budget spent writing, debating and voting on this."
ALSO
Riders stuck 130 feet in the air on malfunctioning ride at Knott's Berry Farm
Debbie Reynolds and Carrie Fisher will have joint funeral and be buried together
Coastal Commissioner Wendy Mitchell resigns post after six years on the panel
Sign up for Essential California for news, features and recommendations from the L.A. Times and beyond in your inbox six days a week.
You may occasionally receive promotional content from the Los Angeles Times.