On the 40th anniversary of the LGBTQ pride symbol, artist wants her rainbow flag story told
It was the summer of 1978, and the Gay Community Center in San Francisco swarmed with dozens of young hippies flitting between ironing boards, sewing machines and trash cans filled with colorful dye.
They had been tasked with making two enormous flags to fly above the city's Gay Freedom Day Parade, and they wanted something bright. Something inclusive. Something hopeful.
Unbeknownst to them, their colorful project, the rainbow flag, would become the international symbol for LGBTQ rights, seen practically everywhere — from atop City Hall in liberal West Hollywood, to countries like Uganda, where homosexuality is illegal, to the Target clothing aisle during LGBTQ Pride Month.
Now, 40 years later, one of the women instrumental in the flag's creation says history has largely forgotten some of the artists who made it happen.
"It would be nice to get credit," said Lynn Segerblom, a tie-dye artist who concocted the dyeing process for the giant flags and who was then known as Faerie Argyle Rainbow.
The design and sewing of the first rainbow flag often is solely credited to the self-described "gay Betsy Ross," Gilbert Baker — a well-known activist and drag queen who died last year — with little or no mention of the artists and volunteers who helped that summer.
"It hurts," said Segerblom, 62, of Torrance, who co-chaired the 1978 Gay Freedom Day decorations committee that year with Baker and remembers the conceptualizing and creation of the rainbow flag as a joyous collaboration with friends. "I'd rather tell the truth."
Segerblom and Paul Langlotz, a Larchmont marriage and family therapist who witnessed the making of the giant banners, said Baker had been their friend and roommate but that as he traveled the world promoting the flag over the years, the stories of the other artists eventually fell by the wayside.
"We want our LGBT history to be as honest as possible," Langlotz said. Without Segerblom and the seamster James McNamara, who died of AIDS in 1999, the flags probably wouldn't have happened, he said.
Charley Beal, manager of creative projects for the Gilbert Baker Estate, said that Baker did come up with the idea for the rainbow symbol but that he was always "effusive with credit" for those who helped create it, especially in a soon-to-be-published memoir.
"He never claimed to have made them himself. Never," Beal said. "He immediately called all his friends. … To say Gilbert took somebody's idea and marketed it and promoted it is an insult to him as an artist and an insult to his legacy. He spent his life spreading this symbol."
But after all these years, he said, he is glad to see Segerblom publicly telling her story and called her and McNamara "heroes" who "helped create a universal symbol."
Before 1978, there was no agreed-upon symbol for LGBTQ rights. Among the most common signs at the time was the pink triangle, which had been reappropriated from its use by the Nazis, who forced gay concentration camp prisoners to wear it.
Other activists encouraged Baker to come up with something more positive, and the rainbow was "a conscious choice" that represented the diversity of the LGBTQ community and was one of the oldest symbols of hope, dating back to the biblical book of Genesis, where it represents a covenant between God and all living creatures, Beal said.
Organizers for the 1978 Gay Freedom Day Parade knew that "the world would be watching San Francisco," said Glenne McElhinney, a historian making an upcoming documentary about the rainbow flag that includes the stories of Segerblom, McNamara and other artists.
In January of that year, Harvey Milk, one of the first openly gay elected officials in the United States, was inaugurated as a member of the San Francisco Board of Supervisors, and there was an electric energy among the city's growing gay community.
"It was a whole city of freedom," Langlotz said. "When we would go to parades, young boys like me, we had never seen so many gay people. … You'd go through your whole life assuming you were the only gay person on earth, and then all of a sudden, you're around a couple hundred thousand lesbians and gay men and drag queens."
McElhinney, herself a member of the parade committee, said a group of artists led by Baker, Segerblom and McNamara was tasked with creating two 30-by-60-foot flags to be flown above United Nations Plaza near Market and Hyde streets during the June parade.
"They knew they were making something special because the flags were so big," McElhinney said.
For about a month, the artists gathered at the Gay Community Center, a three-story building on Grove Street that since has been knocked down and replaced with a parking garage.
Segerblom, who created costumes for theater actors and had made flags for a sailboat company, spent most days and many nights there in a rented workshop. A free spirit in her early 20s with bouffant, permed blond hair, Segerblom, who now identifies as heterosexual, dated a woman at the time. In those days, she said, "everyone was experimenting," and she felt right at home with the gay activists.
The community center buzzed with excitement over the flags, she said. There were two giant banners, one of which included the rainbow-colored stripes and a blue block full of stars, like the American flag.
"I wanted to make an American flag that was rainbow because I think it's for everybody," Segerblom said. "My idea was just — color. People love color. They love the rainbow."
Segerblom bought 1,000 yards of all-white, cotton muslin from a local shop, and she, Baker and McNamara brought in their little Singer sewing machines and ironing boards, she said.
The dyeing process was complicated, given the sheer size of the banners, Segerblom said. Each fabric strip was hand-colored with a mixture of warm water, powdered color dye, soda ash and salt. They sat for hours in plastic vat-like trash cans on the rooftop, constantly turned by volunteers so the colors wouldn't mottle.
"You've got to keep it moving. Don't let it sit," Segerblom said. "You're over a trash can like a scientist."
The center had no hot water, so Segerblom and others heated pans of water on a stove on the second floor, carried them up to the third floor with mittens and then climbed a wooden ladder to the rooftop to mix with the cold water in the trash cans.
The volunteers didn't wear gloves, and their hands were all brightly stained, Segerblom said.
After the wet strips were pulled from the water, they were rushed to a nearby laundromat to be dried, then hauled back up to be ironed and sewn.
The finished flags were so heavy they had to be carried by several people and moved in the back of a pickup truck. During the parade, people instinctively knew that the flags were special, Segerblom said.
At some point, the eight original colors of the flag were assigned meanings by Baker: Pink for sex. Red for life. Orange for healing. Yellow for sunlight. Green for nature. Turquoise for magic. Blue for serenity. Purple for spirit.
Initially, though, it was more simple than that, and "we didn't say it was about anything," Segerblom said.
"Really, they were just kids who were making pretty rainbow flags," Langlotz said. "The intentionality changed over the years when people started seeing this as an international symbol."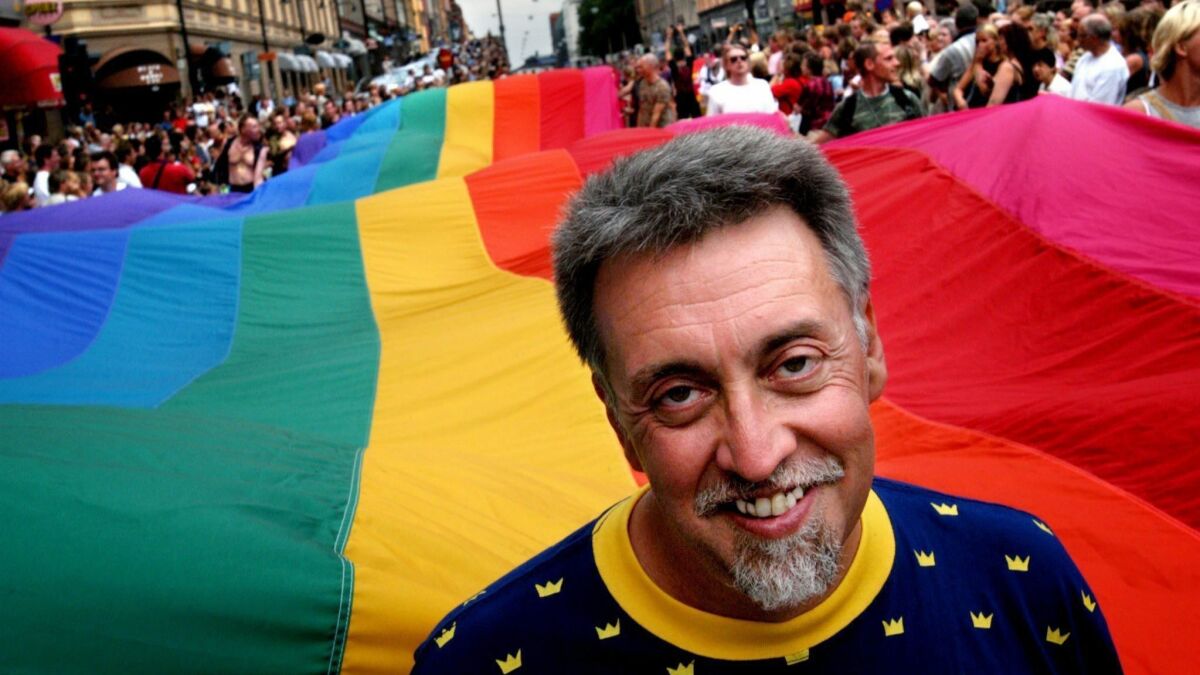 Twitter: @haileybranson
The stories shaping California
Get up to speed with our Essential California newsletter, sent six days a week.
You may occasionally receive promotional content from the Los Angeles Times.