Protesters in L.A. and across the country rally to protect healthcare from future threats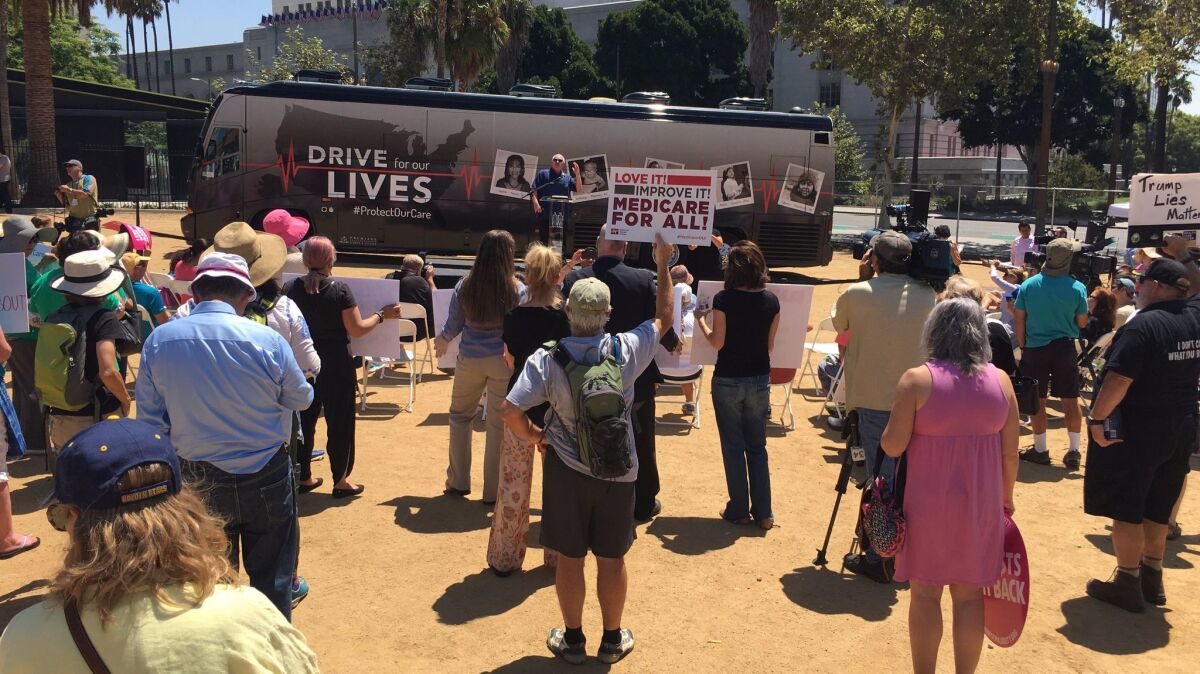 The Republican effort to repeal the Affordable Care Act suffered a major blow this week, but supporters of the law forged ahead Saturday with rallies nationwide — including one in Los Angeles — protesting any further attempts to undermine the existing healthcare system.
The Our Lives on the Line day of action has been planned since June, touted as a show of force against repeal efforts. Our Lives on the Line is a coalition of progressive and healthcare organizations.
Early Friday, three Republican senators defied their party leaders in voting to defeat the so-called skinny repeal of the Affordable Care Act, known as Obamacare. The nonpartisan Congressional Budget Office said the skinny bill would have left 16 million more Americans uninsured, and caused insurance premiums to soar.
On Saturday, around 100 people gathered near City Hall in downtown L.A., holding signs that read, "Healthcare is a human right" and "Keep your tiny hands away! ACA is here to stay!," sometimes using the signs to shield themselves from an unforgiving sun.
Mike Stutz, who joined three others in dressing up as a zombie, held a sign that read: "GOP Healthcare Horror! Their bad ideas just won't die!"
"As these zombies warn us, we cannot rest," said L.A. City Councilman Mike Bonin. "Like the evil, knife-wielding slasher in a horror movie, they are coming back. They are coming back for your healthcare, they are coming back for my healthcare — they are coming back because they have a deadly determination to strip millions of people of what keeps them healthy and what keeps them alive."
On Saturday morning, President Trump tweeted this warning: "If a new HealthCare Bill is not approved quickly, BAILOUTS for Insurance Companies and BAILOUTS for Members of Congress will end very soon!"
The resounding message throughout the rally was that the battle isn't over, with speakers encouraging attendees to keep up the fight.
In the crowd was Rachel Rosen and her 7-year-old daughter Orly, dressed in a doctor's costume. Mother and daughter listened as elected officials, activists, patients and medical professionals took the stage.
"Donald Trump is playing with our healthcare," Orly said, not looking up from the toys in her hand. "We want him to stop."
"I don't think they're going to give up too easily because the Republicans have been committed for years to ending Obamacare," Rosen said.
Speakers offered praise for the three GOP senators — Lisa Murkowski of Alaska, Susan Collins of Maine and John McCain of Arizona — who voted no on repeal, as well as ordinary voters who pressured their elected officials.
"No matter how much credit we give them, this victory belongs to all of you. For everyone who made calls, marched, told their stories or were just plain loud, thank you so much," said new Rep. Jimmy Gomez (D-Los Angeles). "This defeat is a major victory for working-class families in this country."
The rally kicked off a Drive for Our Lives national bus tour, which will run through Congress' August recess. The tour will travel to more than 18 states and spread the stories of Americans whose healthcare coverage would have been threatened under the repeal bill.
"Thank you for everything you're going to continue to do tomorrow and the day after and in the weeks and months to come to make sure they do not take away our healthcare and to make sure we get universal healthcare for everyone," Bonin told attendees. "Let's stay engaged, let's stay part of the fight."
In San Diego, the rally was focused on women's healthcare. The proposed repeal bill included cutting federal funding to Planned Parenthood.
About 75 people rallied at Balboa Park wearing pink T-shirts reading, "I stand with Planned Parenthood."
They held signs that read "Together we fight for all" and "Resist," eliciting honks from several drivers who passed.
"Today we are celebrating, at least for now," said Darrah Johnson, president and chief executive of Planned Parenthood of the Pacific Southwest. She called the failed repeal bill "the most dangerous legislation for women ever."
Moving forward, she said, she'd like to see a bipartisan effort to have "a thoughtful conversation about what the American people need as far as healthcare."
Planned Parenthood provides healthcare services to 2.5 million women nationwide, including 150,000 patients a year in San Diego, Riverside and Imperial counties, Johnson said.
Jacqueline Serafin, 33, of University Heights said she became an advocate for Planned Parenthood because the organization was there for her as a teen and college student when she needed its services.
"Healthcare should be accessible to anyone and everyone who needs it.… The impact of not having an organization like Planned Parenthood would be detrimental to our collective health," Serafin said.
Kristina Davis of the San Diego Union-Tribune contributed to this report.
Twitter: @Brittny_Mejia
ALSO
Trump insists that GOP effort to repeal and replace Obamacare 'is not dead!'
Frustrated in defeat, Trump threatens healthcare of voters — and lawmakers
Obamacare vote isn't the only sign of GOP resistance to Trump
---
UPDATES:
3:20 p.m.: This article was updated with details of a similar rally in San Diego.
2:25 p.m.: This article was updated with details from the rally.
This article was originally published at 11:05 a.m.
The stories shaping California
Get up to speed with our Essential California newsletter, sent six days a week.
You may occasionally receive promotional content from the Los Angeles Times.