DNA snapshot puts a face to a possible suspect in 10-year-old girl's 1994 slaying
Twenty-five years after the tiny, lifeless body of 10-year-old Angelica Ramirez was found in an irrigation canal in Tulare County, authorities this week released a profile of a possible suspect in her killing generated from DNA evidence found at the crime scene.
Detectives hope the new information will provide a break in finding Angelica's killer after an investigation spanning two decades has yielded few clues. Virginia-based Parabon NanoLabs provided three profiles — one showing a man in his mid-20s, another detailing what he might look like at age 50 and a third showing his characteristics at 75 years old.
The process uses DNA to calculate a possible suspect's facial composite, gender, ancestry, freckles and skin, eye and hair color. Based on the DNA provided to the lab, the man has light brown skin, brown or black eyes and black or dark brown hair, according to the profile.
"For the first time in the 25 years since she was killed, we have a face to this crime," said Tulare County Sheriff Mike Boudreaux said.
Police agencies across the country have recently sought Parabon's services to help crack cold cases using DNA evidence with increasing success.
Last year, Newport Beach police released a profile of a man suspected of killing 11-year-old Linda Ann O'Keefe in 1973. The profile helped renew public interest in the case, police said. In February, authorities arrested James Alan Neal, 72, in Colorado Springs, Colo., in connection to Linda's death.
In 2017, the laboratory helped Costa Mesa detectives identify a suspect in the 1997 slaying of 26-year-old Adrienne "Sunny" Sudweeks.
Angelica disappeared March 3, 1994, from a flea market in Visalia where her mother worked as a vendor. That day, her mother had put Angelica — the eldest — in charge of watching her siblings while she worked. The girl walked away from the booth to go to the bathroom mid-morning and never returned.
Tracking dogs, deputies and her family scoured the market for her. The dogs picked up her scent and followed it to the market's parking lot, but she wasn't there.
Two days later, a farm worker found Angelica's body in a canal on Avenue 96 in the Pixley area.
Detectives interviewed multiple registered sex offenders and sent DNA from the crime scene to databases in an effort to find her assailant, but couldn't find a match. With no new leads, the case grew cold, but it still weighed heavy on the minds of investigators.
The Federal Bureau of Investigation reviewed the case in 1998, visited the crime scene, examined old evidence and interviewed Angela's mother. Four years later, DNA from the crime scene was run through an FBI database called the Combined DNA Index System, but no matches were found.
Last year, the agency produced a video titled "Help Me Catch My Killer," narrated in a representation of Angelica's voice. The video describes the day the 4th grader went missing.
She had been wearing her favorite shirt, a white T-shirt that pictured a cat at the beach with the words "Kool Kat" emblazoned on it, and earrings in the shape of Mrs. Potts from the Disney film "Beauty and the Beast." Her earrings have never been found.
"The man who hurt me may still have them, or maybe he gave them to somebody," the voice says.
The video helped generate interest in the case, officials said, but failed to provide new leads. That's when detectives turned to Parabon NanoLabs for help.
Sheriff's officials are reexamining all evidence and leads in the case in light of the forensic development.
"We are hopeful someone recognizes him and comes forward with information," Boudreaux said. "Any information, however small or seemingly insignificant, can break open this case and bring justice to Angelica's family."
Anyone with information is asked to contact the Tulare County Sheriff's Office at (559) 733-6218 or anonymously through the Sheriff's TipNow Program at (559) 725-4194.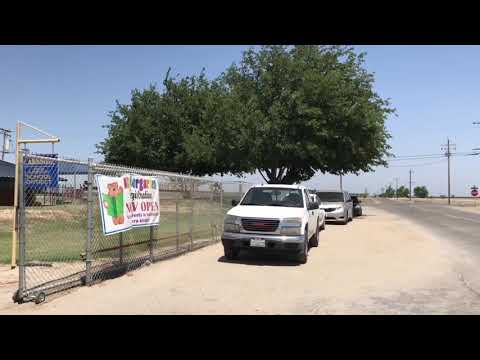 Twitter: @Hannahnfry
Sign up for Essential California for news, features and recommendations from the L.A. Times and beyond in your inbox six days a week.
You may occasionally receive promotional content from the Los Angeles Times.