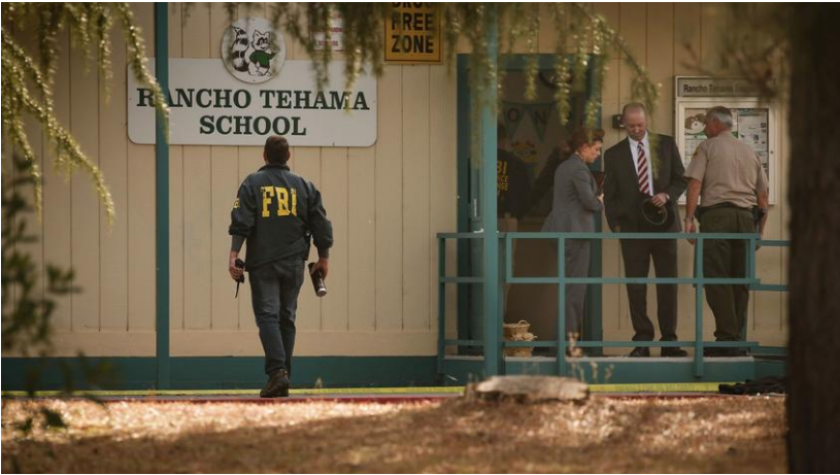 Reporting from Rancho Tehama, Calif. —
Rancho Tehama resident Jayne Barnes-Vinson — whose two grandsons were among those hiding beneath desks as a gunman fired into their school — said she is torn between love for the small enclave and an awareness of what she called its "underbelly," including drug users.
The boys, Jaydon, 9, and Jordan, 7, told her about their terror as they heard the gunfire, "like a bomb went off," and children crying.
"We're all scared. We're traumatized," she said. "My heart is so broken that they jeopardized my school."
But she said the rural community also has become a place where people who have tangled with the law can hide out.
"It's a good community, but there is an underbelly that people don't know about. The good people who go to work every day and take their kids to school, they don't know what goes on in the drug world because we don't associate with those people. They're not coming to our Christmas parties," she said.
The subdivision roads of Rancho Tehama Reserve are owned by a private association, and sheriff's patrols are nonexistent, Barnes-Vinson said.
A month ago, she complained to residents on a community website about gunfire coming from behind her home.
And a week ago, she said, she heard the loud screaming of a man and woman fighting, followed by shots.
She called 911, and a sheriff's deputy came out but could not locate the source of the gunfire. In the aftermath of what happened Tuesday, Barnes-Vinson is certain it was the shooter and his girlfriend. The shooter's house on Bobcat Lane is one of the few in that direction from her home.
"That's the thing about out there," she said. "You could kill somebody out there, and nobody would know. It is a good community, don't get me wrong, but it is remote, and there is no sheriff."
ALSO
Tiny Rancho Tehama reels in the wake of gunman's deadly rampage
As gunman sprayed school with bullets, quick action prevented mass bloodshed
Family of Rancho Tehama shooting suspect: 'Our hearts are broken for that community and the families'
---