The officer was uninjured, and the suspect has not yet been identified.
It's been two days since a California Highway Patrol officer fatally shot a man who appeared to threaten bystanders with a weapon inside the Ronald Reagan State Building, and the man's family say they are still struggling to understand the man's actions.
CHP investigators say that for reasons that still remain unclear, Timothy Elam, 42, followed an employee into the building just after 6 a.m. Wednesday and kept his hands concealed in a bag.
Elam shouted at employees at a security checkpoint to drop to the floor, then took an aggressive shooting stance, at which point a CHP officer confronted Elam and shot him, said CHP Sgt. Saul Gomez.
The bag contained an aluminum can.
Elam was pronounced dead at the scene and no one else was injured. He did not work in the building, and officials said it's not clear why he walked in Wednesday morning.
Back in Mount Sterling, Ky., where Elam grew up, relatives were also puzzled.
Elam was fatally shot a day before his 43rd birthday and just days after he had spoken to his 9-year-old son, Landyn, on the phone. The two talked on the phone every week even if Elam and his mother didn't always get along, said Alisha Lynam, the boy's mother.
"I sat my son down and I said, 'Did dad sound different? Tell you he loved you more than usual? Sound drunk?" Lynam, 46, recalled. "He said, 'No mama. It was a normal conversation.' "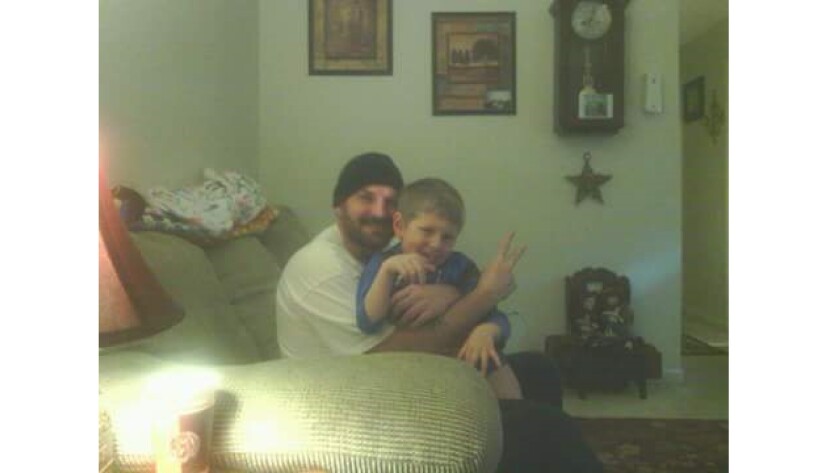 Elam grew up in Kentucky and spent some time in Kansas and Ohio before returning back to Mount Sterling as an adult, she said.
Public records show Elam had some brushes with the law, and Lynam acknowledged he had some bouts of drug and alcohol abuse, but it never reached a point where he'd commit crimes to support a habit, she said.
Despite Lynam and Elam's relationship souring about six years ago, he continued to be a reliable father to their son, as well as Lynam's older son from another relationship and to his three older children in Ohio.
"He made sure they had a good Christmas, good birthdays, and they had what they needed," said Mary Johnson, Lynam's sister. "He was a good father to them."
Elam uprooted from Kentucky in 2015 after both his parents died from cancer in two months, Lynam said. He briefly moved to Ohio, where he spent time with his children before following construction work to Louisville and Lexington back in Kentucky, then to Arizona and ultimately, Southern California.
He had been here for the last seven to 10 months, Lynam said.
He was staying in a motel before he finally got a small apartment. As he established himself in Southern California, he continued to wire money via Western Union to Lynam and Landyn every week and chat with his son, usually on Sundays.
The morning of the shooting, Lynam said, she believes Elam boarded a bus to get to work. She doesn't know how he ended up downtown or in the Reagan State Building. She hopes authorities find out exactly where he lived and find some kind of explanation there, even if it's a suicide note.
"It's just hard for me to believe what he done," Lynam said. "He didn't have any kind of grudge against anybody. He didn't have any kind of mental instability."
On Thursday, Lynam took their son to a small park in Mount Sterling. Elam and Landyn used to fish there regularly, she said.
They had a small cake with "43" on it and a handful of balloons that they released in Elam's memory. Landyn sang 'happy birthday.'
For now, all the boy knows is that his father was shot, Lynam said. The family is waiting for the body to be shipped back from California — either to Ohio or Kentucky, they're not sure – and more details from the CHP before they tell Landyn exactly what happened.
In the meantime, Lynam is left wondering.
"I didn't talk to him when my son called him," Lynam said. "I'm wishing now that I had. Maybe I would've sensed something."
For breaking California news, follow @JosephSerna on Twitter.
---