Suspect allegedly set deadly music studio fire after dispute with victims, LAPD says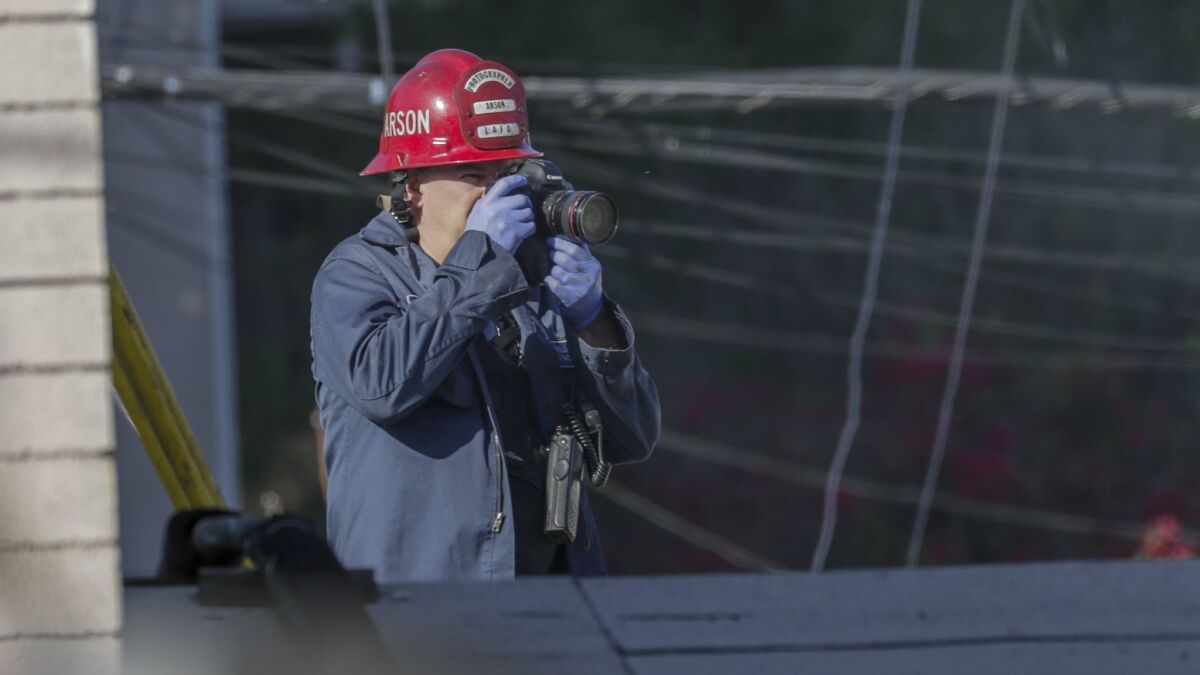 As detectives investigated the deadly blaze that ripped through a Studio City recording studio Saturday morning, they made a chilling discovery.
Security video from the studio and other nearby businesses showed a man purchasing gasoline at a Chevron station across the street, police said. The man then walked to the studio.
The one-story building later went up in flames, killing two people and badly burning two others, including a 15-year-old girl. Twelve hours after the fire broke out, police detained the man from the video, alleging he purposefully set the blaze.
Efrem Demery, 28, was arrested and booked on suspicion of murder with special circumstances, Los Angeles police said. He was scheduled to be arraigned Tuesday.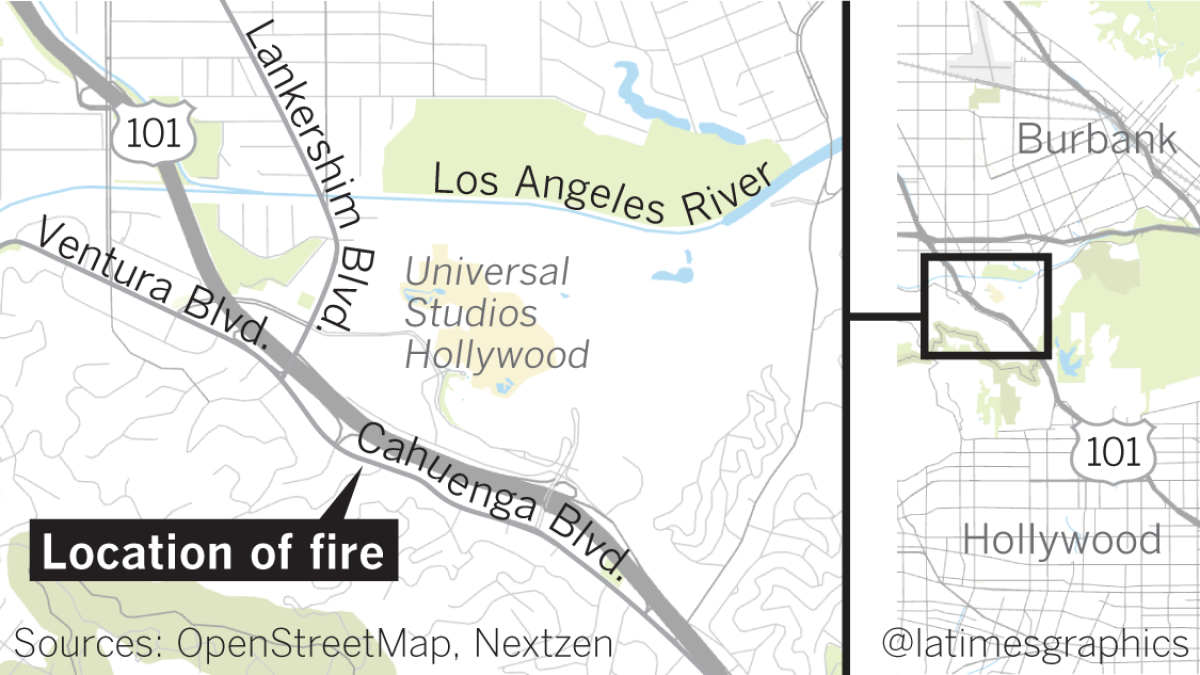 Investigators believe Demery used the gasoline to set the fire after getting into an argument with two of the victims the night before, Capt. William Hayes, head of the Los Angeles Police Department's elite Robbery-Homicide Division, said at a news conference Monday.
Detectives allege Demery poured the gasoline in a hallway near a room occupied by the two victims who died — identified by police as Devaughn Carter, 28, and Michael Pollard, 30, Hayes said. Detectives believe he then lit the fire and ran out a back door, the captain added.
LAPD Deputy Chief Justin Eisenberg described the killings as a "senseless and horrific crime." It appeared Carter and Pollard were the intended targets, Hayes said.
"Arson is a brutal crime and a terrible way to die," he added.
The fire ripped through the Cahuenga Boulevard studio, Top Notch Recordings, about 7 a.m. Saturday. The building has about a dozen recording studios, which can be rented around the clock, police said. About 15 people were inside at the time.
Witnesses described a chaotic scene as they fled from the dark, soundproof studios.
L.A. Pryce, a songwriter and artist, said he had fallen asleep after working all night in one of the studios. Then a friend woke him up.
"My boy was like, 'Yo, wake up, wake up. Smell that?' So I opened the door. It's just … blacked-out smoke. And then I see flames," Pryce said. "I broke for the door."
When firefighters found signs that an accelerant was used, Eisenberg said, the arson-turned-homicide investigation began.
After that investigation is complete, authorities said, fire officials will examine whether the building was up to code and whether any materials inside — including blankets used to soundproof the rooms — contributed to the spread of the flames.
"The primary focus is the homicide investigation," Hayes said.
Carter and Pollard were both L.A. residents. Hayes said it appeared they knew Demery, though police are still piecing together a motive.
After police identified Demery as their suspect and alerted other law enforcement agencies, a California Highway Patrol officer detained him after a motor vehicle violation in Willowbrook, Eisenberg said.
It was not clear that Demery had any other connection to the studio, Hayes said. Court records show he had prior convictions for buying or receiving stolen property, and maliciously disturbing others with loud noise. Eisenberg said he had a prior record for burglary and selling counterfeit goods.
Two people remained hospitalized in critical condition Monday after being burned in the fire, authorities said: a man in his 20s and the teenage girl. Police did not release their names.
Times staff photographer Irfan Khan contributed to this report.
---
Life is stressful. Our weekly mental wellness newsletter can help.
You may occasionally receive promotional content from the Los Angeles Times.