Two people were killed and three others were injured Saturday when a fire ripped through a music recording facility in Studio City.
Los Angeles Fire Department spokeswoman Amy Bastman said crews found heavy smoke when they responded shortly before 7 a.m. to the blaze at 3779 N. Cahuenga Blvd.
Two people were dead at the scene and two others were in grave condition. One person was in fair condition, Bastman said.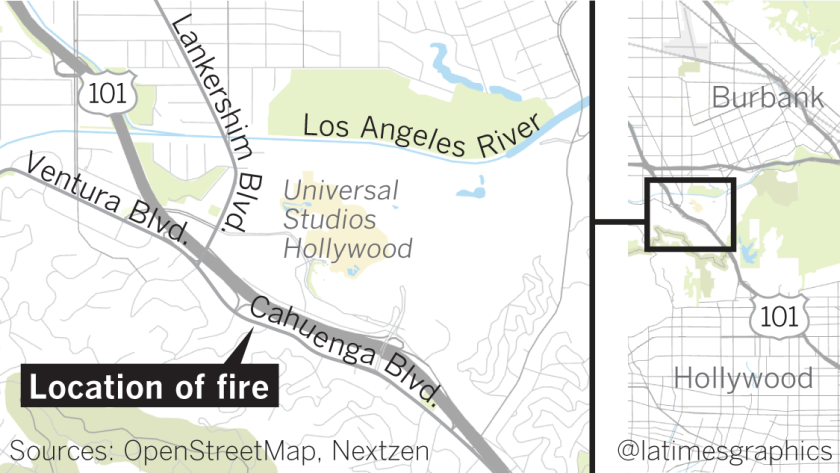 The one-story commercial building has about a dozen recording studios, which are used around the clock, police said. Witnesses described a chaotic scene as they fled from the dark, soundproof studios.
Songwriter and artist L.A. Pryce said he had worked all night in one of the studios, fallen asleep and was awakened by a friend.
"My boy was like, 'Yo, wake up, wake up. Smell that?' So I opened the door. It's just ... blacked-out smoke," Pryce said. "And then I see flames.
"I broke for the door and got out. I lost everything — hard drive, computer, everything gone."
Los Angeles police Capt. William Hayes said the department was leading the investigation.
"We have a fire and we have fatalities and we are trying to put that together," Hayes said.
The building houses "independent producers and independent studios," according to Shad Rabbani, who said he was in charge of leasing the building but did not own it.
"They have a lot of clients ... and it's 24/7, so I have no idea who is coming and who is going out," Rabbani said.
A 23-year-old rapper and producer known as Cruz said the building was called Time Zone studios. He said he was working in one of the studios and had left shortly before 4 a.m. Saturday, but returned later after getting texts about the fire.
He said he had the biggest studio in the building, "but everything burnt down."
Some witnesses said they had not seen fire extinguishers in the building. Rabbani said two were located in the hallways, but he said he did not know whether the building had fire alarms.
Devan Greene, a security guard who works nearby, said he saw smoke and called 911 at 6:54 a.m.
"Then I saw about six or seven guys running out, and the next thing you know, it's black smoke and the whole thing was just on fire," Greene said.
Twitter: @dakotacdsmith
Twitter: @latfoto
---
UPDATES:
3:25 p.m.: This article was updated with comments from Cruz.
11:05 a.m.: This article was updated with information about the police department leading the investigation.
10:40 a.m.: This article was updated with comments from Rabbani and Pryce.
9:35 a.m.: This article was updated with Times staff reporting, including a witness account.
This article was originally published at 8:55 a.m.
---