Stephen Reinhardt, 'liberal lion' of the 9th Circuit, dies at 87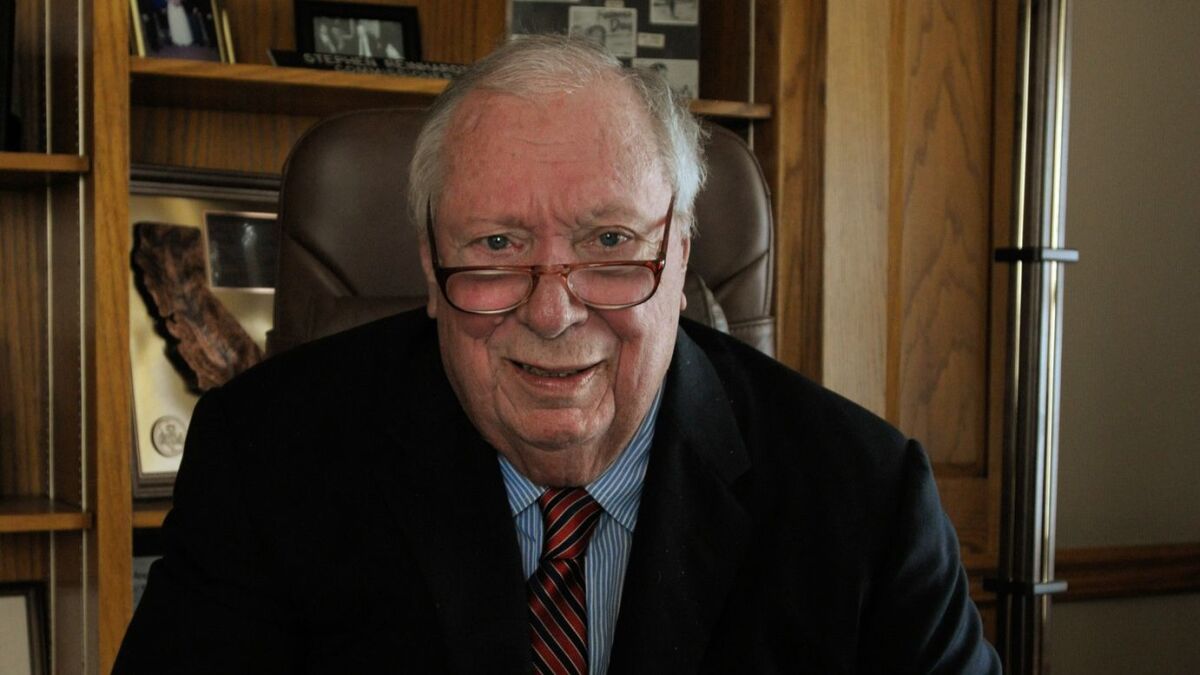 Judge Stephen Reinhardt, the liberal face of the U.S. 9th Circuit Court of Appeals, died Thursday afternoon, a court spokesman said. He was 87.
The spokesman said Reinhardt died of a heart attack during a visit to a dermatologist in Los Angeles.
"All of us here at the 9th Circuit are shocked and deeply saddened by Judge Reinhardt's death," 9th Circuit Chief Judge Sidney R. Thomas said. "We have lost a wonderful colleague and friend."
Thomas called Reinhardt "deeply principled, fiercely passionate about the law and fearless in his decisions."
"He will be remembered as one of the giants of the federal bench. He had a great life that ended much too soon," Thomas said.
Reinhardt, an appointee of former President Carter, was dubbed the "liberal lion" of the federal circuit courts.
His rulings in favor of criminal defendants, minorities and immigrants were often overturned by the more conservative U.S. Supreme Court.
Many lawyers have joked that Reinhardt's name on a ruling was probably enough to get the attention of the conservatives on the Supreme Court. In 1996, after Reinhardt was reversed several times by the Supreme Court, The Times asked him if he was upset.
"Not in the slightest!" he boomed. "If they want to take away rights, that's their privilege. But I'm not going to help them do it."
No matter how many reversals he endured, Reinhardt used the bench to try to help the underdog. Just a few months ago, he called The Times to read a reporter a letter from a woman who had just been released from prison and who wanted to thank him for ruling in her favor.
"He was a giant not just on the 9th Circuit but within the law," UC Berkeley law school Dean Erwin Chemerinsky said. "He also was a judge with a particular vision of the law, based on enforcing the Constitution to protect people."
Reinhardt joined another judge in ruling that the words "under God" in the Pledge of Allegiance were unconstitutional, a decision that was later overturned.
He wrote a ruling that said laws prohibiting physician-assisted suicide were unconstitutional and another that overturned California's previous ban on same-sex marriage.
Reinhardt also lamented Supreme Court rulings that limited judges' ability to overturn convictions and sentences on habeas corpus and complained about the flaws in death penalty cases.
He was among the federal judges who decided that overcrowding in California's prison system was unconstitutional.
"His view was to decide cases as he believed the law required, not to predict what the Supreme Court would do," Chemerinsky said. "He was unapologetic about that."
Conservatives often railed against Reinhardt, calling him lawless. They accused him of never voting to uphold a death sentence. Reinhardt, asked about that, said he was not sure.
He was particularly close to former 9th Circuit Judge Alex Kozinski, considered a conservative with libertarian views. They were dubbed the "odd couple."
When Kozinski retired under pressure in December in response to sexual harassment allegations, Reinhardt bemoaned the departure. He said he kept a photograph of Kozinski planting a kiss on his cheek in his chambers.
Reinhardt was a trial lawyer and Democratic activist when Carter chose him in 1980 for the 9th Circuit. For years thereafter, Reinhardt clashed with then-Supreme Court Justice William H. Rehnquist, a conservative elevated to chief justice by President Reagan in 1986.
Rehnquist often traveled to California during the summers to speak at the 9th Circuit's annual conference, where he gibed the West Coast judges about their liberal record.
He told one gathering that the 9th Circuit seemed to "have a hard time saying 'no' to any litigant with a hard-luck story."
Reinhardt was offended.
"Many of us feel an obligation to uphold the rights of the citizens against the government," he replied. "That's what the Constitution is there for."
Born March 27, 1931, in New York as Stephen Shapiro, Reinhardt changed his name after his mother divorced his father and married Gottfried Reinhardt, a screenwriter, director and producer whose films included "The Red Badge of Courage." His grandfather, Max Reinhardt, was a theater legend who fled Nazi Germany and gained acclaim in the U.S. for his production of "A Midsummer Night's Dream" at the Hollywood Bowl.
The judge said in 1996 that the horrors of the Nazis helped shape his conviction about the need to be vigilant in upholding human rights.
In a speech that year to a graduating law class, Reinhardt exhorted the graduates to "remember at all times that you have a particular responsibility to see that fairness and justice are done, and that equal treatment under the law prevails."
Thomas A. Saenz, president and general counsel of the Mexican American Legal Defense and Educational Fund who once clerked for Reinhardt, called the judge a "powerful force for what is good and righteous in a court system that too often strays from the path of justice."
"His place in history's judicial firmament is secure, and his legacy in cases, ideas and people has been and will be deep and long-lasting," Saenz said.
Hector Villagra, executive director of the American Civil Liberties Union of Southern California and another former Reinhardt clerk, called the news of Reinhardt's death "devastating."
He recalled the judge working in his chambers at 11 p.m. on a Saturday writing a dissent because the full 9th Circuit had decided not to reconsider a death penalty decision.
"He knew it was totally pointless," Villagra said. "It wasn't going to affect the outcome. But it was the right thing to do, and that's what mattered. He wanted his voice and his objections heard."
He said Reinhardt regularly worked seven days a week.
Reinhardt is survived by his wife, Ramona Ripston, who for decades headed the ACLU of Southern California; three adult children, Mark Reinhardt, 57, a professor of political science at Williams College; Justin Reinhardt, 52, a musician; and Dana Reinhardt, 47, a novelist; and seven grandchildren.
The family asked that in lieu of flowers, donations in Reinhardt's memory be made to the ACLU.
Twitter: @mauradolan
---
UPDATES:
7:25 p.m.: This article was updated with survivor information and additional reaction.
6:40 p.m.: This article was updated with additional reaction and background.
5:55 p.m.: This article was updated with reaction and additional details.
This article was originally published at 5:20 p.m.
---
The stories shaping California
Get up to speed with our Essential California newsletter, sent six days a week.
You may occasionally receive promotional content from the Los Angeles Times.