Remembering Ruben Rueda: Musso & Frank bartender threw out Steve McQueen and got a guitar from Keith Richards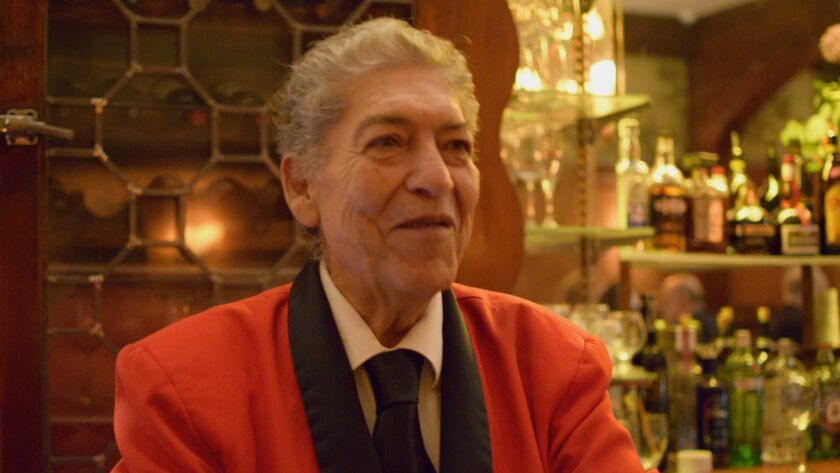 When one of his grandchildren once asked what he did for a living, bartender Ruben Rueda was forthright in his reply: "Grandpa makes funny drinks for grown-ups."
Those so-called grown-ups included director Orson Welles (dry martinis), L.A.'s poet laureate Charles Bukowski (Scotch and sweet wines) and Rolling Stones guitarist Keith Richards (Jack Daniels — on the rocks, of course). For 50 years, Rueda was the bartender to the stars at Hollywood's legendary Musso & Frank Grill.
On Monday night, Rueda, who died in April at age 67, was celebrated by those who knew him best. Musso & Frank, which marks its 100th anniversary this year, paid tribute to its beloved and longest-serving bartender with a private memorial for his immediate family and dozens of his closest friends and patrons.
It was standing room only in the main dining room, as complimentary drinks flowed freely and a group of mariachis serenaded guests with Mexican folk songs. A short documentary of Rueda's life was shown, and people took turns sharing stories about the fabled bartender, whose nickname was El Toro because of his pronounced 290-pound frame.
"This is a celebration of Ruben's life," said Mark Echeverria, one of Musso & Frank's owners. "He was a huge part of this restaurant and its history. … This is a fantastic turnout of love and support."
By all accounts, Rueda was a gentleman and a good listener who treated everyone the same, famous or not. As a bartender, he was full of wisdom, fantastic tales and hundred-proof charm. Even if he didn't always remember a customer's name, Echeverria said, he remembered their drink.
"He knew what you needed," he said.
Later in the evening, Echeverria announced that the restaurant had commissioned a painting of Rueda serving some of his famous patrons that would hang in a new private dining room planned next door. Then he honored his friend with a toast. "No matter how big the legend gets," he said, "it will never do him justice."
The crowd cheered before bursting into a rowdy rendition of "For He's a Jolly Good Fellow."
Rueda's was a typical immigrant story. As a young teenager from Durango, Mexico, he came to this country with nothing but a desire for a better life. He eventually ended up in Hollywood, America's dream factory.
"I started at Musso's in 1967," he told The Times in 2010. "I started as a busboy. I did that for about a year. Then one of the guys got sick and I became a bartender." His new job catapulted him into the same orbit — often on a first-name basis — with Hollywood's biggest stars: everyone from Rock Hudson to Quentin Tarantino.
He would become their bartender — their confidant, their one-man audience. And he poured his heart into his job.
"Mostly I like to talk to people, and I make people happy. That's my job," he told a reporter for Vice in 2015. "I don't work at Musso & Frank because I want to work in a bar. I work here because I like these people — because I know these people. This is home. I see my customers more than I see my wife."
That's not to say it was always easy. He once had to throw out actor Steve McQueen, who became drunk and unruly after guzzling too many Lowenbraus (his favorite beer) and challenging other patrons to a fight.
"Mister," Rueda told him, "you got to pay up and get out."
McQueen, who made a career out of playing tough guys, returned the next day to apologize.
"I gave him a Lowenbrau," Rueda said, "but I told him you must be nice from now on if you want to sit in my bar."
Occasionally, Rueda said he would drive Bukowski home when the "poet laureate of L.A. lowlife" had too much to drink. "He once asked me, 'Ruben, what do you think I do?' I said, 'Well, you're always drunk, and you have lots of girls. You must be a pimp.' Oh, he got upset."
And there were plenty of other memories. Once on a visit home to Durango, he ran into director Sam Peckinpah, another Musso & Frank regular, who was filming in Mexico and hired him to drive a truck on the set of "Pat Garrett and Billy the Kid," which starred Kris Kristofferson and Bob Dylan.
"I only did it for a couple of days but it was a lot of fun," Rueda said.
He had a special request for Richards, also a loyal patron with a reputation as one of Musso & Frank's biggest tippers: If Rueda bought a guitar, would the rocker sign it? Richards told him not to bother, he would bring Rueda one of his own guitars.
Two or three years passed.
Then one day, while the Stones were in Los Angeles on another tour, Richards showed up at the restaurant with a signed Gibson electric.
"Here's your damn guitar," he said.
For all his close encounters with Hollywood celebrities, Rueda stayed humble and kept his own popularity in perspective with those he served.
"I never took pictures with anyone because I wanted to keep their memories in my heart," he said.
Among those attending Monday night's memorial were Rueda's wife, Maria Olga Rueda, his son, Leonard, who works at Musso & Frank as a server and a bookkeeper, and his daughter, Cynthia, mother to his two grandchildren, Brooke and Sebastian.
As a memento, all of those who were lucky enough to be invited were sent home with a free martini glass appropriately stamped with a Hollywood star and Rueda's name.
"I'm proud of him," Leonard said of his father in the video documentary. "He literally came to this country with nothing. But he made something of himself. He's somebody. He's the bartender to the stars."
---
The stories shaping California
Get up to speed with our Essential California newsletter, sent six days a week.
You may occasionally receive promotional content from the Los Angeles Times.