Ruben Rueda, famed Hollywood bartender at Musso & Frank, dies at 67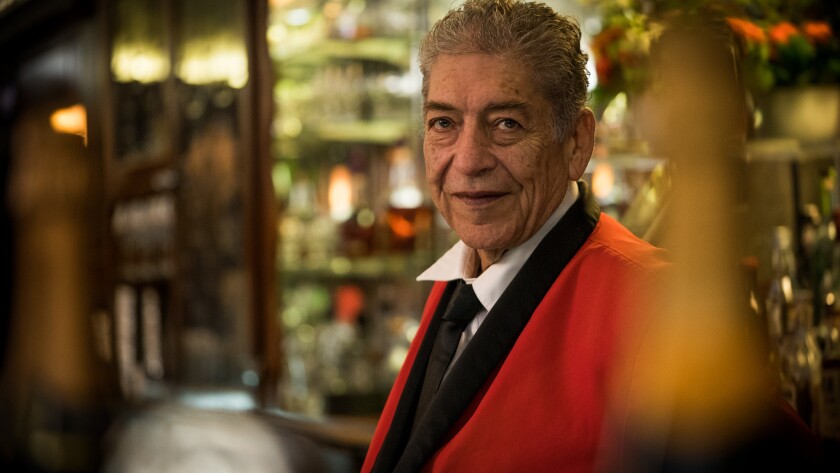 As word spread that Ruben Rueda — the longtime bartender of Hollywood's legendary Musso & Frank Grill — had died, it seemed that everyone in Los Angeles had a memory to share, or wished they did. The outpouring on social media was instantaneous.
He was a legend.
He was and will always be a gift.
One of the greats in the history of Hollywood bars.
Rueda died of natural causes Friday, 52 years after first applying for a job at the 100-year-old Hollywood eatery. He was 67.
The longtime bartender was a bridge from old Hollywood to today, often regaling patrons with stories of yesteryear while mixing a perfect cocktail.
Best martini.
Best martinis in Hollywood.
Best martinis on the planet.
A native of Durango, Mexico, Rueda moved to Los Angeles in 1965 as a teenager. Two years later, he walked into Musso & Frank Grill on Hollywood Boulevard and got his first job as a server assistant before making his way to bartender.
"I started as a busboy," Rueda told The Times in 2010. "I did that for about a year. Then one of the guys got sick and I became a bartender. They call me 'the traffic light' because I changed from a green jacket to a red jacket." The deep-red jacket with a black shawl collar and matching tie was the uniform look that Rueda donned behind the bar.
For more than half a century, Rueda crossed paths with Los Angeles icons like Charles Bukowski, whom he'd often drive home when Bukowski was drunk, and Steve McQueen. He made martinis for Orson Welles and served a potent pecan punch to Bing Crosby. Keith Richards once gifted him a Gibson electric guitar, and Gore Vidal was hoisted from his wheelchair to a barstool for one last drink from Rueda before his death in 2012.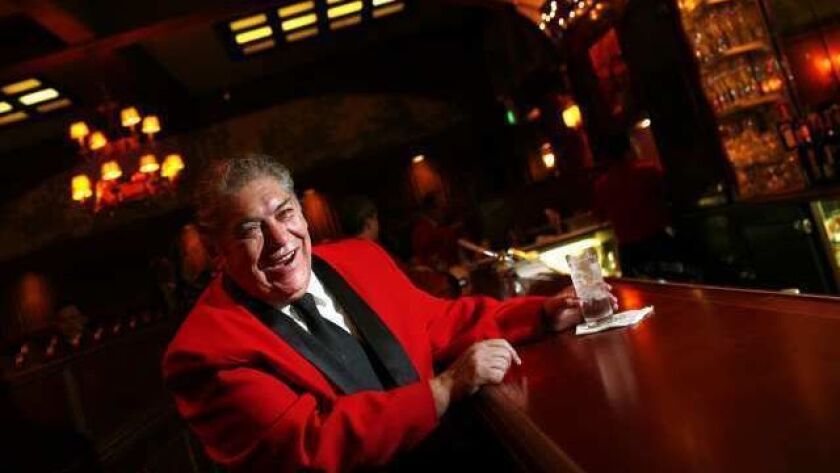 "Mostly, I like to talk to people, and I make people happy," Rueda said in a 2015 interview with Vice about his role in Hollywood's bar scene. "I don't work at Musso & Frank because I want to work in a bar. I work here because I like these people — because I know these people."
Mark Echeverria, one of the restaurant's owners, said Rueda has helped define Musso & Frank.
"Ruben always knew just what a customer needed, whether it was an ear to bend or a joke to lighten the mood," Echeverria said. "He brought professionalism and kindness to his work every day, and his loss will deeply affect many guests and colleagues who long counted him as a friend. Our family has run Musso's for four generations, and to us, Ruben was, without question, a member of our family."
When asked in a 2017 interview with LAist how long Rueda would stay on as bartender, his answer was simple.
"I will stay as long as people will have me."
Like many who crossed his path at the bar, Rueda's impact is cemented in L.A. history.
He is survived by his wife, Maria Olga Rueda; his son, Leonard, who followed in Rueda's footsteps and works at Musso & Frank as a server and bookkeeper; his daughter, Cynthia; and two grandchildren. Plans are underway for a memorial service.
---
The stories shaping California
Get up to speed with our Essential California newsletter, sent six days a week.
You may occasionally receive promotional content from the Los Angeles Times.