Big Hazard gang member says he orchestrated firebombing of black families in Boyle Heights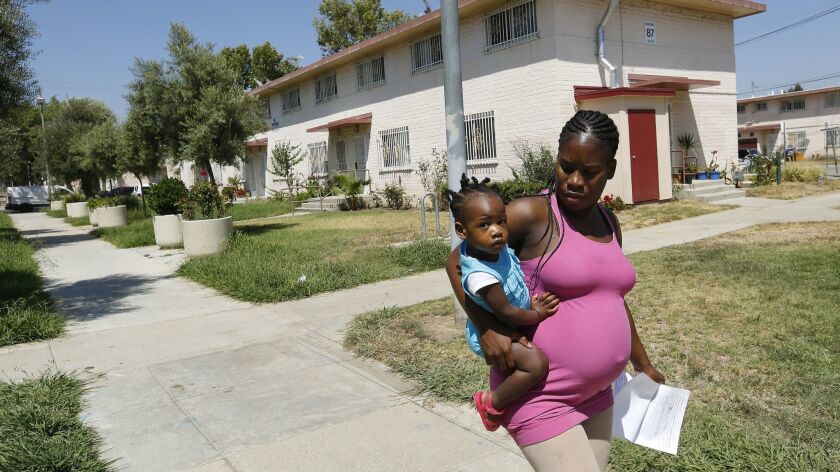 A gang member who organized a one-night string of racially motivated firebombings in Boyle Heights has pleaded guilty to the attacks on the Eastside black community, prosecutors said.
Carlos Hernandez, 34, pleaded guilty to five felonies, including using fire and carrying explosives to commit a federal felony and conspiracy to violate civil rights, the U.S. attorney's office announced Tuesday.
Hernandez, also known as Rider, admitted organizing the attacks to scare African American families out of the Ramona Gardens housing development. Hernandez gave each of the other seven gang members involved in the firebombings specific roles and items to use in the attacks, including masks and a hammer, prosecutors said.
"This defendant oversaw a scheme designed to send African American residents a potentially deadly message — you are not welcome here," said U.S. Atty. Nick Hanna in a news release.
Hernandez is the final defendant to plead guilty in the case. The seven others, members of the Big Hazard Latino street gang, were charged and pleaded guilty in 2016 to the firebombings, which were intended to push African Americans out of the housing complex.
In May 2014, gang members smashed the windows of four apartments — three of which were occupied by African American families — and threw lighted Molotov cocktails into the homes.
While the others pleaded guilty, Hernandez maintained his innocence and was to face trial for his role in the attacks.
According to court filings, Hernandez said the firebombings were ordered by the Mexican Mafia, a prison gang that controls many Latino gangs in Southern California. The Big Hazard gang has a history of violence against the black community.
The 2014 attack came at a time when African Americans were beginning to feel comfortable again in the community, 15 years after a similar attack by the street gang that also aimed to push them out. After a series of explosions on Aug. 30, 1992, the black families who lived in the project left. For the next two decades, almost no African Americans lived at Ramona Gardens.
The area later entered a time of progress, when black families started moving back in and violence began to decrease, but that peace was shattered by the 2014 attacks.
Hernandez faces a maximum term of life in prison and is scheduled to be sentenced Oct. 7. The seven other gang members will be sentenced later this year, the U.S. attorney's office said.
alejandra.reyesvelarde@latimes.com
Twitter: @r_valejandra
---
For reporting and exclusive analysis from bureau chief John Myers, get our California Politics newsletter.
You may occasionally receive promotional content from the Los Angeles Times.