After vowing to cooperate, Robert Rizzo skips his sentencing interview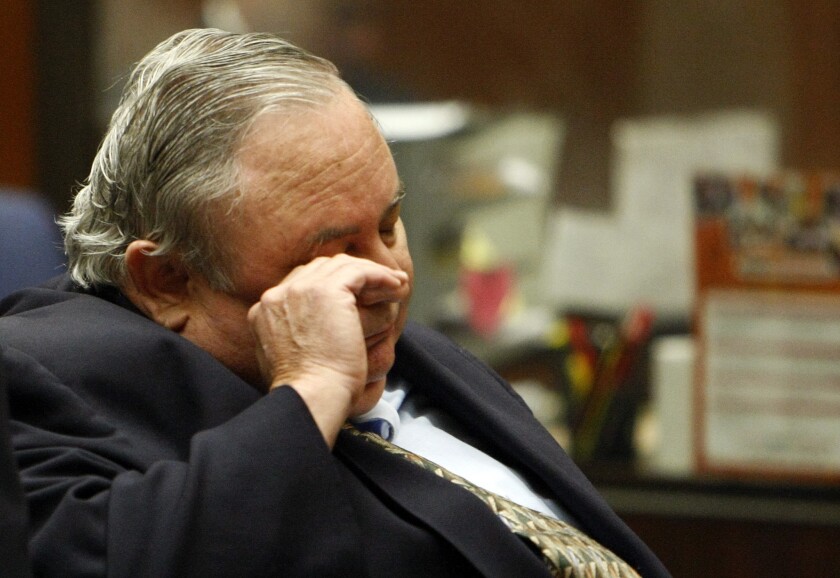 After pleading no contest to corruption charges and agreeing to cooperate with prosecutors, former Bell administrator Robert Rizzo would not be interviewed for his own probation report before he was sentenced.
Rizzo was sentenced Wednesday to 12 years in state prison for the crimes in Bell.
The city administrator's attorney, James Spertus, had asked that his client be sentenced to five years in prison, saying he had cooperated with authorities.
In a probation report made public Thursday, an investigator said he had arranged for a phone interview with Rizzo but never heard back from his attorney after leaving a voice mail.
The report said that a district attorney's investigator concluded that Rizzo should receive the maximum prison sentence because "the craftiness with which the defendant committed the crime is amazing."
According to the report, Gilbert Miranda, senior investigator for the Los Angeles County district attorney, believed, "The defendant developed his influence by putting the right people in place to carry out a well-orchestrated plan.
"He surrounded himself with those who would be loyal to him.... The board members were negligent but the defendant had so much influence over them that they feared losing their jobs."
The report says that "the defendant planned to retire before the citizens would know what he had done and they would be left with the burden of repairing and restoring the city."
Miranda, according to the report, believed "the financial losses incurred by the city of Bell will cause a ripple effect which will be felt by all California taxpayers."
Rizzo pleaded no contest to 69 corruption counts. In addition to his state prison sentence, he was ordered to pay more than $8.8 million in restitution to Bell.
He was sentenced to 33 months in federal prison earlier in the week on two counts of tax fraud.
He will serve the sentences concurrently.
Twitter: @gottliebjeff
---
For reporting and exclusive analysis from bureau chief John Myers, get our California Politics newsletter.
You may occasionally receive promotional content from the Los Angeles Times.