Robert Durst's attorneys want to block writing experts from testifying about 'cadaver' note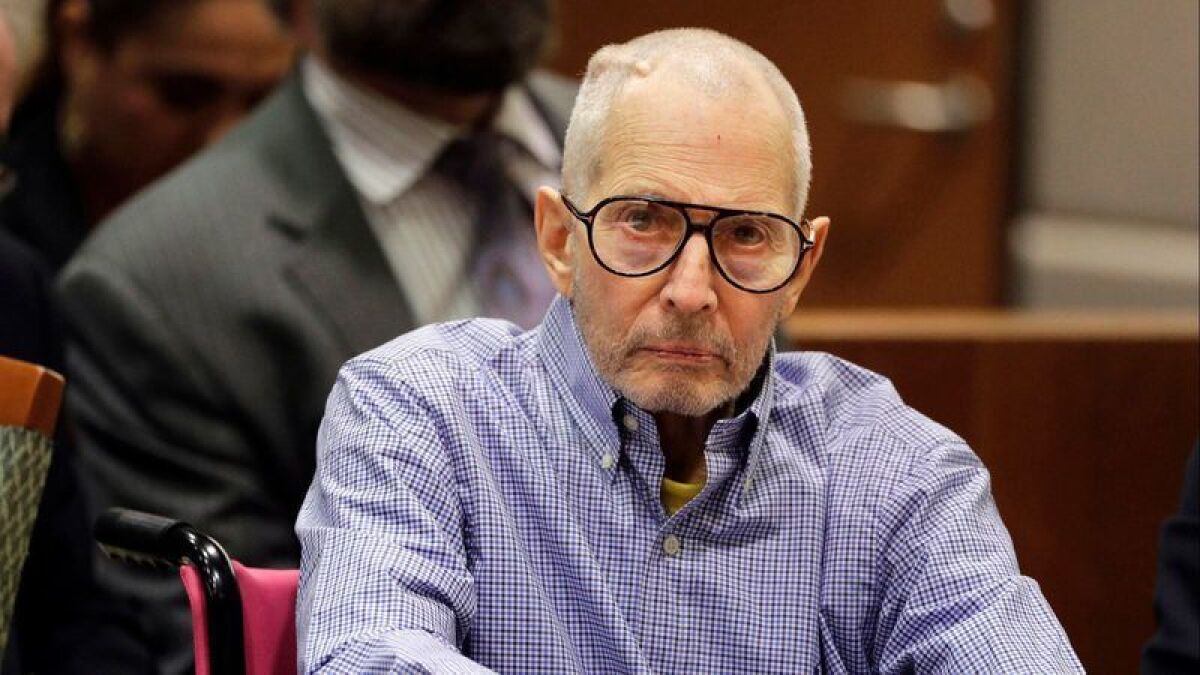 Around the time Susan Berman was shot and killed in 2000, Beverly Hills police received an anonymous note that listed her Benedict Canyon address above one word: "cadaver."
The mysterious letter, written by hand in block lettering, was postmarked the day before Berman's body was found in her home, a single bullet through the back of her head.
It was a key piece of evidence that ultimately led investigators to her best friend, the eccentric real estate scion Robert Durst, who is accused in her slaying.
With his murder trial coming up in January, Durst's defense attorneys are seeking to bar testimony from experts called by the prosecution who would identify Durst as the note's author, arguing that the science of handprinting — which examines block lettering rather than cursive — is unreliable. They are relying on the hodgepodge analyses of a now-retired LAPD handwriting analyst who within a two-year span formed conflicting conclusions about who wrote the cadaver note.
"We think it's junk science," said Dick DeGuerin, one of Durst's defense attorneys.
In a court filing, prosecutors said it's "patently absurd" to argue that one expert's mistake could destroy the integrity of an entire field and asked the judge to deny the motion. A hearing is set for next week.
The drama dates back to February 2001, when the LAPD's William Leaver concluded it was "highly probable" that the cadaver note was written by Berman's manager, Nyle Brenner. A supervisor, Karen Chiarodit, signed off on Leaver's work but later admitted that her review was more akin to a rubber stamp.
Several months later, in October, Durst was added to the mix, but there was no definitive conclusion.
"At this point with the limited [exemplars] on Durst, there are more similarities w/Brenner. Need more," Leaver wrote, according to the defense court filing.
Investigators soon traveled to Galveston, Texas, to get additional writing samples from Durst. Prosecutors said in court documents that Durst made a "significant effort" to disguise his writing, drawing each letter from the bottom up. Some characters he wrote backward, prosecutors said.
"Is that the way you normally write?" Chiarodit asked, according to the prosecution's filing.
"I hope so," Durst said.
After reviewing those extra samples, prosecutors said, Leaver concluded the following June that Durst likely wrote the note. Faced with contradictory theories, Leaver quickly followed his analysis of Durst's writing with a conclusion that it was now "highly probable" that Brenner had not written the missive to police.
In 2014, prosecutors sought two experts to review the case with far more writing samples than Leaver had. Neither knew about Leaver's analyses or errors, prosecutors said, and both pointed the finger at Durst.
Prosecutors argued that the professor the defense team is using to undermine the reliability of handwriting analysis is not a qualified expert.
Despite the inconsistencies in the writing analyses over the years, the cadaver note has striking similarities to a letter Durst sent to Berman in 1999. In both samples, the writing is in all capital letters, and Beverly Hills is misspelled as "Beverley Hills."
In the final episode of a six-part HBO series about Durst and his links to three deaths, he said he wrote the letter to Berman but denied writing the cadaver note.
Director Andrew Jarecki held up blown-up versions of the misspelled city from the envelope of each and asked, "Can you tell me which one you didn't write?"
"No," Durst responded.
Within minutes, the prosecutor's filing said, Durst went into a restroom wearing his microphone.
"There it is, you're caught," he said.
DeGuerin would not address the similarities between the two letters but dismissed the HBO series as a "heavily edited" show made for entertainment.
"It was great entertainment, but that's what it was," DeGuerin said. "It was not a documentary."
Prosecutors have argued that Durst killed Berman to keep her from telling authorities what she knew about his involvement in the 1982 disappearance of his wife, Kathleen, from New York.
Although her body has never been recovered, prosecutors, along with Kathleen's family, think she was killed by her husband. Durst was never charged in connection with her disappearance. Her family is now suing him for wrongful death.
alene.tchekmedyian@latimes.com
Twitter: @AleneTchek
The stories shaping California
Get up to speed with our Essential California newsletter, sent six days a week.
You may occasionally receive promotional content from the Los Angeles Times.