Durst friend admits getting guidance from husband before backtracking on testimony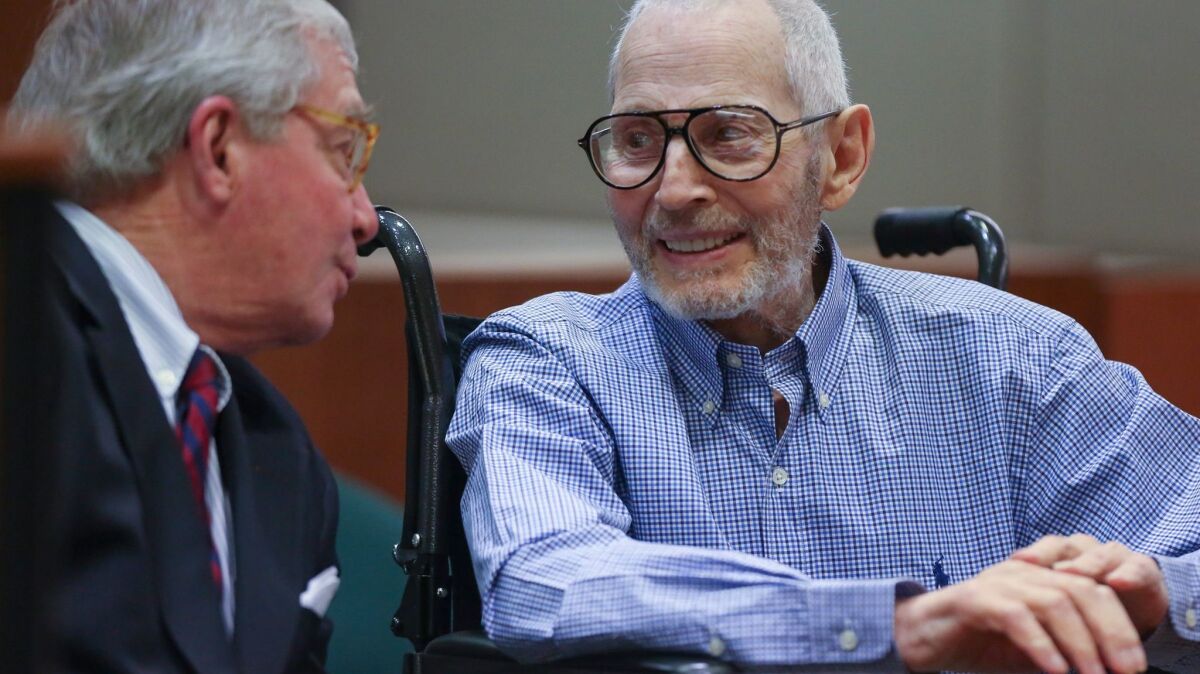 One of Robert Durst's oldest friends admitted on the stand Monday that she got guidance from her husband before backtracking on damaging testimony that put the New York real estate magnate in Los Angeles at the time his best friend was murdered.
Last week, Emily Altman gave testimony that addressed a key challenge police had faced in building a case against Durst: His whereabouts at the time of the slaying of his best friend, Susan Berman.
Durst told her he'd been in Los Angeles around the time Berman was killed in December 2000, Altman had said.
But under questioning from Durst's attorney the next day, Altman distanced herself from the claim, saying she didn't know whether she'd heard it from Durst or from her husband. She also said that while she knew Durst had been in California around that time, she was not sure whether he'd been in Los Angeles.
Durst, 74, is accused of shooting Berman in the back of the head inside her Benedict Canyon home — a slaying that prosecutors say was motivated by his fear that she knew too much about the 1982 disappearance of his wife, Kathleen.
The eccentric multimillionaire, who has pleaded not guilty, says he didn't kill Berman — and doesn't know who did.
Last week, Altman often got emotional on the stand, sighing and dabbing at her eyes with tissues. She occasionally glanced at Durst, who she said looked physically unrecognizable — the end result, she said, of years of suspicion about his involvement in Berman's death and Kathleen's disappearance. Altman also testified that Durst had been "crushed" by his wife's disappearance years earlier.
"He was devastated," she said.
Altman said Monday she was intimidated when Deputy Dist. Atty. John Lewin questioned her last week. She first said she believed Durst was staying at the Beverly Hilton hotel during that fateful time, but after thinking about her testimony in her hotel room, she then said she wasn't sure if he'd been in L.A. at all.
When you returned to your hotel room to think, Lewin asked Monday, were you aware that the information you'd provided in court was "extremely damaging" to Durst?
"Yes," she responded.
The witness said Monday that before changing her account, she spoke to her husband Stewart about what she'd said on the stand. During that conversation, she said, her husband told her he remembered it differently — the information, he told her, had probably come from him, not Durst.
"He felt that I was incorrect," Altman said.
Later in Monday's hearing, Durst's lead attorney, Dick DeGuerin, asked if her final statement on the matter was that she couldn't identify the source of the information. Altman nodded, saying, "I really don't think I can."
At one point, the prosecutor expressed frustration with her answers, which he characterized as intentionally evasive.
"She's been Pinocchio up there, your honor," Lewin said.
Altman, 68, is one of several older witnesses whom prosecutors have questioned early, preserving their testimony in case they're not available for the murder trial, which is unlikely to begin before 2018.
Durst will return to court Aug. 28, when several other witnesses, including Altman's husband, Stewart, are expected to testify for the prosecution. Two witnesses who were initially going to testify last week — Paul Kaufman, who dated Berman and Richard Markey, one of the last people to see Berman alive — are also scheduled to testify at that time.
For more news from the Los Angeles County courts, follow me on Twitter: @marisagerber
ALSO
Sentence upheld for ex-celebrity private investigator Pellicano in wiretapping and racketeering case
Suspect dead, 2 Los Banos officers shot after gunfire erupts during a struggle
Beautician accused in botched buttocks enhancement pleads guilty
The stories shaping California
Get up to speed with our Essential California newsletter, sent six days a week.
You may occasionally receive promotional content from the Los Angeles Times.