Robert Durst said he was high on meth during some interviews for HBO series 'The Jinx'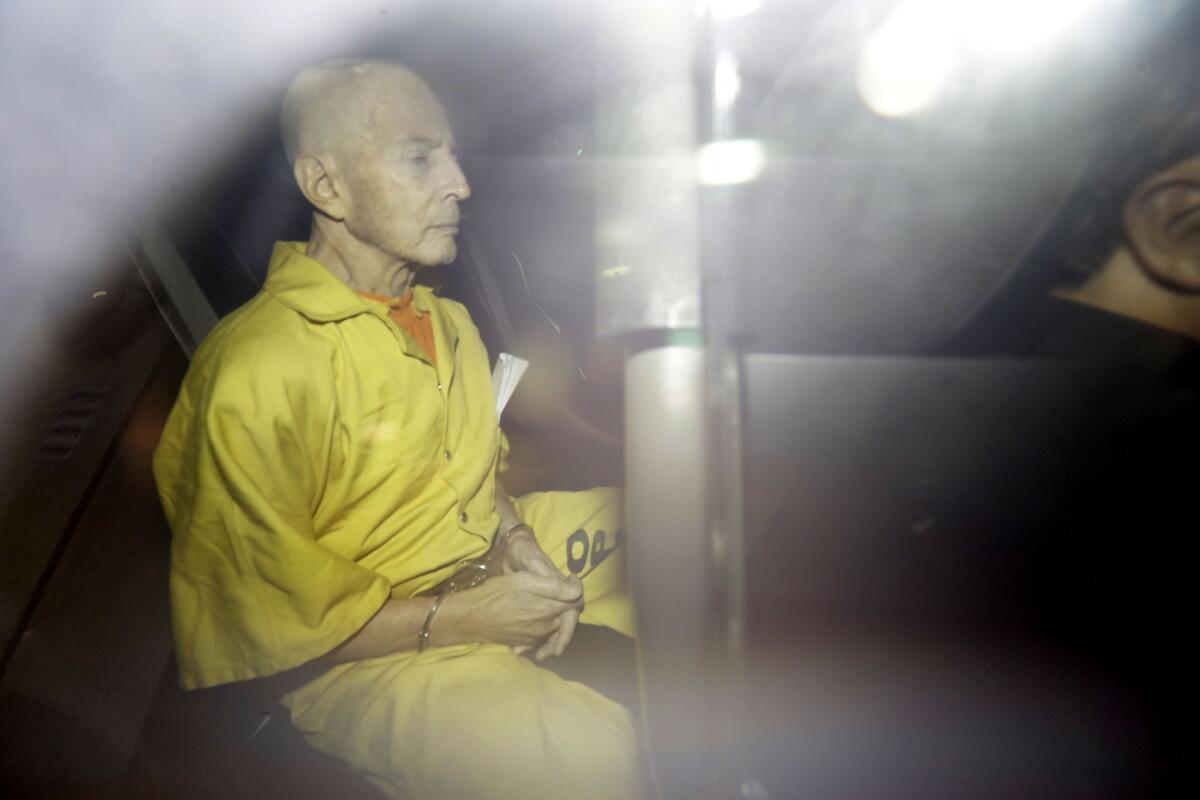 Robert Durst, the eccentric heir to a real estate fortune, told Los Angeles prosecutors last year that he was high on methamphetamines during interviews he gave for the 2015 HBO miniseries "The Jinx," according to court papers released Friday.
The series covered Durst's links to three tragedies involving his wife, who disappeared in 1982 and is presumed dead, his best friend who was shot execution-style in her Beverly Hills home in 2000, and a former neighbor in Texas who Durst admitted shooting, chopping up and dumping in a bay in 2001 — in self-defense.
A jury acquitted Durst in the Texas case and he was a free man until the night before the final episode of the miniseries aired. In it, Durst is caught muttering into a microphone during a bathroom break: "What the hell did I do? Killed them all, of course."
Worried that Durst may leave the country, authorities arrested him in New Orleans, where he had been staying in a hotel under a fake name. He had marijuana, a .38-caliber revolver, more than $40,000 in cash and a mask, according to court papers.
Days later, while sitting in a New Orleans jail, Durst gave a nearly three-hour interview to prosecutors from Los Angeles who were investigating his links to the slaying of Susan Berman, the friend of Durst's who was discovered with a single bullet wound to the back of the head in Beverly Hills. Durst has since been charged with that murder. He has pleaded not guilty and is awaiting trial.
On Friday, a transcript of the March 15, 2015, jailhouse interview was filed in Los Angeles County Superior Court.
In it, Durst claims he was intoxicated during the filming of the HBO series. "I was on meth, I was on meth the whole time … it should have been obvious," Durst said. "I think the reason I did it had to be because I was swooped, speeding," he added.
Attorneys for Durst filed papers Thursday challenging some of the evidence against him in the Berman case, including the New Orleans jailhouse interview, during which he had no attorney representing him.
L.A. County Deputy Dist. Atty. John Lewin had previously told the court that Durst voluntarily participated in the questioning, The transcript includes a portion in which LAPD Det. Mike Whelan read Durst his Miranda rights.
"Anything you say may be used against you in court. Do you understand?" Whelan asked.
"I understand," Durst replied.
Durst, 73, is currently serving a seven-year federal prison term for illegal possession of the .38-caliber revolver at the time of his New Orleans arrest. He was transferred from an Indiana penitentiary to Southern California in November.
In his first court appearance last month, Durst sat in a wheelchair and pleaded not guilty, telling the judge, "I did not kill Susan Berman."
In the wide-ranging jailhouse transcript, Durst touched on his bitterness toward his wealthy family, who granted control of the business to a brother. At one point, he explained his lack of personal ambition and success as a kind of pacifism: "I don't like to fight."
He also described turning down an interview request from TV journalist Connie Chung because she'd previously done a long piece on boxer Mike Tyson that made him out to be a good guy, despite his many run-ins with the law. "I never felt like that," Durst said. "I never felt that I was really a good guy."
At another point during the interrogation, Durst described himself as "the worst fugitive the world has ever met," referring to his six weeks on the lam in 2001 when facing murder charges in Texas.
When Lewin said it was "mind-boggling" to him that Durst hadn't tried to flee the country before the HBO series aired, Durst said he'd been suffering from "inertia".
"I just didn't really, really, really think that I was gonna end up arrested," he added.
When Durst said he was surprised that his lawyers allowed him to take part in the documentary, Lewin reminded him that his legal team had repeatedly discouraged him from participating.
But as the interview drifted in and out of episodes in Durst's complicated life, Lewin kept prompting him to talk about the slaying of Berman, the daughter of a Las Vegas mobster whom Durst met while both were studying at UCLA.
His efforts to elicit a confession included complimenting Durst, repeatedly, on his unusual honesty and brutally frank self-assessments. But when that failed, Lewin confronted Durst more directly, asking,"If you had killed Susan, would you tell me?"
"No," Durst replied.
I was on meth the whole time.
— Robert Durst
Times staff writer Richard Winton contributed to this report.
jack.dolan@latimes.com
ALSO
2 Navy contractors charged in San Diego bomb hoax cases
Man fatally shot by L.A. County sheriff's deputy in Hacienda Heights
KTLA news anchor Lu Parker will not be charged with theft if she completes diversion program, officials say
---
UPDATES:
6:25 p.m.: This article was updated with additional details from a court filing.
This article was originally published at 5:55 p.m.
Sign up for Essential California for news, features and recommendations from the L.A. Times and beyond in your inbox six days a week.
You may occasionally receive promotional content from the Los Angeles Times.