Dennis Rodman pleads guilty to wrong-way driving on 5 Freeway and avoids jail time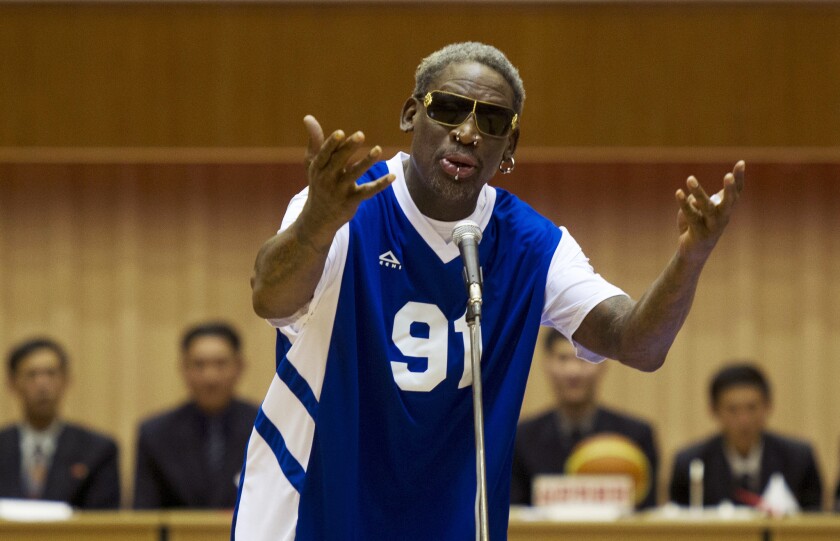 Dennis Rodman, the eccentric former NBA star, pleaded guilty on Monday to driving the wrong way on the 5 Freeway in Orange County and later providing false information to a police officer.
Rodman, a Hall of Fame inductee who is perhaps best known for his role on several championship-winning Chicago Bulls teams in the 1990s, also pleaded guilty to a misdemeanor count of driving without a valid license, according to the Orange County district attorney's office.
A judge sentenced Rodman, 55, to three years of informal probation and 30 hours of community service; he was ordered to pay restitution as well as make a $500 donation to a victim emergency fund.
As part of the plea deal, a misdemeanor hit-and-run charge was dismissed.
"We appreciate the careful review of the district attorney to make the right call in settlement," said Rodman's attorney, Paul S. Meyer. "The driving error at night was due to poor sign placement."
Police say that in July, Rodman was driving his Range Rover the wrong way in a southbound carpool lane on the 5 Freeway in Santa Ana.
He nearly collided with a sedan, whose driver swerved to avoid Rodman and crashed into a concrete barrier, prosecutors said.
Rodman stopped briefly but did not exchange information with the other driver and left before California Highway Patrol officers arrived, police said. The other driver was not seriously injured.
CHP investigators identified Rodman as the driver involved, and prosecutors said he gave detectives an erroneous account of what had happened.
The CHP asked prosecutors to file charges against the basketball star earlier this year.
Rodman's attorney has insisted that his client made a mistake because of flawed road signs. In his statement, the lawyer included a photo of the ramp near the crash site.
"The sign is set far back from the road entry point," Meyer said. "Dennis appreciates the helpful input from the public about the sign problem."
Over 14 seasons in the NBA, Rodman played for the Bulls, Pistons, Spurs, Lakers and Mavericks.
He became known as much for his flamboyant off-court life as his defensive prowess and rebounding skills. He was briefly married to Carmen Electra, had a high-profile affair with Madonna, wore a wedding dress to promote his book and regularly sported a range of hair colors and piercings.
In recent years, he struck a friendship of sorts with North Korean ruler Kim Jong-Un, a bid for so-called "basketball diplomacy" with the repressive regime.
Twitter: @MattHjourno
Twitter: @JamesQueallyLAT
---
The stories shaping California
Get up to speed with our Essential California newsletter, sent six days a week.
You may occasionally receive promotional content from the Los Angeles Times.