No relief from heat for firefighters battling a blaze in the San Bernardino Mountains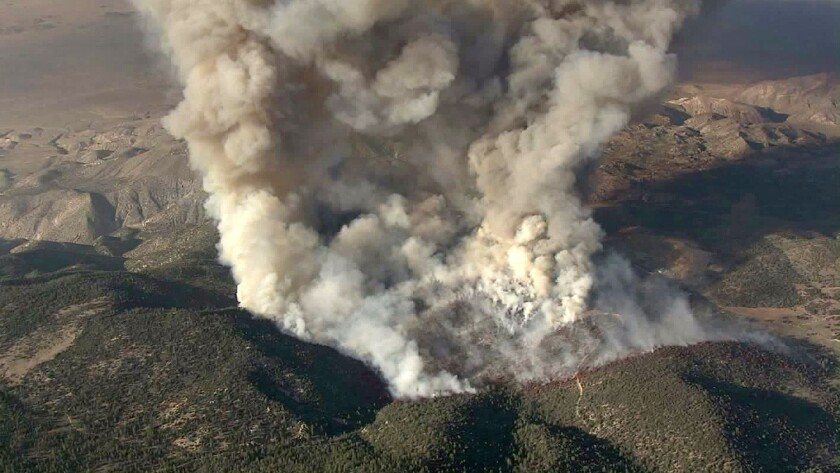 Firefighters battling a growing blaze in the San Bernardino Mountains can expect a third day of sweltering heat and low wind Wednesday as crews struggled to contain the blaze.
The wildfire in the Holcomb Valley north of Big Bear Lake has scorched 1,200 acres and was 10% contained as of Tuesday night. More than 1,000 firefighters are battling the blaze, according to the U.S. Forest Service. .
The wildfire started Monday amid a regional heat wave, and firefighters can expect the hot weather to continue through the rest of the week, said National Weather Service forecaster Miguel Miller.
"They're in a mountain valley tucked away from desert slopes so the wind is not blowing hard where the fire is," Miller said. "It's going to be hot but it cools down at night. That area is a very efficient cooling machine. It's clear, it's dry and it's calm."
Wind gusts were clocked at 20 mph Tuesday as the fire crawled north toward Highway 18. Mandatory evacuations were briefly issued for the area of Holcomb Valley Road and Highway 18 in Baldwin Lake, but the orders were lifted by 5:30 p.m., according to the Big Bear Fire Department.
The evacuation order was prompted by an abrupt shift in winds, and the sheriff's station in Big Bear urged residents to be prepared in case of another sudden change.
"The hot weather, coupled with very low [relative humidity] will make it difficult to extinguish any wildfires that develop in wind-prone areas for the next few days," the National Weather Service warned Wednesday morning. "Of greatest concern will be the ridges and north slope of the San Bernardino Mountains."
For breaking California news, follow @JosephSerna on Twitter.
---
The perils of parenting through a pandemic
What's going on with school? What do kids need? Get 8 to 3, a newsletter dedicated to the questions that keep California families up at night.
You may occasionally receive promotional content from the Los Angeles Times.