San Bernardino shooter is believed to have planned previous attack, source says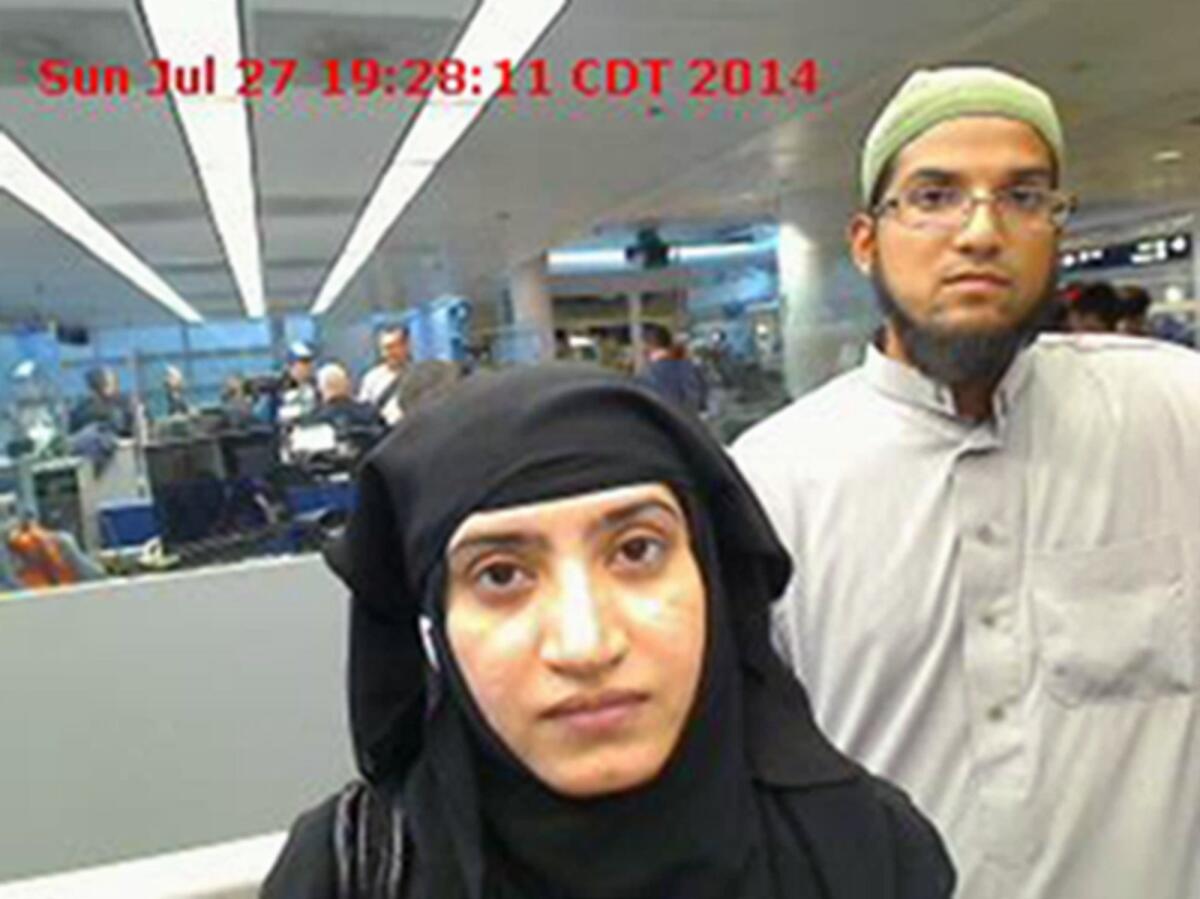 Reporting from Washington —
Federal law enforcement officials believe Syed Rizwan Farook considered a terror plot as early as 2011 or 2012 but abandoned his plans after another scheme to kill Americans in Afghanistan was foiled by a law enforcement task force in nearby Riverside, according to a government official briefed on the matter.
FBI Director James Comey told the Senate Judiciary Committee on Wednesday that Farook and his wife, Tashfeen Malik, may have had "earlier" plans before they opened fire at a holiday party inside a San Bernardino social services center last week, killing 14 and wounding 21.
Comey said FBI agents now were trying to sort out leads about "other plans either for that date [Dec. 2] or earlier."
NEWSLETTER: Get essential California headlines delivered daily >>
The government source, who was not authorized to speak publicly, said the FBI has developed information that Farook told at least one associate in 2011 or 2012 that he was considering a terror plot.
The government source declined to identify whom Farook spoke with about a possible attack, but added that "the question is whether anyone knew about the attack last week or had knowledge of any other earlier plots."
The time frame would roughly coincide with the time that Farook's friend and neighbor, Enrique Marquez, legally purchased two of the semiautomatic rifles that Farook and Malik used to carry out the attacks at the Inland Regional Center.
"Farook was interested in guns then," the source said. "He was going to gun ranges."
There is no paperwork transferring ownership of the weapons to Farook, federal officials have previously said.
The source added that Marquez converted to Islam around the same time, even as Farook "spoke about an attack in the 2011-2012 time period."
Over the weekend, FBI agents raided Marquez's Riverside home and seized several items. Marquez, 24, checked himself into a mental health facility shortly after the shooting.
Federal officials say Marquez has been cooperating with investigators since the weekend and has been interviewed a number of times.
Hours after the attacks, a cryptic message was posted to Marquez's Facebook page, according to a copy of the post provided to The Times by a friend of the man. The post is not public.
"I'm. Very sorry sguys," he wrote. "It was a pleasure."
Marquez attended prayers at the Islamic Society of Corona-Norco four or five years ago, but he did not attend regularly, according to Yousuf Bhaghani, president of the facility's board of directors.
The source said the FBI believes that Farook abandoned his earlier plot after the FBI arrested three men in Chino in November 2012. Federal prosecutors said the men planned to drive to Mexico, then fly to Afghanistan and join radical Islamic militants there. A fourth man was taken into custody by U.S. military personnel in Afghanistan.
The case was handled by the Joint Terrorism Task Force in Riverside run by the FBI and area police agencies.
In 2014, two of the men -- Soheil Omar Kabir, a naturalized U.S. citizen born in Afghanistan and living in Pomona, and Ralph Deleon of Ontario, a lawful permanent U.S. resident and citizen of the Philippines -- were convicted on charges related to providing material support to terrorists and plotting to kill Americans in Afghanistan.
The other two defendants, Miguel Alejandro Santana Vidriales and Arifeen David Gojali, had earlier pleaded guilty.
In announcing the convictions last year, then-U.S. Atty. Stephanie Yonekura said the case showed the danger of local residents being influenced by foreign terror groups -- as has surfaced in the San Bernardino attack.
"Extremist ideologies can reach from Afghanistan to America," Yonekura said, "demonstrating the clear need for continued vigilance in rooting out homegrown violent extremists."
Staff writers James Queally, Matt Hamilton, Richard Winton and Zahira Torres in Los Angeles contributed to this report.
MORE ON SAN BERNARDINO
The man who bought the rifles: Who is Enrique Marquez?
Pakistanis question teachers, students at seminary attended by San Bernardino shooter
One brother hatched a terrorist massacre, the other served his country in the U.S. Navy
Sign up for Essential California for news, features and recommendations from the L.A. Times and beyond in your inbox six days a week.
You may occasionally receive promotional content from the Los Angeles Times.