Wealthy Mexican businessman guilty of making illegal campaign donations to San Diego mayoral candidates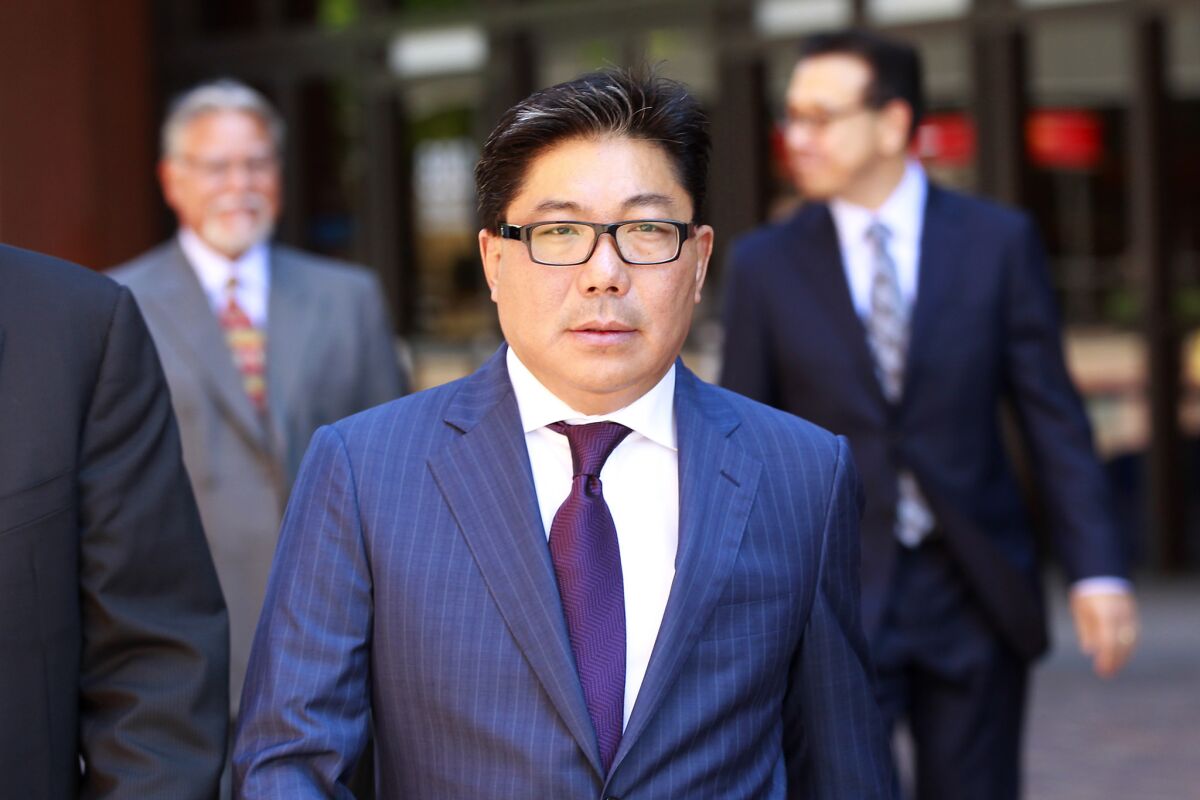 Reporting from San Diego —
A wealthy Mexican businessman accused of making illegal campaign donations to candidates in San Diego's 2012 mayoral race was convicted Friday of 36 counts, including conspiracy to make political contributions by a foreign national.
José Susumo Azano Matsura also was found guilty in federal court of making contributions in other people's names and falsifying records related to campaign finances.
The jury, which deliberated about a week, was unable to reach a unanimous decision on whether Azano unlawfully possessed a firearm, and several other charges related to the other defendants in the high-profile case. U.S. District Judge Michael Anello declared a mistrial on those counts.
Federal prosecutors had also charged campaign services specialist Ravneet Singh, lobbyist Marco Polo Cortes and Azano's son, Edward, with the same charges of conspiracy and falsifying records. Azano and Cortes were also charged with conspiracy to make donations in the name of another.
Singh was found guilty of all four counts with which he had been charged.
Edward Azano Hester was convicted of conspiracy and donations by a foreign national, but the jury acquitted him of six counts related to falsifying records and deadlocked on five others.
Cortes was acquitted of four counts related to falsifying records. The jury did not reach verdicts on other charges, including conspiracy.
The case focused on more than $500,000 of Azano's money that was funneled into the campaigns of Republican Dist. Atty. Bonnie Dumanis and Democratic Rep. Bob Filner when both were running for San Diego mayor in 2012. Filner won the race but resigned several months later amid a sexual harassment scandal.
Azano money also went to the county Democratic Party and the Democratic Congressional Campaign Committee, prosecutors said.
As a foreign citizen without legal status in the U.S., Azano was prohibited by law from donating to domestic campaigns. Although he lived in a Coronado Cays mansion and both his wife and son were U.S. citizens, Azano did not have a green card or any immigration status that would allow him to financially support political campaigns in this country.
The evidence included numerous bank records, emails and billing invoices that prosecutors said showed the route the money took from Azano's bank accounts. The money made it into campaigns via straw donors — friends or family members who made donations to the Dumanis and Filner campaigns and were reimbursed by Azano, sometimes on the same day.
Prosecutors said that Azano secretly paid Singh's company, which specialized in political social media campaigns, to work for Dumanis and later Filner. The largest contributions went to supportive political committees, via a shell corporation owned by Azano, and through businesses owned by La Jolla luxury car dealer Marc Chase.
Chase testified that Azano asked him to make the donations during a meeting in the business tycoon's Coronado kitchen. He said Azano later reimbursed him. Azano, a car buff, had purchased more than 20 luxury vehicles, including Lamborghinis and Rolls-Royces, from Chase, who pleaded guilty earlier in the case and agreed to testify against Azano.
Another key conduit was retired San Diego police Det. Ernie Encinas, who was Azano's security chief. Prosecutors said he was the go-between who connected Azano and his money to the campaigns and political professionals.
Encinas agreed to cooperate during the investigation and pleaded guilty after Azano was arrested in January 2014. Though he was expected to be a star witness, the former police officer was never called to testify, either by the government or the defense.
The trial had several high-profile witnesses, including Dumanis and San Diego County Sheriff Bill Gore. Dumanis testified that she had little memory of her interactions with Azano, other than she believed he was a legal resident and eligible to contribute to her campaign.
Azano's lawyer, Michael Wynne, argued that his client was targeted and victimized by Encinas and Chase, who used his money to elevate their own status and businesses, then turned on their benefactor to aid the government investigation.
Wynne said after the verdicts on Friday that he and his client would continue the fight the case, even all the way to the U.S. Supreme Court, if necessary.
"I am absolutely confident that we will win on appeal," he said outside the courthouse.
The judge set sentencing hearings for Azano, Singh and Cortes for Dec. 12. Azano's son will be sentenced on Dec. 5.
Meanwhile the judge has allowed the elder Azano to remain free until the sentencing date. Prosecutors had asked for him to be placed in custody in light of the verdicts, arguing that he was a flight risk.
Littlefield and Moran write for the San Diego Union-Tribune.
ALSO
Abandoned three years ago, Angels Flight now target of graffiti vandals
'The worst thing imaginable:' Bodies and blood everywhere after San Bernardino terrorist attack, DOJ report shows
7 officers to be criminally charged in Bay Area police sex scandal, D.A. says
---
Life is stressful. Our weekly mental wellness newsletter can help.
You may occasionally receive promotional content from the Los Angeles Times.