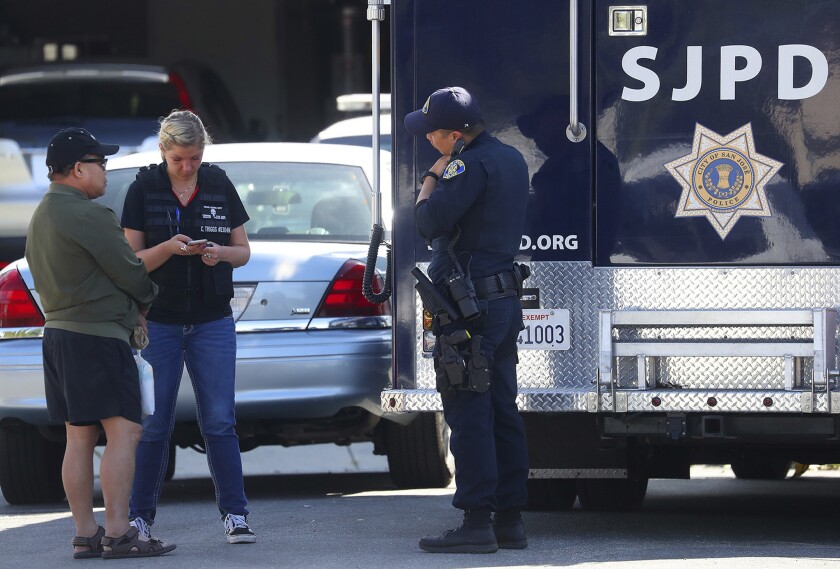 An hours-long standoff between police and a man with a gun in San Jose ended early Monday with five people dead, including the gunman, authorities said.
Detectives are investigating the case as a quadruple murder and a suicide, said Sgt. Enrique Garcia, a spokesman for the San Jose Police Department.
The relationship between the shooter and the people killed was not immediately clear. Several family members were fleeing the home when officers arrived. According to the San Jose Mercury News, the suspect's wife and 17-year-old daughter were two of those who escaped. Citing dispatch broadcasts, the outlet reported that the shooter's wife witnessed her husband shoot her sister and brother.
Garcia said the shooting was being investigated, and police did not yet have a motive for the attack. A family dispute or domestic dispute is not out of the realm of possibility, he said.
"I've been here for 27 years, and I don't remember another incident where a suspect murdered four and killed himself," he said. "It's one of the [most] violent incidents we've encountered here in a long time."
Officers responded about 8:40 p.m. Sunday to multiple calls about a shooting at a home in the 500 block of Habbitts Court near the Santa Clara County fairgrounds, Garcia said.
Police used an armored vehicle to help rescue two injured people from the home. A man and a woman, each suffering from at least one gunshot wound, were taken to a hospital, where they later died, Garcia said.
The entire street was evacuated while SWAT officers and negotiators tried to contact the suspected shooter and determine whether any other residents were inside. Investigators suspect the gunman shot four people — three women and one man — before turning the gun on himself, Garcia said.
Officers entered the home at about 1:25 a.m., nearly five hours after the first 911 call came in, and found three people, including the gunman, with gunshot wounds. They were pronounced dead at the scene.
The Santa Clara County coroner's office will determine the causes of death. No identities have been released.
Times staff writer Colleen Shalby contributed to this report.
---