San Luis Obispo teacher resigns after penning anti-gay letter to student newspaper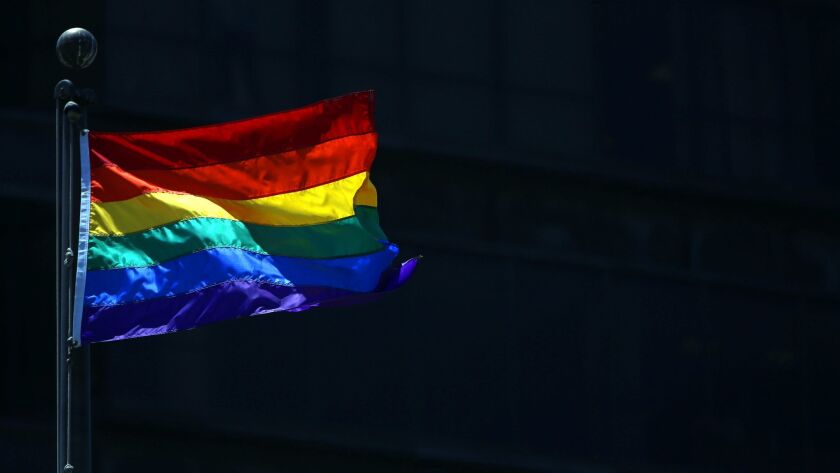 A San Luis Obispo High School teacher has resigned amid controversy over a letter he wrote to the school's student newspaper that cited a Bible verse saying sinners and those who commit homosexual acts "deserve to die."
Michael Stack, a special education teacher, resigned May 11 amid widespread condemnation of the letter, according to the San Luis Coastal Unified School District. He submitted his resignation in an email, which he copied to Fox News host Todd Starnes. The school district provided a copy of the resignation letter to The Times.
"God knows my heart, and my students know my actions, but the community apparently wants me out, so I hereby grant them their desires," Stack wrote.
That morning, a death threat against Stack was called in to the school, San Luis Coastal Unified School District Supt. Eric Prater told the San Luis Obispo Tribune.
Stack's letter to the student newspaper, Expressions, was published online May 9. The letter was a response to a recent print issue of the newspaper that included multiple articles about the LGBTQ community and featured a cover photo of two women kissing.
In the letter, Stack quoted, verbatim, 17 verses from the Book of Romans regarding numerous sins, including greed, envy, murder and gossip — and homosexuality.
"And the men, instead of having normal sexual relations with women, burned with lust for each other," say the verses Stack quoted. "Men did shameful things with other men, and as a result of this sin, they suffered within themselves the penalty they deserved .… They know God's justice requires that those who do these things deserve to die, yet they do them anyway."
Stack, in his letter, said he was writing publicly "to lift up those who have stumbled, or may stumble, and put you back on the right path."
Dozens of people rallied outside the school last week to protest Stack and to support LGBTQ rights. One large rainbow-colored banner shown in television news footage read: "Bigotry disguised as 'Religious Liberty' … is still BIGOTRY."
On her Facebook page, San Luis Obispo Mayor Heidi Harmon called Stack's letter "unacceptable."
"A teacher at SLO High wrote this shaming letter against the LGBT community — A community that already has a high degree of suicide," she wrote.
"I've contacted the School Board — you might do the same."
In his lengthy resignation letter, Stack said many students had "expressed their shock and disgust" over the newspaper issue with the LGBTQ-related articles. He said one student threw "the paper to the ground and stomped on it in disgust."
"I guess my question," he wrote to the school district, "is 'Why is San Luis Obispo High School promoting ANY sexual orientation to our minor children? That shows a complete disregard for parental rights."
Stack said he exercised his 1st Amendment rights in writing to the student newspaper.
In a joint statement before Stack's resignation, Prater, the schools superintendent, and San Luis Obispo High Principal Leslie O'Connor said the school board in February had decided that Stack would not be rehired for the next school year.
The student staff of Expressions generally prints all letters to the editor it receives, school officials said.
The students, Prater and O'Connor said in another statement, "are empowered to have an open, noncensored environment which welcomes discourse, regardless of the writer's point of view."
"We have made concerted efforts to ensure that our LGBTQ+ community feels safe and welcome on our campus," the statement reads. "Our LGBTQ+ students are highly visible, involved, and interwoven into the fabric of our school and community."
Twitter: @haileybranson
---
UPDATES:
11:05 a.m.: This article was updated with Stack's resignation letter and statements by the school district.
This article was originally published at 8:20 a.m.
---
The stories shaping California
Get up to speed with our Essential California newsletter, sent six days a week.
You may occasionally receive promotional content from the Los Angeles Times.