Venture capitalist wins round in fight to block public beach access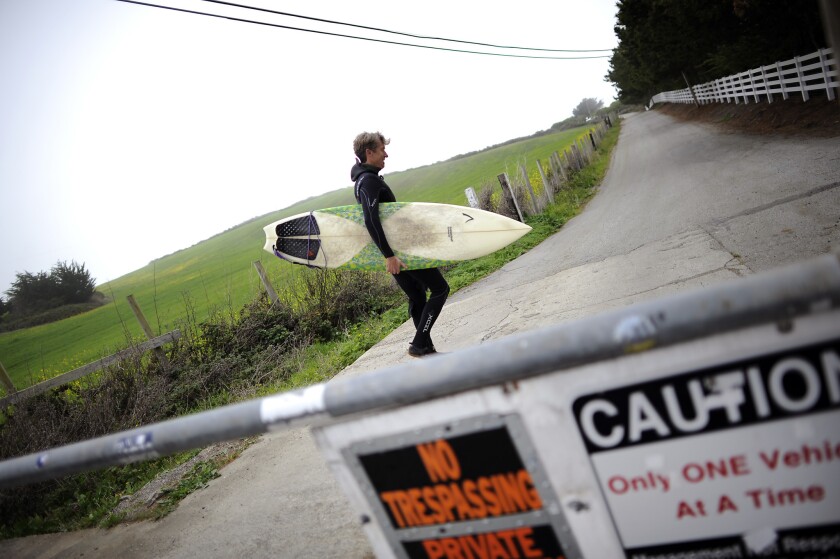 SAN FRANCISCO -- Silicon Valley venture capitalist Vinod Khosla has won a round in his fight to keep locked an access gate to a popular San Mateo County beach that was for decades open to the public.
In the unusual ruling, San Mateo County Superior Court Judge Gerald Buchwald concluded Thursday that the property's history as a mid-19th century land grant predates the creation of the state of California and preempts the California Constitution.
Proponents of public access to Martin's Beach as well as those seeking to prove there is no such right say the ruling in Khosla's favor could have far-reaching implications for other owners of coastal properties that were once 19th century ranchos.
"Every single landowner on the coast is going to rush to see if they're part of an ancient land grant so they can try to get a get-out-of-jail-free card," said Mark Massara, an attorney for the nonprofit Surfrider Foundation, which has a separate lawsuit pending against Khosla.
Attorney Jeff Essner, who represents the property owner, agreed: "There are potentially other properties that could avail themselves of this ruling," he said, "assuming that they're rancho properties."
The dispute involves Martin's Beach, a crescent-shaped haven backed by stunning cliffs south of Half Moon Bay that was a favorite of surfers, smelt fishermen and picnickers before Khosla in 2008 acquired the land with the only access route.
Buchwald on Thursday ruled against a group of surfers calling themselves Friends of Martin's Beach, who had claimed that under the California Constitution no owners of property fronting navigable waters "shall be permitted to exclude the right of way to such water whenever it is required for any public purpose."
The section also states that the Legislature shall "enact such laws as will give the most liberal construction to this provision."
In granting summary judgment to the property owner after a three-day hearing, Buchwald noted that the rights to the land grant held by Jose Antonio Alviso were upheld by the 1848 Treaty of Guadalupe Hidalgo and in 1859 by the U.S. Supreme Court – and thus preempt any public access doctrines laid out by the California Constitution.
Essner said his firm is "pleased with this ruling and thankful for this clarification. ... The property owner strives to be a constructive member of the community, but it is difficult to have this conversation without the legal clarification on property rights and an acknowledgment of those rights."
The landowner is identified in legal documents only as Martins Beach 1 LLC and Martins Beach 2 LLC but is widely acknowledged to be Khosla.
Gary Redenbacher, the attorney representing Friends of Martin's Beach, vowed to appeal.
The judge's ruling, he noted, essentially says that "if the state had any interest in the land of any kind -- now or in the future -- it had to assert it back then when the land patent was issued. I think that's going to be a challenge for that to stand but we'll find out."
He added that, "There was hardly anyone in the state back then so access to the beach was not a huge deal." If evolving interests of society can "never be imposed" on these properties, he asked Buchwald in court, "why are airplanes allowed to fly over people's land?"
The Surfrider lawsuit, filed in March, is still pending and asserts a narrower claim. It contends that when Khosla locked the access gate to Martin's Beach and hired security guards to keep the public away, that constituted "development" and a change of use that required Coastal Commission permission.
The LLCs linked to Khosla bought the properties for $37.5 million in 2008 from the Deeney family, who had for decades run a general store, maintained public restrooms and charged a nominal fee to those accessing the beach. The cliffs bar access to the north and south of the property.
After San Mateo County officials in 2009 warned Khosla that a coastal development permit was needed to bar the gate and alter public access, the LLCs filed suit against the county and coastal commission, seeking a declaration that they were "not required to allow public access to Martin's Beach at all."
But that judge ruled that they first had to "comply with the administrative process provided by the California Coastal Act." They have not done so.
Massara said he has forwarded information on Buchwald's ruling to the California Attorney General's office in hopes that it will consider issuing an official opinion.
"It gets really absurd," he said. "Why not exempt all modern law" from applying to coastal rancho properties.
"What Buchwald is trying to do is make the rules on coastal access," Massara said, adding of the Surfrider action: "If Khosla doesn't agree with the Coastal Commission's rules then he is free to sue the Coastal Commission. But if you don't apply for a permit at all, then you're just a violator."
ALSO:
Man sentenced to 5 years for swindling millions from NFL player
L.A. Supt. John Deasy says he'll talk more after his job evaluation
Boy, 13, was shot seven times by Sonoma County deputy, report finds
Twitter @leeromney
lee.romney@latimes.com
---
For reporting and exclusive analysis from bureau chief John Myers, get our California Politics newsletter.
You may occasionally receive promotional content from the Los Angeles Times.