Federal appeals court considers 'sanctuary city' case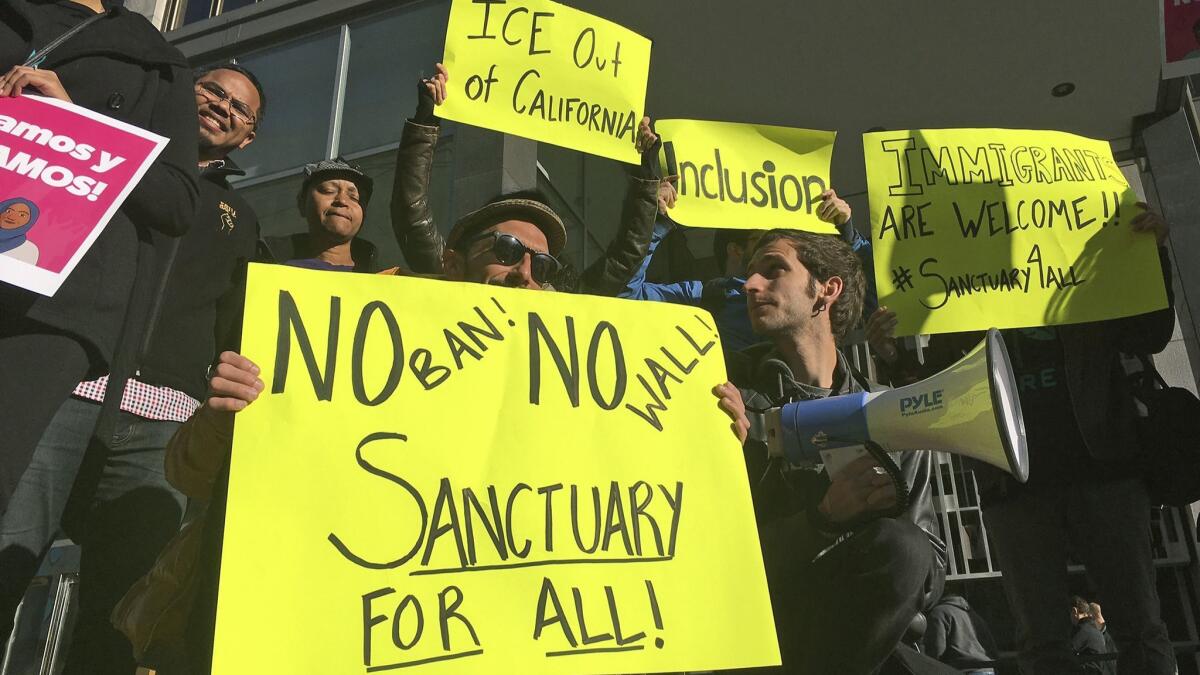 A lawyer for the U.S. government asked a federal appeals court in San Francisco on Wednesday to overturn a nationwide injunction blocking enforcement of President Trump's executive order against so-called sanctuary cities.
The executive order, which Trump issued five days after taking office, said local governments that refuse to cooperate with federal immigration authorities were "not eligible for federal grants."
During a hearing on the order, Acting Assisstant Atty. Gen. Chad A. Readler told the U.S. 9th Circuit Court of Appeals that the directive imperiled only three grants, not massive funding, and that the injunction was premature and overly broad.
Readler pointed to the wording of Trump's order, which directed it to be enforced "consistent with law."
"That could hardly be a direct threat to take away all of your federal dollars," Readler said.
A three-judge 9th Circuit panel of two Democratic appointees and one Republican are viewing the injunction issued last year by U.S. District Judge William H. Orrick III, an President Obama appointee based in San Francisco.
Orrick decided in April 2017 that the sanctuary order was unconstitutional and could not be enforced nationwide.
Ninth Circuit Chief Judge Sidney R. Thomas, a President Clinton appointee, appeared skeptical of the Trump administration's position.
He noted during the hearing that Trump made "a lot of statements" showing he wanted to strip sanctuary jurisdictions of federal funding.
"I think the district court was really relying on those statements," Thomas said.
The case was brought by San Francisco and Santa Clara County, which feared they could lose massive amounts of money unless they refused to follow policies adopted by their local lawmakers.
They argued that Trump's order violated the 10th Amendment's protection of states from federal interference.
After they sued the Trump administration, Atty. Gen. Jeff Sessions issued a memorandum specifying only three different law enforcement grants that sanctuary cities and counties risked losing.
Lawyers for San Francisco and Santa Clara County told the 9th Circuit that the memorandum did not bind the Department of Homeland Security and conflicted with what the president said he intended in issuing his order.
"The point of this order is to use federal dollars as a weapon to defund sanctuary cities that don't comply with the policy the president prefers," said Deputy San Francisco City Atty. Christine Van Aken.
Even though "cooler heads" in the Justice Department later said only three grants were at risk, "we shouldn't be required to simply trust the federal government on this," Van Aken said.
Judge Ronald M. Gould, another Clinton appointee, asked why the injunction should be nationwide.
"The harm from his executive order is nationwide," Van Aken replied. At the least it should be aimed at the entire state of California because some federal funds flow through the state to cities, she said.
Judge Ferdinand F. Fernandez, the third member of the panel and an appointee of President George H.W. Bush, did not ask any questions.
The panel did not indicate when it would rule.
Earlier this year, the Trump administration sued California over three state laws designed to protect immigrants. Legal analysts said at least two of the laws might be legally vulnerable.
Twitter: @mauradolan
Sign up for Essential California for news, features and recommendations from the L.A. Times and beyond in your inbox six days a week.
You may occasionally receive promotional content from the Los Angeles Times.