A Santa Rosa synagogue becomes a haven in a firestorm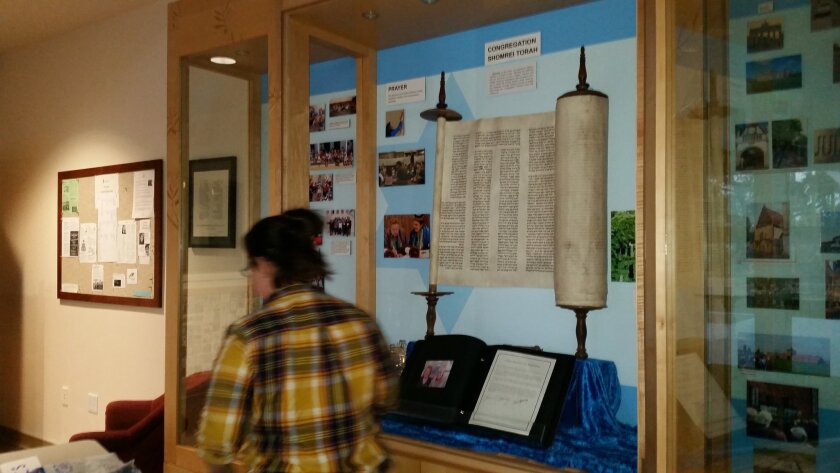 Stephanie Kramer wasn't sure what to do.
The 33-year-old rabbi of a synagogue on Bennett Valley Road had offered shelter to congregants fleeing the wildfire on Monday, but by Tuesday evening Bennett Valley was being evacuated too.
Kramer had spent hours calling synagogue members, trying to match those who had an open bed or room with those who needed shelter. Out of the congregation's 460 families, more than 20 had lost their homes, Kramer said.
"There's been an outpouring of help and support," she said.
By Tuesday evening there were just a couple of people left at the synagogue, including an elderly woman Kramer was trying to convince to go down to a congregant's house in Petaluma and an elderly man with a poodle and kitten. He had a friend in Windsor but wasn't sure he wanted to go all the way there.
Both of them had told Kramer they were worried about looting at the synagogue. Kramer didn't want to take chances with their safety given the possibility of winds blowing the fire in the synagogue's direction.
She packed two of the synagogue's Torahs in her trunk. The third, a scroll rescued after the Holocaust in what is now the Czech Republic, she wrapped in a prayer shawl and strapped into a car seat in her SUV.
"I have to. We are literally 'guardians of the Torah,' " she said referring to the synagogue's name, Shomrei Torah.
As Kramer was getting ready to lock the doors and trying to convince the man with the poodle to leave, an older couple from the Montecito Heights neighborhood arrived.
"OK, you can stay," she told the man. "There are more people here now, so you can stay with them and you'll be safe."
Susanne and John Bonnet had evacuated their home about 1:30 a.m. Monday. They went to a shelter, then to their daughter-in-law's place, and when that was evacuated, came to the synagogue, where they spent what remained of Monday night with about 20 other congregants.
Their son, a Santa Rosa fire captain, has been on duty since Sunday morning. His wife and two sons would be arriving at the synagogue shortly.
"Here's the key," Kramer told the Bonnets. "You can lock the door from the inside and let in whomever you deem [trustworthy]."
Kramer headed out to a congregant's house in Petaluma with the older woman and left the couple and gentleman there.
"Can you all text me updates, especially what you're seeing in that direction?" She asked, gesturing toward Annadel State Park.
The Bonnets brought in their sleeping pads, blankets and other belongings. They would be kept company by one of the synagogue's custodians, Alex Clarke.
Their daughter-in-law had just arrived with her two sons and cat when Kramer called, saying she had found a home in Petaluma where everyone could stay.
"Go there," she told them. "Close all the doors in the building … and close the gate. Leave the lights on. And take Petaluma Hill Road — don't take the freeway."
Kramer said later that if there had been a larger group and she hadn't been able to find homes for them, she would have kept the synagogue open.
"But if I could find people a comfortable bed that was in a safe part of town, I would rather have them there than at the temple," she said.
Kramer planned to return Wednesday for a day camp she's hosting for children and parents. In the evening, she said, the congregation would celebrate the end of the Jewish holiday Sukkhot.
The timing was poignant: The weeklong festival is a harvest holiday in which Jews erect booths outside their homes to remember the dwellings they used when wandering the desert, reminding them of the fragility of shelter.
Twitter: @AgrawalNina
---
The stories shaping California
Get up to speed with our Essential California newsletter, sent six days a week.
You may occasionally receive promotional content from the Los Angeles Times.