Woman accused in $20-million extortion plot pleads not guilty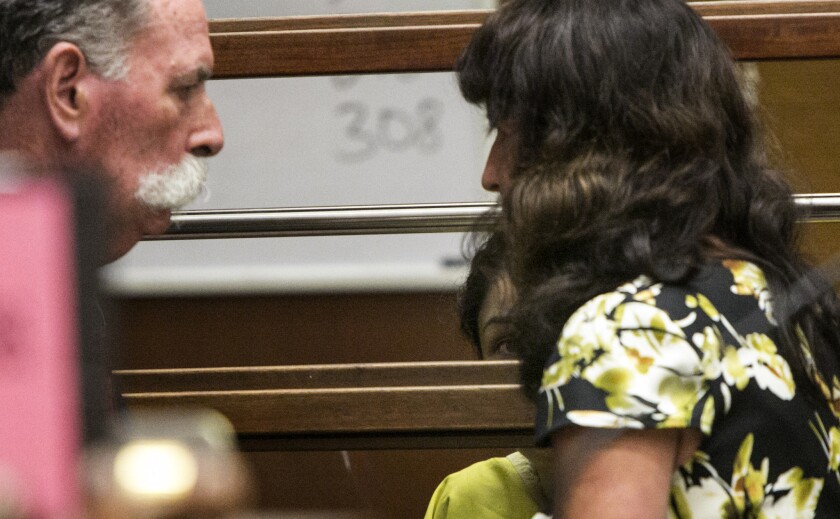 A woman accused of falsely claiming she was sexually assaulted and tortured by the son of a Saudi sheik pleaded not guilty Tuesday to charges of conspiring to extort $20 million from the man's family.
Two attorneys, one of them once connected to disgraced former Orange County Sheriff Mike Carona, are also charged with extortion and conspiracy in the alleged shakedown.
Leyla Ors, a 33-year-old German national, is accused of luring the sheik's son, Thamer Albalwi, into a relationship and then accusing him of a litany of sex crimes. Ors reportedly showed detectives burn marks on her arm to support her accusations.
Ors and Orange County attorney Joseph G. Cavallo were ordered to return to court July 25 for arraignment, while a second attorney, Emanuel Hudson, is set to be arraigned July 31.
John Barnett, Cavallo's attorney, said that his client was no different from police and prosecutors in believing Ors' original account of being attacked.
He said Cavallo had taken a phone call from a representative of Albalwi's family and that a request that they pay $20 million was merely a mention of the "civil claim aspect" of the case, not an extortion attempt.
Cavallo, who once testified that he laundered campaign contributions for the now-imprisoned former Orange County sheriff, was sentenced to a jail term in 2007 for paying bail bondsmen to steer clients his way.
Ors reportedly met Albalwi in 2012 when his family traveled to Austria and she served as their guide in Vienna. An associate of the Albalwis later compared her with the actress Salma Hayek. Ors later met up with the sheik's son in Southern California, authorities said.
But not long after she arrived for a two-week stay, the woman went to police, alleging the 23-year-old Saudi had raped, tortured and imprisoned her in his Wilshire Boulevard high-rise condominium.
Two days after being arrested by Los Angeles police. Albalwi was charged March 13 with four counts of sexual assault.
The charges allegedly stunned Albalwi and his family, one of the wealthiest in Saudi Arabia. They quickly raised $3 million in bail to free him from jail.
Albalwi's father then hired Alan Jackson, a former L.A. County prosecutor who once ran for district attorney, and the lawyer's team put together telephone and credit card records, emails, text messages and surveillance video that showed the accuser's allegations did not add up, the lawyer said.
Late Friday, Judge James Dabney dismissed the sexual assault case against Albalwi and, in a rare legal decision, found him factually innocent.
The move came after Los Angeles police Det. Esther Reyes uncovered an alleged extortion scheme behind the allegations against Albalwi.
Authorities said Hudson had spoken by phone with Albalwi's father and told him that for $15 million, Ors would not testify against his son and "the case would be over."
That same day, Cavallo spoke by phone with the sheik and said that the demand was now $20 million and that Hudson would set up an account in Lucerne, Switzerland, to receive the funds, according to prosecutors alleged in court documents.
Ors, Cavallo and Hudson were arrested Thursday by the Los Angeles Police Department after Ors returned to the United States, believing she was going to testify. Cavallo was due to be arraigned Tuesday.
Ors remains in custody on $35,000 bail. Cavallo and Hudson are free on $50,000 bond.
Twitter: @katemather
Twitter: @lacrimes
---
The stories shaping California
Get up to speed with our Essential California newsletter, sent six days a week.
You may occasionally receive promotional content from the Los Angeles Times.